Lower Thompson derby draws growing crowd
by
Rima Austin Western News
|
February 5, 2019 3:00 AM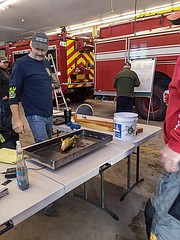 The Fisher River Valley Fire/Rescue Auxiliary held its annual two-day ice fishing derby Jan. 26-27 at the Lower Thompson Chain of Lakes State Park, drawing increased participation from both adults and children compared to 2018.
Participants from all over the state of Montana came out, as well as some from Washington and Idaho.
Fewer adults came out in 2018 than 2017, while participation among children grew. But this year adult numbers are back up — from 319 to 388 — and youth participation is still growing — from 67 to 80.
Cash prizes were awarded to the adults based on the number of entries. There were four categories comprising of salmon, perch, pike and rainbow trout. Each category had first, second and third. The first place prize was $582, second place was $407.40 and third place was $174.60.
Children with winning fish received ice-fishing sleds for first place winners, tackle boxes and buckets for second place winners and ice scoops for third place winners. While the fish caught by the children were somewhat smaller than the adults' hauls, they were no less impressive when it came to weight and length in ratio to their captors.
The proceeds for the derby go towards the building of the Fish River Valley Fire/Rescue water tender. A water tender is a specialized firefighting truck designed for transporting water from a water source to a fire scene. Water tenders are capable of drafting water from a stream, lake or hydrant.
"Some of the money will go to this water tender," said Fire Chief Kirk Kraft, Fisher River Valley Fire/Rescue. "Then some will go towards a monitor (for emergency services), and an ambulance."
The last day of the derby wrapped up at the Kickin' Horse Saloon and Eatery where participants and observers gathered to talk about the weekend event and to catch up with each other.
Adult winners:
A. Salmon
1. Les Goo 2 lbs 1.7 ounces, 19.12 in.
2. Joe Kelly 1 lb 12.8 ounces, 18.7 in.
3. Ryan Kelly 11.2 ounces, 12.75 in.
B. Perch
1. Shane Stratton 1 lb 2.1 ounces, 12.62 in.
2. Steve Hill 1 lb 1.8 ounces, 12.7 in.
3. Zak Gardner 1 lb 0.8 ounces, 12.37 in.
C. Pike
1. Brady Stamps 10 lbs 0.3 ounces, 31.7 in.
2. Brandon Jordan 8 lbs 0.5 ounces, 30.12 in.
3. Darryl Judkins 7 lbs 2.1 ounces, 28. in.
D. Rainbow
1. Mike Riggles 4 lbs 5.9 ounces, 21.037 in.
2. Steve Caudill 4 lbs 3.6 ounces, 22. in.
3. Kim Riley 2 lbs 8.4 ounces, 20.37 in.
Youth winners:
A. Salmon
1.Easton Peterson 12.4 ounces, 13.7 in.
2. Tristan Dugan 10.8 ounces, 12.12 in.
3. Kayne Kirwan 9.5 ounces, 13 in.
B. Perch
1. Kayne Kirwan 1 lb 1.1 ounces, 12.62 in.
2. Tyssen Bothman 15.1 ounces, 11.62 in.
3. Wren Hunter 12.4 ounces, 11. in.
C. Pike
1. Stephen Repine 7 lb 14.5 ounces, 29.2 in.
2. Caddis Karoglanian 6 lb 8.8 ounces, 28.2 in.
3. Tyssen Bothman 3 lb 5.3 ounces, 24 in.
D. Rainbow
1. Trent Tennison 1 lb 14.9 ounces, 17.62 in.
2. Barrett Moe 1 lb 13.2 ounces, 18 in.
3. Quin Tennison 1 lb 8.2 ounces, 16.37 in.
---