The Western News 2019 Year In Review, Part 2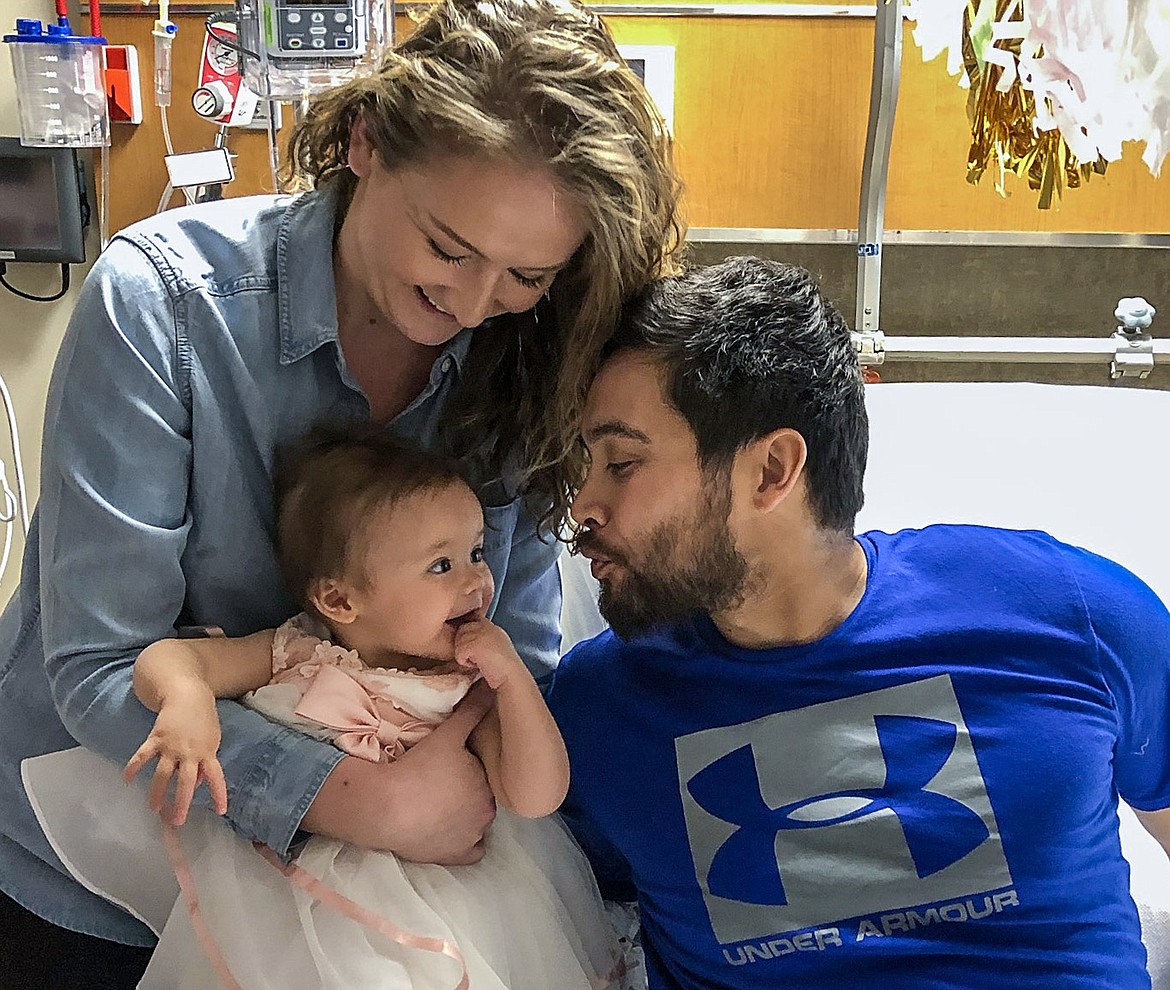 Sgt. 1st Class Brian on the road to recovery, with his wife, Amy, and their daughter in his hospital room at Walter Reed National Military Medical Center. (Courtesy photo)
|
December 31, 2019 10:20 AM
Join The Western News team in taking a look back at the biggest stories of the first half of 2019.
April 9
Local soldier recovers from wounds
A noncommissioned officer in the U.S. Army and Libby native recovered at Walter Reed National Military Medical Center after suffering injuries in Afghanistan earlier in the year.
Sgt. 1st Class Brian Sharp and his wife, Amy, sought to thank the community for their outpouring of support during his recuperation. The couple had received photographs and letters from Libby residents pulling for his speedy recovery.
"It's unfortunate that it takes an event like this to remind us that we're still at war," he said. "But when that support comes in — holy cow. It just does something else. It brings a tear to your eye, puts a butterfly in your stomach, keeps you moving."
April 23
Hecla Mining permit revoked
A Montana judge rescinded a state water-use permit given to a subsidiary of Hecla Mining.
District Court Judge Kathy Seeley reversed the decision by the Montana Department of Natural Resources and Conservation after finding the state agency failed to adequately consider the potential impact of the Rock Creek mine on groundwater in the Cabinet Mountains Wilderness.
The plaintiffs in the case, including the Clark Fork Coalition, Rock Creek Alliances, Earthworks and the Montana Environmental Information Center applauded the decision. State officials vowed to appeal the ruling.
The case put the future of the mining operations in the area in jeopardy. Hecla officials said work could not proceed without a water use permit.
April 30
Fastest man in Montana
Then-senior Hunter Leighty of Troy High School said earning the best time in the state at the 400 meter dash came as a bit of a surprise.
"I just ran, and it just happened," he said.
Leighty ran the length of the track at 50.5 seconds, earning first place in the event at the Seeley-Swan Invitational. He learned later that he had set the best time statewide during the event.
"He's really been working hard, and a great kid to coach. He always gives 100 percent," said head coach Neil Newton.
May 7
Fire devastates Moody's
Firefighters with the Libby Volunteer Fire Department battled to save Moody's Dirty Laundry and Self-Service Dog Wash after a blaze broke out in the structure's electrical utility room overnight.
Crews were forced to tear through the roof of the building to get at the fire. Though the blaze was brought under control, it caused significant damage to the structure, particulary the roof.
Officials estimated the damages at between $100,000 and $150,000.
The fire also affected nearby Pinup Girls Salon and Blue Creek Trading Co.
May 21
Troy Town Pump secures room for growth
The Troy Town Pump was poised to expand northeast along U.S. Highway 2 after company officials bought the nearby TCO Lube and Tire property.
Bruce Cole, owner of TCO Lube and Tire, had engaged in on-again, off-again negotiations to sell his land with Town Pump for years. In May, Cole decided to retire and finally sell the property.
Other avenues Town Pump officials had explored in the hopes of expanding its location in Troy had met with resident opposition. A proposal to buy a portion of 2nd Street from Troy failed 207 to 204 in a public vote.
May 24
Manhunt ends in arrest
Law enforcement officials across northwest Montana converged on Lake Creek Road to arrest a man accused of stealing a vehicle and a firearm.
Eugene Germain of Polson led authorities on an eight-hour search before a homeowner saw him allegedly drive through a closed gate onto her property. By the time officers arrived, Germain had fled on foot.
Authorities found Germain asleep in a cabin about 50 yards from Lake Creek Road. The stolen handgun was on his hip, officials said.
He offered no resistance during his arrest, authorities said.
The manhunt put Lincoln County residents on edge and forced school officials to cancel bus routes and after school activities.
May 31
Libby deer tests positive for CWD
A white-tailed doe found by Montana Fish, Wildlife and Parks officials in Libby was the first to test positive for Chronic Wasting Disease west of the continental divide.
State officials began searching for the ill animal after residents reported an "emaciated and sick-looking" deer in town. The discovery prompted authorities to create an incident command team and set up a 10-mile radius around the area where the deer was found.
Increasingly more cases of deer with CWD were reported in the intervening months.
At the time, Lincoln County health officials said people ought to take precautions to prevent the disease from spreading to people from the deer, like avoiding eating the meat of an animal that appeared sick.
June 14
Idaho financial advisor charged with felonies
Authorities accused Kip Hartman of Bonners Ferry of conducting unlicensed insurance transactions, unlicensed business as an investment advisor, securities fraud and exploitation of the elderly.
Hartman, who operated a financial services business in Troy, came under scrutiny after the Montana State Auditor received a tip that he was selling insurance products without a license. Officials said he also obtained nearly $900,000 from an individual over the age of 65 after "establishing a trust relationship" with her.
In many cases, Hartman urged his clients to pull their money from retirement funds to buy annuities from him, for which he received a commission, according to officials.
June 21 Voters reject school resource officer proposal
Voters in Libby nixed a plan to hire a school resource officer at the ballot box.
In all, 1,141 residents voted against funding the position with a mill levy, despite having the backing of school and police officials. Just 906 residents voted in favor of the proposal.
Proponents admitted getting voters to agree with a tax increase was a challenging prospect. Flathead Electric Cooperative had agreed to contribute a grant toward the hiring of a full-time school resource officer had the ballot measure passed.
"We missed an opportunity, but we'll keep trying to look for opportunities," said Libby Public Schools Superintendent Craig Barringer.
---