The Western News 2019 Year In Review, Part 1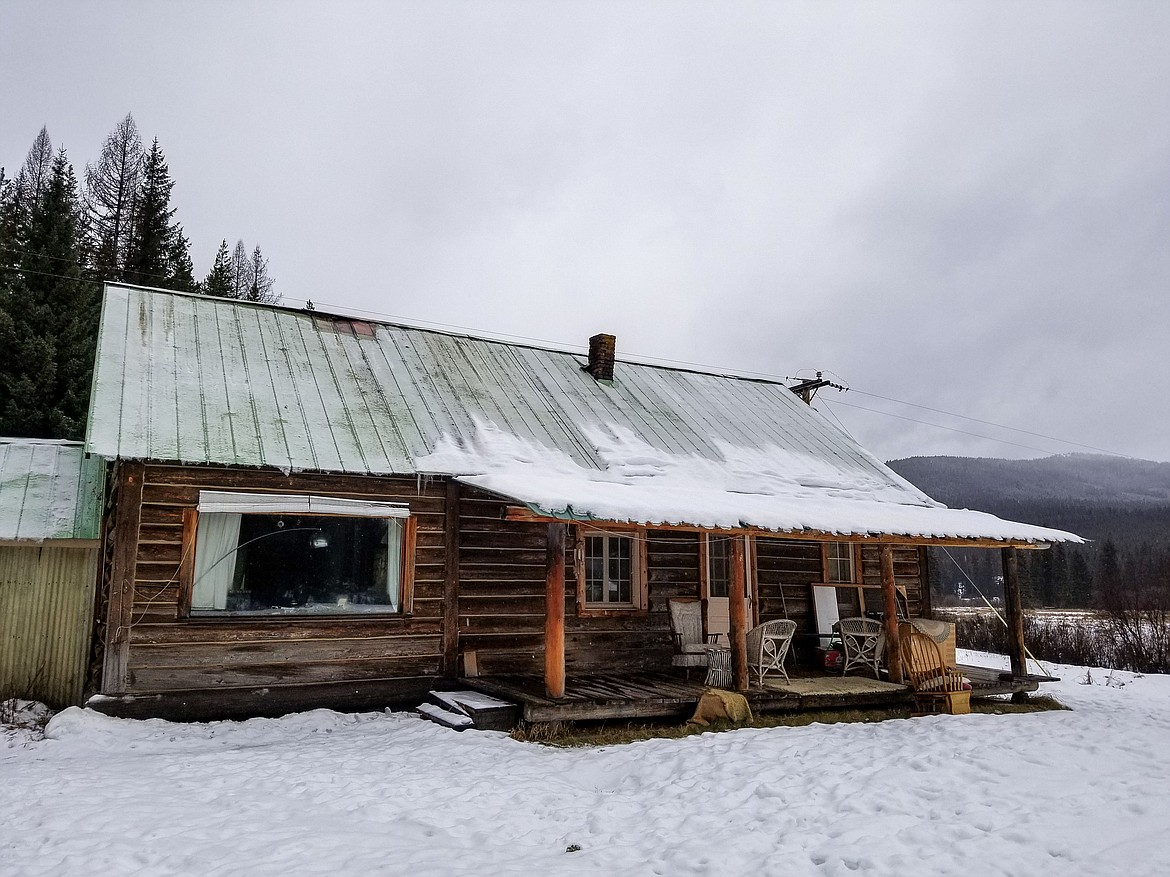 The Grizzly Ranch homestead cabin was saved from burning down Jan. 1, 2019, by the Upper Yaak Volunteer Fire Department. Aside from some holes along the peak, even the roof was saved. (Photo courtesy Mike Sanders)
|
December 30, 2019 10:14 AM
Join The Western News team in taking a look back at the biggest stories of the first quarter of 2019.
Jan. 11
Quick response
saves Yaak home
Residents and officials credited the quick response of the Upper Yaak Volunteer Fire Department with saving a homestead that dates back to 1910 from a New Year's Day fire.
When they first arrived — just 18 minutes after receiving notification — it was clear the fire was located in the attic.
Smoke obscured the entire top floor of the structure when crews got on scene, Yaak Fire Chief Mike Sanders told The Western News at the time. Firefighters used a fine mist to cool the area around the blaze and prevent it from spreading before tackling the rest of the fire.
Despite damage to the attic and roof, the home remained habitable, the homeowner said.
Jan. 14
Chamber event
tugs at heartstrings
The Libby Chamber of Commerce's annual fundraiser and awards banquet got unexpectedly emotional after officials awarded then-County Administrator Darren Coldwell the Lincoln County Employee of the Year.
Coldwell accepted the award via a video link from Minnesota, where the longtime civil servant was receiving medical care at the world-renowned Mayo Clinic. Organizers said that county commissioners and chamber officials conspired with Coldwell's wife to surprise the county administrator.
"I just want you to know what a difference you've made in Lincoln County," County Commissioner Mark Peck (D-1) told Coldwell. "When you say that's expected of you — I think when you're going into an MRI tube, calling me, reminding me of something I'm supposed to do, is a little bit above and beyond the call of duty."
Jan. 22
Communication
breakdown
Facing a bevy of complaints from customers, Frontier Communications officials found themselves under scrutiny by the Montana Public Service Commission for reported problems in southern Lincoln County.
Customers criticized the company for not replacing backup batteries, which led to the loss of phone service during power outages.
More than a few questioned why they should pay their bills if they were not getting the service they expected.
The problem was most pronounced in the Happys Inn area.
County Commissioner Mark Peck (D-1) also sought answers from Frontier Communications. Lack of phone service meant customers could not phone 911 in the event of an emergency. Providing 911 services is a county responsibility, he said.
In response, Frontier Communications officials pledged to sit down with members of the public and government representatives in Lincoln County.
Feb. 15
Augustin Ramon of Eureka received a suspended six-year sentence after suing the Lincoln County Sheriff's Office in 2018 claiming they had unlawfully detained him.
Authorities initially arrested Ramon on suspicion of burglary. Eureka Police officer Grigori Neils wrote in an affidavit that after Ramon was found wandering in a neighbor's house, he admitted to stealing medication for his wife.
An immigrant with dual citizenships in Mexico and France, Ramon allegedly was brought to the attention of U.S. Border Patrol, which arranged to have him held on a 48-hour detainer if he made bail. That would give the federal agency time to pick him up.
The American Civil Liberties Union argued the detainer constituted a second arrest without cause.
Lincoln County District Judge Matthew Cuffe said the suspended sentence gave Ramon six years to become a respected member of the community, according to press accounts at the time.
Although Ramon's attorney argued against several of the conditions of the supervisory release, Cuffe said the requirements existed to keep the foreign national in the area while his immigration status was sorted out.
Feb. 19
Keep timber
dollars local
Lincoln County Commissioner Mark Peck (D-1) testified before a joint subcommittee of the Montana State Legislature, arguing them to support the Good Neighbor Authority financially.
The program allows state agencies to essentially act as subcontractors for the U.S. Forest Service, maintaining Montana's vast timberland. It also keeps money made from lumber operations and timber sales in the state, Peck told legislators.
Those dollars then go to local projects, he said. It's a win-win for the state, Peck said.
"It's just a way to leverage a lot more resources and keep them locally," he said.
But to participate, the state needed to create about seven full time jobs and make two temporary state workers permanent. Those employees would be dedicated toward managing the state's involvement in timber sales as related to the Good Neighbor Authority program. Peck urged state officials to fill the positions.
"It's one of the actual government-based programs that I think will work. It's working in Idaho," Peck said.
Feb. 22
Ground water
concerns
Libby City Council examined the potential expansion of an area set aside to deal with contamination stemming from wood treatment on the town's south end. In 1986, officials banned the creation of new wells in the area, but Lincoln County Board of Health Vice Chair George Jamison proposed enlarging the zone to cover 1,123 acres.
The new area also would incorporate land outside of city limits and include a buffer zone to account for "uncertainty."
About 40 wells in the area already had been plugged, Jamison told city councilors. But another 50 wells still may exist.
Jamison said the Environmental Protection Agency was concerned that wells still in operation in the expanded area could further spread the plume of contaminated water.
March 5
Contractor accused of
Social Security fraud
Authorities accused Stanley Daniel Silva of Libby with defrauding the Social Security Administration by collecting benefits he was not entitled to receive.
Federal officials initially began investigating after the Lincoln County Sheriff's Office alleged Silva and his wife, Christie, were concealing their construction business from the Social Security Administration.
The Silvas previously were under law enforcement scrutiny for allegations of theft from clients.
Both Silvas were Title II disability beneficiaries, according to court documents. Neither reported their employment to the Social Security Administration, authorities alleged.
They also lacked a contracting license with the Montana Department of Labor.
The couple told authorities they operated the contracting firm by the books and any mistakes stemmed from ignorance.
March 19
County reviews
Frontier contract
Lincoln County commissioners pondered taking potential legal action against Frontier Communications after learning it was being charged extra for services the company previously agreed to provide the locality.
The board of commissioners had voted to contract with the telecommunications company earlier in the year. As part of their agreement, they expected Frontier would provide a service that allowed first responders, particularly law enforcement, to record 911 calls.
The value of the contract was about $28, 829. After it was signed, officials were told by Frontier that the county would need to pay up $15,476 for the phone call recording equipment and software.
The board of commissioners instructed County Attorney Marcia Boris to review the contract to see if it had been correctly represented during negotiations.
March 22
EMS board discusses
areas of cooperation
Representatives of local volunteer ambulance services met with Cabinet Peaks Medical Center staff and county officials in an effort to improve cooperation ahead of the typically busy summer season.
The warmer months generally see an increase in patients at the local hospital, said physician Mark Harding. But he worried the ambulance services, which have seen a decline in volunteers, could keep up with the demand.
Harding sought to have hospital staff aid the ambulance services if necessary, neither he nor Libby Volunteer Ambulance Service President Jeff Holder could determine whether doing so was legal.
During the meeting, County Commissioner Jerry Bennett (D-2) advised the two groups to develop a memorandum of understanding, to better improve cooperation. A basic understanding of shared liabilities should be shared in a simple document, he said.
March 26
Shopko announces
closure
After six years of operation in Libby, Shopko representatives announced the closing of the Libby location.
Shopko purchased the location, which formerly was a Pamida, in 1999 as part of a major deal that included 163 stores. During the intervening years, the company gradually converted the Pamida's into Shopko Hometown stores.
But in January 2019, Shopko filed for court supervised restructuring under Chapter 11 of the U.S. Bankruptcy Code. Several months later, the company announced it would shutter all of its stores.
Former employees, customers and even retail competitors bemoaned the loss of the shopping outlet.
"But just I hate — hate, hate, hate — to see this," said Scott Erickson, store manager at nearby Rosauers Supermarket. "You know, some people would say, 'Oh, that just means more business for you,' but, for our town, I just — it's a really sad thing for the families."
March 29
LeRoy Thom buys
Payne Machinery
Longtime machinist LeRoy Thom wasn't looking to spend $1.4 million, but when Bill Payne asked him to buy Payne Machinery, Thom couldn't pass up the offer.
Already owner of Montana Machine and Fabrication, Thom said the deal, while putting him in debt, gave his growing company room to expand.
After a 50-year career, Payne was hoping to retire. He was excited to turn the company he had built up over to Thom.
Thom said he planned to keep Payne's team on the payroll while he consolidated the two firms. He also had early plans to bring a fabricator and machinist on board.
April 2
Rallying the
community
After vandals struck a concession stand at Lee Gehring Memorial Field, donations from across the community—and the country—poured in to Libby.
Libby Loggers baseball manager Kelly Morford first noticed something amiss at the ballpark on a Sunday afternoon. Investigating, Morford found the stadium's concession stand a mess.
Beer cans and trash were strewn about the stand, officials said. Graffiti was plastered on the wall. Several pieces of equipment, including the popcorn and ice machines, were damaged beyond repair.
By the following morning, Libby police officers had one juvenile suspect in custody and two more they planned to apprehend.
But there was still the impending cleanup. Volunteers took to hauling trash and scrubbing the walls. Local businesses offered time and services. A GoFundMe campaign to pay for the necessary work quickly reached $3,890.
"As demoralizing as the vandalism was, it's been just as uplifting to see all the support in the community," Morford said.
April 5
Riddle me this
For their artistic prowess, siblings Dina Riddle Jewell, Steve Riddle and R. Richard "Dick" Riddle were named distinguished graduates of Libby High School.
The siblings, who grew up in Libby, each made their own mark in the entertainment industry. Dick Riddle, who served as a Ranger in the U.S. Army, was well known about town for composing music. Later, he wrote the tunes for a musical and acted on stage and television.
Steve Riddle formed the Mission Mountain Wood Band, playing with the notable acts like the Grateful Dead, The Band and The Allman Brothers. He also performed on Broadway and recorded several full-length albums.
Dina Riddle Jewell began in community theater, which led to voice work. She later spent 14 years producing and hosting a daily health segment for morning drive-time talk show, AM IDAHO.
All three entered the Libby High School National Honor Society Distinguished Graduate Hall of Fame together.
---