Weyerhaeuser land buyer seeks to assuage fears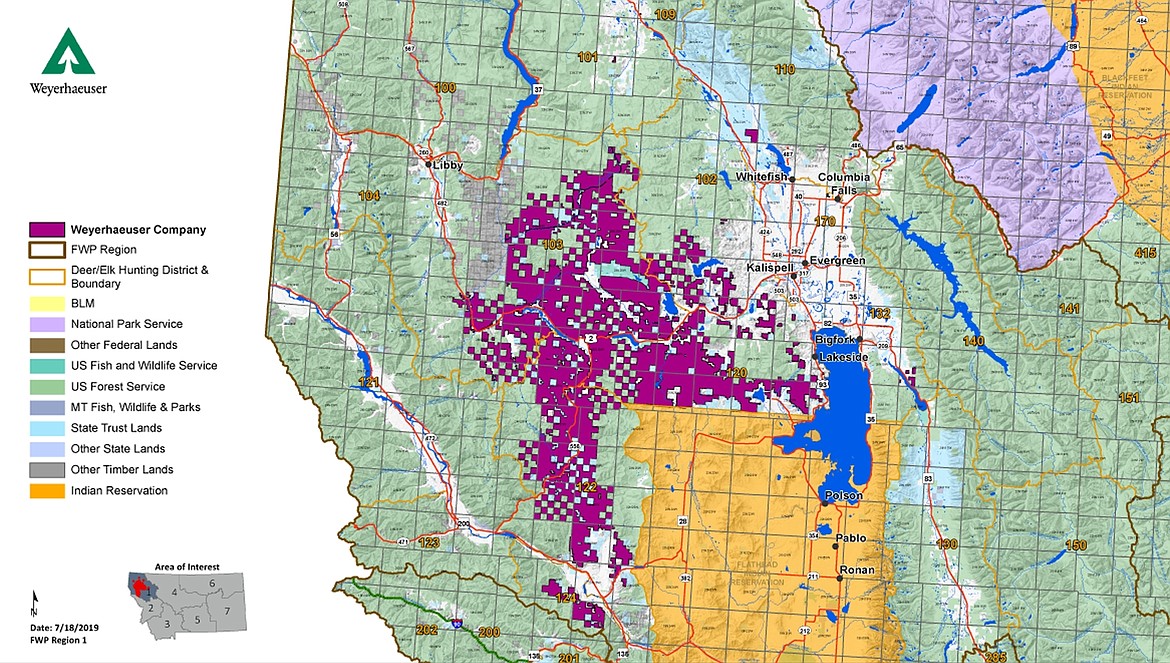 This map shows Weyerhaeuser property that's under the Block Management program in Montana. The purple is the Weyerhaeuser lands. A sale could block off a huge swath of land to public access from Kalispell to Libby if the deal goes through, Lincoln County officials fear.
by
Derrick Perkins Western News
|
December 24, 2019 10:36 AM
A law firm representing the potential new owner of 630,000 acres of prime timberland sought to allay growing concerns about future access to the property over the weekend.
Weyerhaeuser Company, which owns about 12 million acres of land nationwide, announced the pending sale of the property Dec. 17. The vast tract, which has largely been left open to hunters, fishermen and outdoorsmen for years, includes acreage in Lincoln, Lake, Sanders and Flathead counties.
Missing in Weyerhaeuser's announcement of the land sale was the identity of the new owner.
Lincoln County Commissioner Mark Peck (D-1) named Georgia-based Southern Pine Plantations as the buyer during a board of commissioners meeting last week. Raising concerns the new owners would cut off access to the land, Peck urged residents to lobby Weyerhaeuser to nix the sale.
Jamie Bowditch, president of the Missoula-based Boone Karlberg law firm, which represents Southern Pine Plantations, told Hungry Horse News over the weekend that the company would maintain the status quo.
"While we can't provide specifics before the deal closes, [Southern Pine Plantations] has no plan to change the long-standing practices of the prior owners related to public access, forest management, grazing, existing outfitting agreements and conservation easements, and other programs," Bowditch said. "Again, we can't comment further at this time, but we felt it was in the public interest to provide this assurance to concerned Montanans."
The massive sale caught Montanans by surprise. And the price point — about $230 an acre — only fueled speculation. Dillon Tabish, regional information and education program manager for Montana Fish, Wildlife and Parks, told the Daily Inter Lake he thought the price tag — $145 million in cash— would have interested everyone from conservationists to state officials.
"I think plenty of conservation organizations would have been making an offer on that parcel if they knew it had been going for that price," he said. "We had no idea Weyerhaeuser was trying to sell it."
Despite assurances access to the land would stay open, Peck — who lambasted the deal publicly and in print — remains wary.
"Words are cheap. I don't believe it," he said.
Southern Pine Plantation is a real estate company, not in the timber industry, Peck said. Unless they have a team of foresters or plan on changing their business model, they cannot manage the land, he said.
Instead, he worries the company will sell it off to private owners who will restrict access.
On its website, Southern Pine Plantations lists land for sale in Florida, Georgia, Mississippi and South Carolina ranging from 317 acres for $602,300 to 7,611 acres for $9,133,200.
"At some point in time, they're going to have to get a return on their investment," Peck said. "They don't own any mills, they don't have any forestry people and you're just not going to make that money back letting people hunt for free. But I could be wrong."
Weyerhaeuser has said it expects to keep its three Montana mills running following the sale, which should be finalized in 2020. But Peck and other skeptics fail to see how the company can maintain the facilities without access to timberland.
At heart, the sale puts in jeopardy two potential visions for the future of Lincoln County, hard hit by the departure of natural-resource-based-industry. County commissioners had hoped Weyerhaeuser would sell the property to a timber company like Stimson Lumber, which has recently bought up acreage in the area, and thus spur the creation of mill jobs.
And the potential loss of public access to such a large swath of land threatens hopes of turning Lincoln County into a destination for hunters, fishermen and outdoor enthusiasts.
Peck said his frustration is directed at Weyerhaeuser. He hopes to speak with representatives of Southern Pine Plantations and get off on the right foot.
He said he understands officials at the Georgia company saw a deal and jumped at it.
"I'm upset with Weyerhaeuser ... It's a total lack of respect for the people who have been doing business here, a total lack of respect to the entire northwest Montana economy. They just had other options and they choose not to even talk to those people," he said. "We've been screwed too many times by big, major timber companies. Big players in the promotion of sustainable forestry and then they turn around and do this kind of [expletive]."
Chris Peterson of the Hungry Horse News and Kianna Gardner of the Daily Inter Lake contributed to this report.
---