Pomeroy pleads not guilty to drunk driving charges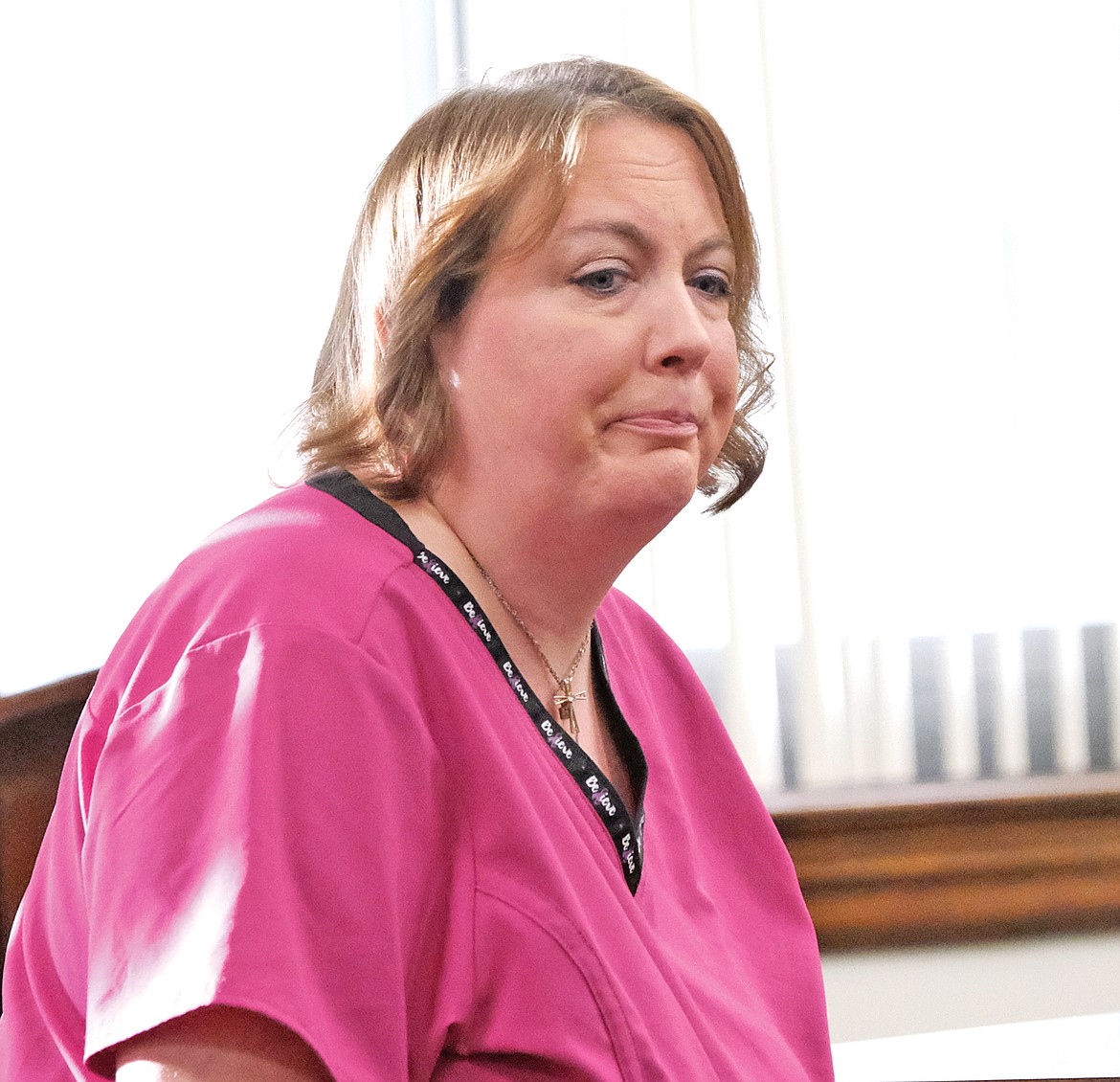 Adriane L. Pomeroy at her arraignment Dec. 16. (Paul Sievers/The Western News)
by
Derrick Perkins Western News
|
December 20, 2019 12:14 PM
Adriane L. Pomeroy, 42, of Libby pleaded not guilty Dec. 16 to multiple charges stemming from her arrest for allegedly driving under the influence in late November.
Authorities charged Pomeroy with felony counts of driving under the influence, fourth or subsequent offense, and operation of a noncommercial vehicle by a person with an alcohol concentration of .08 or more, fourth or subsequent offense.
She also faces misdemeanor charges of operating a motor vehicle without liability insurance in effect, driving while license is suspended or revoked and possession of an open container of an alcoholic beverage in a vehicle.
Pomeroy was arrested Nov. 26 after officer Cody DeWitt of the Libby Police Department saw her green pickup truck parked in the lot of a U.S. Highway 2 business late in the evening. When he returned at about 11:32 p.m., the truck was still in the lot, engine idling and headlights on, according to court documents.
In an affidavit, DeWitt said he approached the driver's side door and saw Pomeroy hunched over in the seat apparently unconscious. She did not respond to either the beam of his cruiser's spotlight or his flashlight, DeWitt wrote.
She stirred after he tapped the window, court documents said, sitting up with eyes still closed. When Pomeroy opened her eyes, they were "unfocused, glossy and bloodshot," DeWitt wrote.
He described her movement as slow and deliberate in the affidavit. She also appeared confused, DeWitt recalled.
Eventually, he helped her open the door, court documents said. The strong smell of alcohol emanated from the vehicle, DeWitt wrote.
Pomeroy allegedly told him that she was talking to her boyfriend and not asleep in the vehicle. When he asked if she had been drinking, she replied, "Not so much," according to the affidavit.
During a subsequent field sobriety test, Pomeroy struggled to maintain her balance, but blamed that on wearing high heels, DeWitt recounted.
After a bit of back-and-forth, Pomeroy agreed to take a preliminary breath test, according to court documents. DeWitt wrote that he had given Pomeroy the test before and that she knew how to give a breath sample, but was unable to provide one after multiple attempts.
Testing later revealed that Pomeroy had a blood alcohol content of .167, according to court documents.
While DeWitt arrested and handcuffed Pomeroy, Steve Short of the Lincoln County Sheriff's Office searched her pickup truck. Inside, he allegedly found an open alcoholic beverage container as well as an empty bottle of schnapps.
Pomeroy was released on a $10,000 bond. She is expected back in court for an omnibus hearing Feb. 10.
If convicted, the fourth offense, driving under the influence charge carries a penalty of no less than 13 months in a correctional facility with a minimum five-year suspended sentence and fine of between $5,000 and $10,000. Her motor vehicle also would be seized and forfeited by the state.
---