Lady Loggers win under new head coach; boys top Troy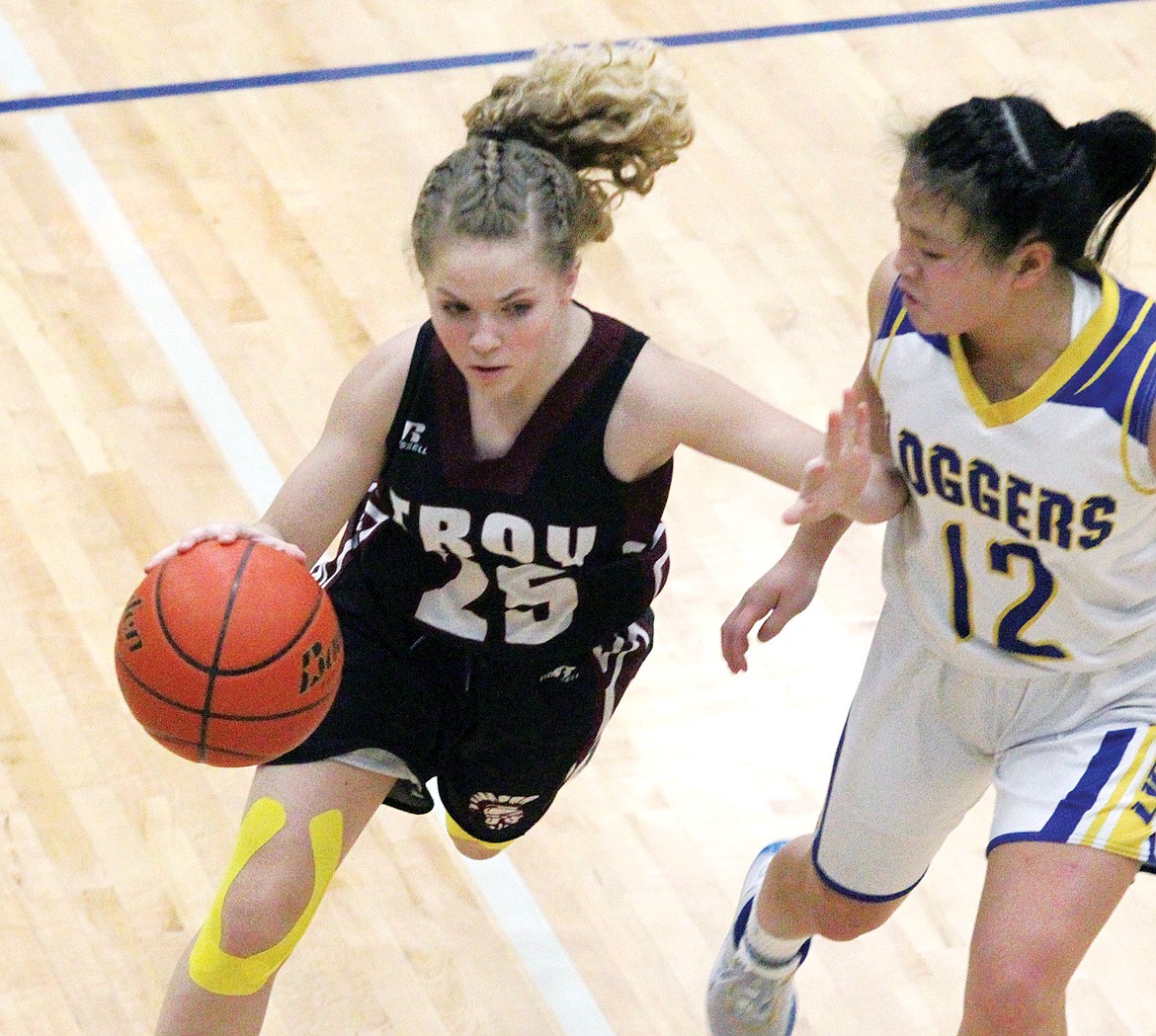 Senior Izzy Tunison drives past Syd Gier during the second quarter in Thursday's Libby-Troy matchup. Lady Loggers over Lady Trojans 56-12. (Paul Sievers/The Western News)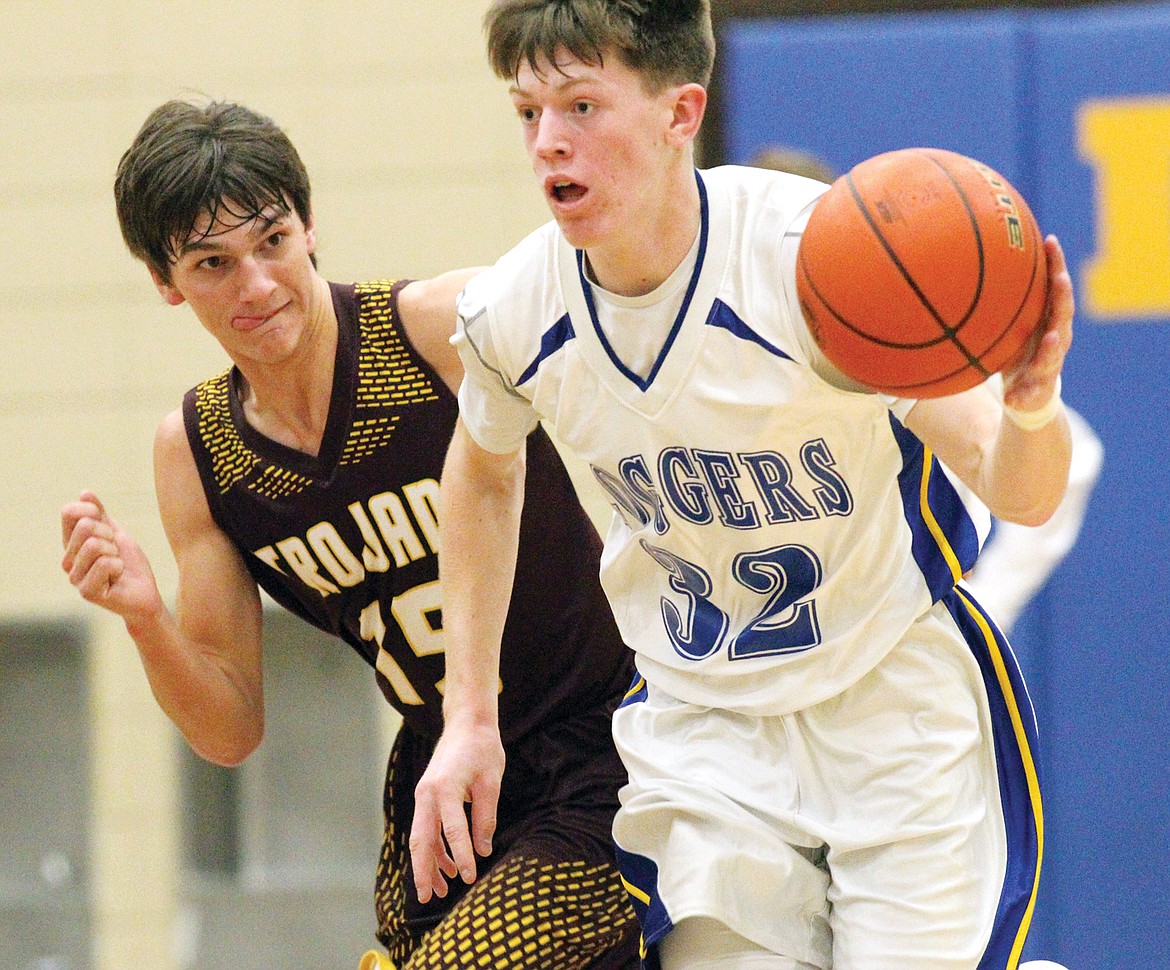 Sophomore guard Caden Williams brings the ball down court in second quarter with Troy's Moxley Roesler-Begalke in pursuit. Loggers over Trojans 59-15. (Paul Sievers/The Western News)
Previous
Next
by
Derrick Perkins Western News
|
December 17, 2019 11:00 AM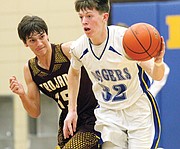 The Lady Loggers cruised to a 56-12 victory over Troy on Dec. 12, but senior Syd Gier said the final score belied the pressure the squad felt heading into their home opener.
Under the tutelage of new head coach Jackie DeShazer and in front of the home crowd at Libby High School for the first time, the Loggers had a lot to prove, Gier said.
"Everyone was asking us, are you going to be good this year?" the five-foot guard recalled. "Yeah, there was pressure on us."
But the Loggers, coming off a season that saw them advance to the State Class A Tournament, took the lead early on and never took the foot off the gas pedal. Junior forward Olivia Gilliam-Smith put Libby on the board with a free throw early in the first quarter to get the ball rolling.
By the end of the first quarter, the Loggers led Troy 19-4 with two of those points coming from Gier. She made the basket during a well-executed break down the court after a cluster of Trojans became entangled.
By halftime, the scoreboard read 28-9. With just under two minutes left in the third quarter, the score was 45-12 in favor of Libby.
Given the significant lead the Loggers enjoyed throughout, DeShazer praised her team for staying focused. She described this year's squad as heavy on talent, but light on experience.
"We have a lot of girls that are talented, but don't have a lot of varsity minutes," DeShazer said. "We have two freshmen playing a lot of minutes for us."
Gier is one of just two seniors on the Loggers' roster — the other being standout McKenzie Proffitt. DeShazer has looked to them to provide the gaggle of juniors, sophomores and freshmen with guidance.
"Syd took on a leadership role and has a done a great job," DeShazer said.
Despite the final score in the cross-county matchup, the new coach said the Loggers have plenty to work on at practice. Fouls were a concern in the first half, for example, she said.
Gier agreed, citing a laundry list of areas of improvement, including being more intense in practice.
"I think we did good, but we have a lot of things to work on," she said.
The Lady Loggers head to Thompson Falls for their next matchup on Dec. 19.
The boys varsity squad similarly enjoyed success against Troy, beating the Trojans 59-15. Like their counterparts, the Loggers led early—taking a 12-4 lead by the end of the first quarter—before pulling away before halftime.
They play Thompson Falls next on Dec. 17.
---