Casazza arraigned on mulitple charges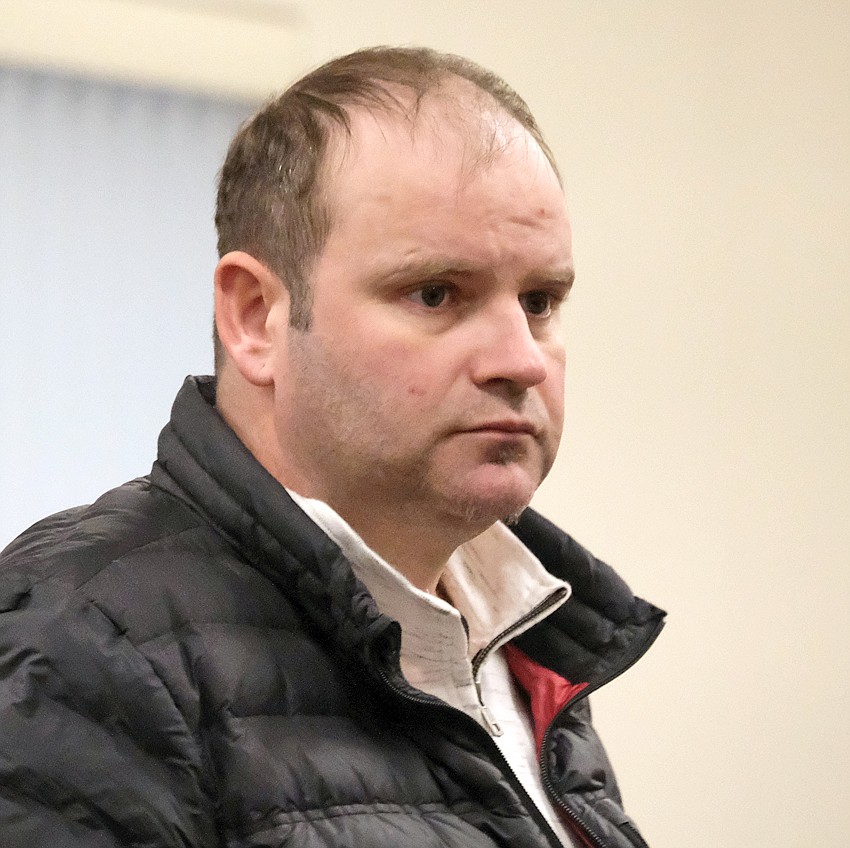 Dallas Clay Casazza at his Dec. 9 arraignment in Lincoln County District Court. (Paul Sievers/The Western News)
by
Derrick Perkins Western News
|
December 17, 2019 10:46 AM
A Eureka man accused of trying to escape police custody last month was arraigned on criminal possession of dangerous drugs and tampering with evidence charges in Lincoln County District Court on Dec. 9.
Dallas Clay Casazza, 39, pleaded not guilty to both felony counts. His bail is set at $25,000.
Authorities began looking for Casazza on Nov. 14 after learning he was headed back to Eureka in violation of the terms of his parole, according to court documents. Deputy Dan Holskey of the Lincoln County Sheriff's Office, who wrote the affidavit, reported that he knew "Casazza continues to use methamphetamine and transports it with him to his residence in Eureka."
After getting the go-ahead to track Casazza down from probation officer Darrell Vanderhoef. Holskey spotted the 39-year-old driving through town in his pickup truck about 8:30 p.m. Calling for backup, Holskey trailed Casazza to his ex-girlfriend's residence — a home the man was barred from visiting while on parole.
Joined by Deputy Dale White, Holskey approached the truck, where he removed Casazza's ex-girlfriend from the vehicle. Telling Casazza that he planned to give him a drug test and search him, Holskey asked whether he would find anything, according to court documents.
"When I asked if we were going to find anything on him, he became evasive and then stated he 'needed to come to grips with something' and he was 'sick of screwing up,'" Holskey wrote.
Citing Casazza's "behavior," Holskey had White handcuff him before removing him from the vehicle for a search, according to the affidavit. Holskey was going through the truck when he heard White yell, court documents said.
Looking up, he saw Casazza run past the vehicle and into the night with White hot on his trail.
Following, Holskey caught up with Casazza after he slipped while trying to traverse a pile of logs. Casazza fell face-first to the ground, landing with his arms and hands underneath his body, court documents said.
Standing over Casazza, Holskey threaten to use a Taser if he tried to escape again, according to the affidavit. The two deputies gave Casazza a few moments to recover before getting him off the ground.
Holskey reported that the truck was clear of drugs, but they did find a plastic bag containing a crystal substance under the log pile where Casazza had fallen. It tested positive for methamphetamine, court documents said.
Casazza denied it was his, according to the affidavit. He told Holskey he bought cocaine earlier in the day, but not meth. Pressed on where the cocaine was, Casazza changed his story and said his attempts to buy the drug were unsuccessful, court documents said.
Later, on a recorded phone call from the Lincoln County Detention Center, Casazza told his mother that he had bought drugs that day and had meth on him when deputies arrived, according to court documents.
Criminal possession of dangerous drugs comes with a maximum penalty of five years behind bars and a $5,000 fine. Tampering with evidence is punishable by up to 10 years in prison and a $10,000 fine.
Casazza will be back in court Jan. 27 for an omnibus hearing.
---