Loggers' Trey Thompson shines in Owen Invitational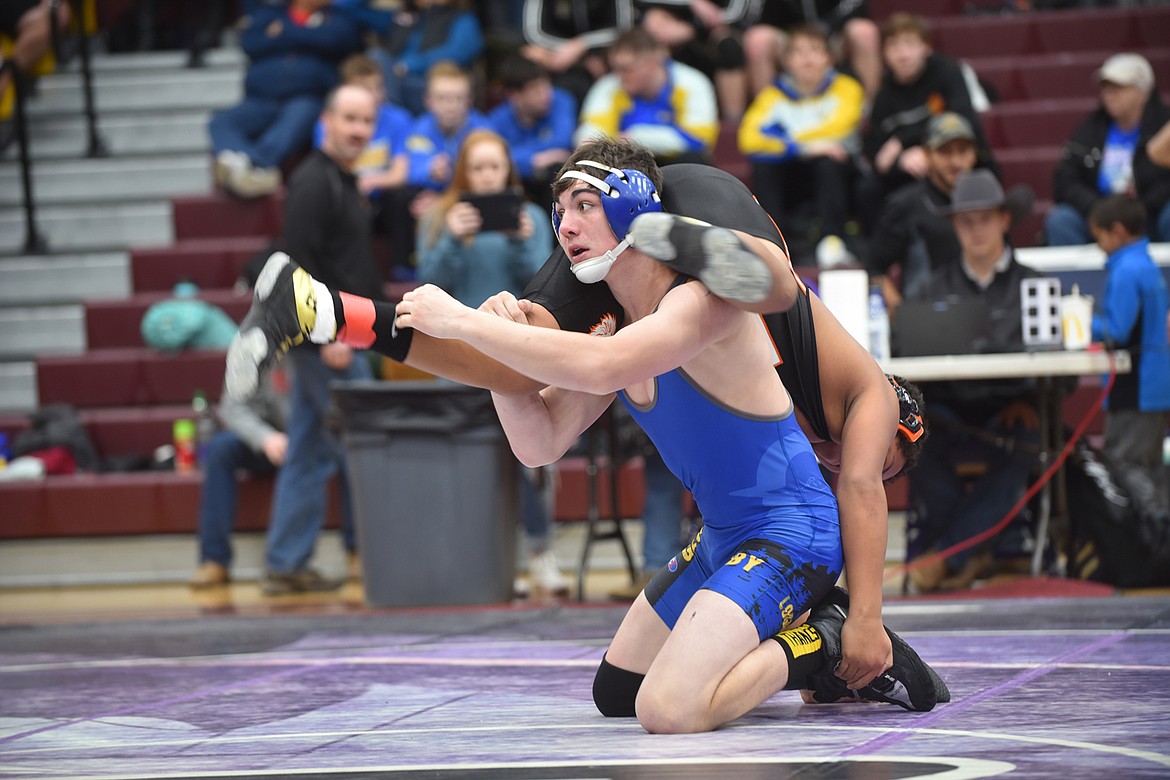 Libby's Trey Thompson has Eureka's Jackson Hume under control during the 152-pound match Friday at the Owen Invitational at Salish Kootenai College in Pablo. Thompson scored a fall in 1:27. (Scott Shindledecker/Daily Inter Lake)
by
Derrick Perkins Western News
|
December 10, 2019 10:41 AM
Trey Thompson led the way for the Libby Loggers at the Owen Invitational wrestling tournament over the weekend, placing first in his weight class.
At 152-pounds, Thompson beat Darwin Adams of Mission-Charlo by decision in the first-place round of the annual tournament. Thompson beat Jace Mannix of Missoula Sentinel in sudden victory to advance to the title round.
Thompson defeated Peyton Hicks of Frenchtown, Hunter Groff of Belgrade and Jackson Hume of Eureka, all by falls, in the previous rounds of the tournament.
The senior earned 30 points for his performance.
Greenchain teammate Tucker Masters placed second at 160 pounds. Stopped only by Bridger Williams of Hamilton by major decision in the first place round, Masters knocked off Simon Kaldor of Missoula Sentinel, Logan Adler of Polson High School, Daniel Collins Bishop of Ronan and Ethan Chavez of Corvallis, all by falls.
Masters earned Libby 28 points in his run.
Fellow Logger Hunter Hoover placed third at 152 pounds. After beating Chance Muller of Eureka by fall in the quarterfinal round, Hoover lost to Darwin Adams of Mission-Charlo by decision.
Hoover beat Gavin Tuttle of Lake City in the consolation semifinal match. He went on to defeat Brendan Gill of Belgrade by fall to secure third place.
At 160 pounds, Cody Crace of Libby took fourth place. He originally fell to Hamilton's Bridger Williams in the semifinal matchup, but went on to defeat Jase Lewis of Hellgate in the consolation bracket semifinal.
Porter Howard of Lake City overcame Crace in the third place matchup, winning by decision.
Zane Nordwick took sixth place at 138 pounds and earned Libby 11 team points in his run. Nordwick beat Robert Dempsey of Mission-Charlo by fall before losing out to Blake Jolma in the semifinal round.
Jaxon Heinz of Columbia Falls overcame Nordwick by decision in the consolation semifinal round. Browning's Quenton Compos also won by decision over Nordwick in the fifth place match.
Overall, the Loggers tied with Columbia Falls for 10th in the non-conference tournament. Frenchtown placed first with Lake City and Belgrade taking home second and third, respectively.
---