Court rules Hornback must abide by plea agreement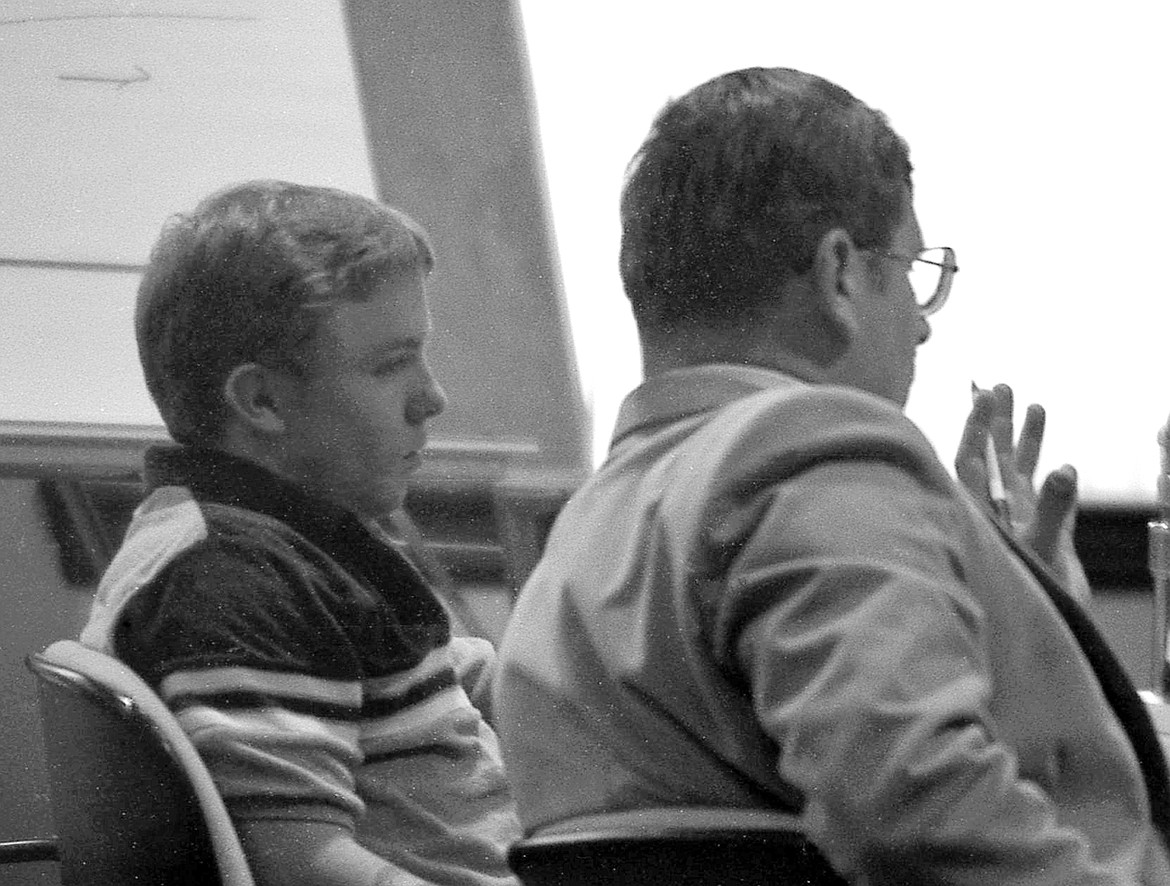 Robert George Hornback, left, March 9, 1988. (June McMahon/The Western News)
by
Derrick Perkins Western News
|
December 10, 2019 10:32 AM
After unsuccessfully attempting to withdraw from a plea deal struck with prosecutors in 1988, Robert Hornback must abide by the parole restrictions of the arrangement following a Dec. 3 ruling in Lincoln County District Court.
Authorities arrested Hornback more than three decades ago for the sexual assault and murder of 8-year-old Ryan Van Luchene of Libby. Facing the possibility of the death penalty, Hornback entered an Alford plea, in which he maintained his innocence, but acknowledge the weight of the evidence against him.
In exchange, prosecutors dropped kidnapping and deviate sexual conduct charges. Hornback eventually was sentenced to two 100-year sentences on counts of deliberate homicide and persistent felony offender. He was not to become eligible for parole until after spending 35 years — 17-and-a-half years for each charge — behind bars.
In a motion to withdraw plea filed in February, Hornback argued that he could withdraw from the plea at any time. He claimed to have agreed to the plea deal under duress in 1988, and cited new evidence and expert analysis that would help his defense.
Van Luchene's murder shook Libby, then a town of about 4,000, to its core. On Aug. 31, 1987, the 8-year-old departed his house with his dog and a net to catch minnows in nearby Flower Creek. About 2:30 p.m., the dog returned home alone.
By early evening, Lincoln County search and rescue had joined with volunteers in a doomed effort to locate the missing boy.
Suspicion quickly fell on Hornback, according to court documents. Recently out of prison after serving a three-year sentence for sexually assaulting a local boy — the attack occurred near Flower Creek — Hornback had moved in with a couple on Dakota Avenue.
After his alibi fell apart and evidence emerged that Hornback had been near Flower Creek the day of Van Luchene's disappearance, authorities organized a search of the area.
They found Van Luchene's body about 8 p.m.
The boy was in a thicket of brush east of the creek, about a quarter mile from the job welfare office, blood sprayed in an arc around his body. Investigators later determined he died from a blow that destroyed about a third of his head.
Authorities documented scrapes and bruises on his chest, arms and knees. Strangulation marks were found on his neck. There was evidence of sexual abuse.
Law enforcement arrested Hornback that night. Hair found on the victim was later matched to Hornback and soil samples taken from his clothes closely resembled that near the crime scene.
Hornback's defense attorney, David Harman, eventually sought a plea deal with prosecutors, but not before filing 21 pretrial motions. Harman successfully changed the trial venue, limited the state's use of evidence and blocked witnesses that might have proven damaging in trial, according to court documents.
He also conducted an independent investigation and consulted experts to nullify the hair analysis. Scott Spencer, then Lincoln County Attorney, later testified that Harman got the best plea deal possible for his client.
Hornback has since claimed that he did not read the plea agreement and that Harman pressured him to accept it. He also accused the court of failing to ensure he was aware of the details when it accepted his plea.
Finally, Hornback argued that he could not be forced to serve a second sentence for being a persistent felony offender.
While prosecutors conceded Hornback's final point, they maintained the terms of the plea deal were advantageous for the defendant. They opposed his accusation that Harman had improperly informed him of the plea agreement.
They also argued there existed no new evidence that might help Hornback's defense as Harman already had lined up an expert to refute the hair analysis in the 1980s.
In his Dec. 3 ruling, Judge John W. Larson resentenced Hornback to 100 years in Montana State Prison, putting aside the persistent felony offender charge. But Larson required Hornback stick to the original terms of his plea agreement, meaning he would not be up for parole until after 35 years behind bars.
Hornback's attorney, Ryan Hennen, had asked that the parole restriction be reduced to 17-and-a-half years to reflect the removal of persistent felony offender charge.
"…[The] Court takes into account the significant impact on the victim, his family and the community as well as the serious nature of the offense," Larson said during the sentencing, according to court documents. "This sentence is consistent with the agreement of the parties, which provides a significant benefit to the defendant."
---