Police: Reed tampered with witnesses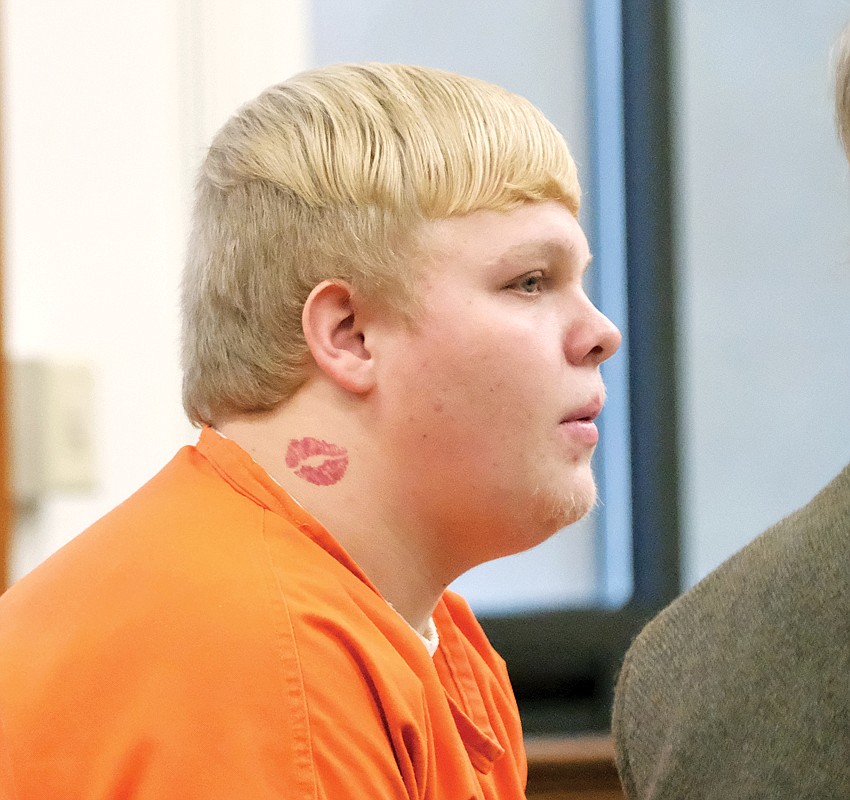 Noah Raymond Reed arraignment, Dec. 2, 2019. (Paul Sievers/The Western News)
by
Derrick Perkins Western News
|
December 6, 2019 10:50 AM
A Libby man arrested for allegedly strangling and assaulting his girlfriend now faces a witness tampering charge after authorities said he tried to convince the victim to recant her statement to law enforcement.
Noah Raymond Reed, 20, already faced strangulation of a partner or family member and partner or family member assault charges stemming from a November incident. Arrested Nov. 12, Reed is accused of contacting his victim from the Lincoln County Detention Center.
"Noah mentions to [the victim] that she should help reduce charges by writing statements to the prosecution stating that he is not abusive and the doctors are lying," wrote Libby Police officer Ronald Buckner in an affidavit.
Reed also tried to persuade his sister not to cooperate with authorities and inquired whether any of their relatives were willing to testify in the case, according to the affidavit. His phone conversations, made at the detention center, were recorded, court documents said.
Reed was aware he could not discuss the court case, officials said.
Reed, who has a lengthy criminal record, came again to the attention of local law enforcement after his girlfriend received a regular checkup at the Libby Community Health Center. A doctor there alerted police to suspicious marks and bruising on her body Nov. 11, court documents said.
When Buckner, the responding officer, arrived, he found the victim "emotional" and "on the verge of crying." She agreed to talk with authorities despite fears Reed would retaliate, Buckner wrote in his affidavit.
She described the relationship as physical and violent, and worried it would grow worse, court documents said.
The most recent incident occurred a few days before the doctor's visit, the victim told police. Reed wanted the couple to visit his grandmother's house, she said. When they arrived, Reed insisted they go inside, even though she was unwelcome there, according to the victim's statement.
When she hesitated, Reed allegedly grabbed her by the throat and threw her out of their vehicle, court documents said. He exited the car, approached her and began to choke her, according to the affidavit.
The victim nearly lost consciousness, court documents said.
"[She] later told me how scared she was because she felt the bones crack in her throat," Buckner wrote.
The victim suffered injuries to her hands, neck and arm, according to court documents.
Asked whether she had sought help, the victim told authorities she worried about Reed retaliating.
"[The victim] admitted that she wasn't perfect herself, but stated that she felt like things were getting out of hand and needed to stop," Buckner wrote.
She alleged that Reed strangled her regularly and takes out his anger on her, court documents said.
Buckner passed his report along to the Lincoln County Attorney's office, who told him to arrest Reed.
In an interview with authorities, Reed denied the allegations. He accused the victim of suffering from violent outbursts. Any bruising or other marks were self-inflicted, he told police.
Pressed, Reed admitted to choking the victim, but said it only occurred during consensual sexual relations, court documents said.
But in Buckner's affidavit, the police officer wrote that he did not feel Reed was being truthful.
Arraigned in Lincoln County District Court on Dec. 2, Reed pleaded not guilty to all three charges. The strangulation charge, a felony, carries a maximum penalty of five years incarceration and a $50,000 fine. As the partner or family member assault charge is a second offense, it is treated as a misdemeanor punishable with a $300 fine and up to a year behind bars.
Tampering with a witness is also a felony charge with a penalty of up to 10 years in prison and a $50,0000 fine.
An omnibus hearing is scheduled for Jan. 27.
---