Libby tennis players dedicated to improvement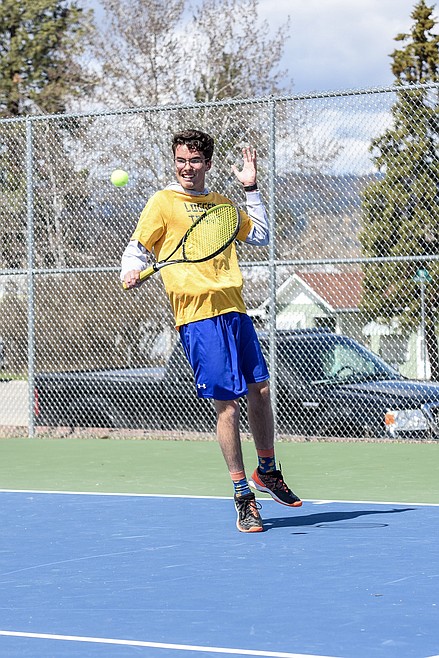 Libby senior Zach Carter returns against Whitefish's Brendan Bals Tuesday at Libby. (Ben Kibbey/The Western News)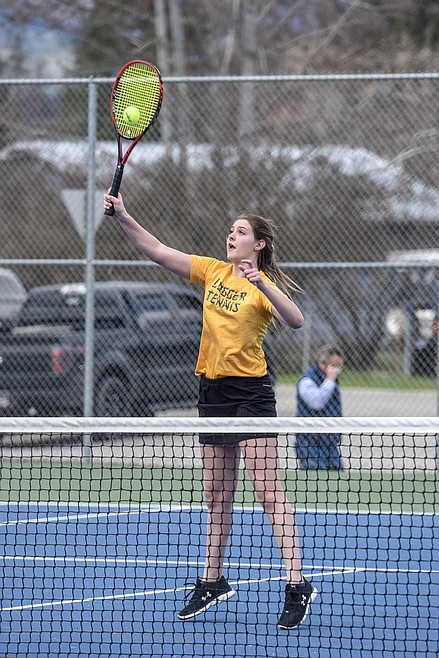 Libby sophomore Gabby Fantozzi reaches to make the return during a doubles match against Whitefish Tuesday at Libby. Fantozzi and her partner, sophomore Laneigha Zeiler, were undefeated against both Whitefish and Polson Tuesday. (Ben Kibbey/The Western News)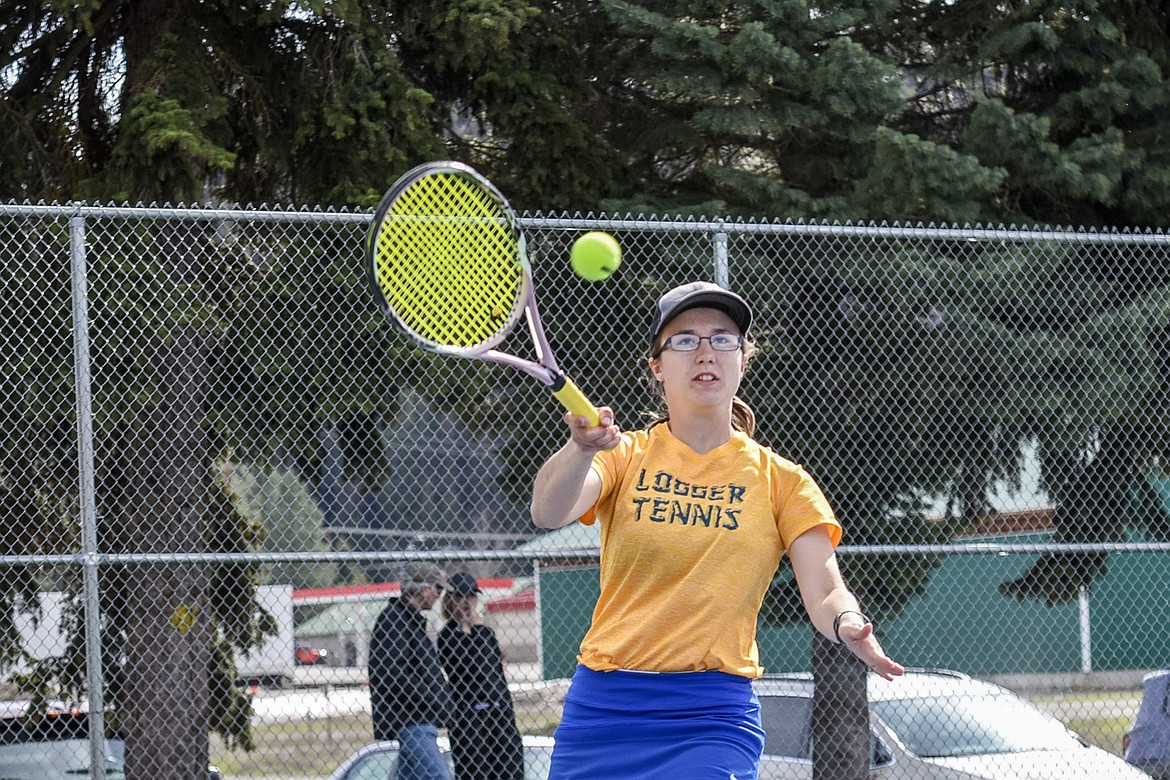 Libby junior Cierra Lucas runs in to make the return against Whitefish Tuesday at Libby. Lucas and sophomore doubles partner Elise Erickson were undefeated Tuesday against both Whitefish and Polson. (Ben Kibbey/The Western News)
Previous
Next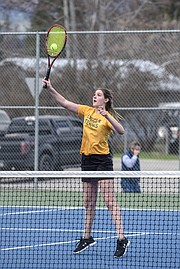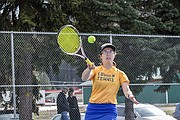 Despite having more team losses than wins for both the boys and the girls at this point in the season, several players on the Libby High School tennis team are shaping up for some serious competition.
Libby Head Coach Kyle Hannah said that the young and largely inexperienced team is working hard and staying late as they make up for lost time.
After practice, Hannah said that he will have anywhere from eight to 10 of his student athletes staying after practice to work into the evening. The night before their matches against Whitefish and Polson Tuesday, junior Trey Thompson was out on the courts until 8 p.m.
"He's going to put in the time to make himself as good as possible," Hannah said of Thompson.
A multisport athlete, Thompson appears to take seriously anything he participates in.
"He's loving it. Like every kid that comes out late, he was wishing he would've come out a year or two earlier, but he's going to do everything he can to make up that two-year, gap," Hannah said.
At the Cut Bank Invitational last weekend, Libby had mostly team losses, though the boys pulled out a 5-2 team win against Cut Bank and the girls had a 4-2 team win against Fergus.
Still, throughout, both the boys and girls had good matches.
"It was a fun weekend," Hannah said.
The team battled through three matches a day in the cold, windy weather at Cut Bank and it was a good experience of traveling away from home, staying in strangers homes and representing their hometown, Hannah said.
"Overall, they were the best-behaved team there. And to me, being a good citizen is more important than any win or loss in tennis," he said.
On Tuesday, both teams had a hard run against Whitefish, with the boys falling 7-0 and the girls falling 4-3. Later that afternoon against Polson, the girls triumphed, 4-3, while the boys lost 5-2.
Hannah said even though the teams had hard losses Whitefish, the players were getting good experience.
Many of this year's girls and boys are completely new to the game of tennis, but none on the court Tuesday looked like they had first picked up a racket only about a month ago.
Hannah said he has been happy with how quickly many of the new players have taken to the sport.
"You know, going from totally swinging and missing the ball, to actually using correct form and hitting the ball, it's just fun to see how mature we've gotten so quickly," he said.
"They're improving immensely. They're growing up and going from a non-tennis player to a varsity tennis player pretty quickly," he said.
Hannah acknowledged that one benefit of completely inexperienced players is that they have no bad habits to break.
"And the neat thing about Coach (Terry) Oedewaldt and I, we have two different styles of game. So, we teach them both styles, and we let the kids choose what is most comfortable for them," Hannah said.
They still help the players with advice on what style suits them best, he said.
The players appreciate the ability to play the game in the way that suits them.
"Some of these kids say this is their favorite sport, and they excel in other sports — It's just a whole different element," Hannah said. "Yet, those who want to compete, we're going to coach and push them to win a championship, and those that want to come out and have fun, we're going to coach them to have fun."
Cut Bank Invitational
Boys
Friday, April 12
Havre 6, Libby 1
Singles
No. 1 Josh Warp, H, def. Zach Carter, L, 8-7(3)
No. 2 Tommy Brown, H, def. Ryker McElmurry, L, 8-2
No. 3 Zack Morrison, L, def. Troy Powell, H, 8-5
No. 4. Randy Tommerup, H, vs. forfeit, L.
Doubles
1. Reese Bulkley and Jake Huston, H, def. Cayman Lee and Colton Halvorson, L, 8-3
2. Mick Chagnon and Trenton Maloughney, H, def. Michael Hollingsworth and Trey Thompson, L, 8-6
3. Jack Johnsrud and Josiah Harrison, H, def. Tyler Cerna and Ryan Collins, L, 8-0
Hardin 6, Libby 0
Singles
No. 1 Famous Lefthand, H, def. Cayman Lee, L, 8-1
No. 2 Ryan Old Crow, H, def. Colton Halvorson, L,
No. 3 Gabe Passes, H, def. Tyler Cerna, L,
Doubles
1. Jonathan & Benjamin Noteboom, H, def. Zach Carter and Ryker McElmurry, L, 8-5
2. Kent Swisse and Miguel Lopez, H, def. Trey Thompson and Zack Morrison, L, 7-0
3. Dom Stevens and Norman Dawes, H, def. Michael Hollingsworth and Ryan Collins, L, 8-3
Libby 5, Cut Bank 2
Singles
No. 1 Zach Carter, L, def. Gus Meiwald, CB, 8-2
No. 2 Trey Thompson, L, def. Donnie Fleeger, CB, 8-5
No. 3 Michael Hollingsworth, L, def. Hayden Harrell, CB, 8-4
No. 4 Keenan Eames, CB, vs. forfeit, L, 1-0
Doubles
No. 1 Cayman Lee and Ryker McElmurry, L, def. Colby Kraft and Colten Barsness, CB, 8-5
No. 2 Colton Halvorson and Zach Morrison, L, def. John Vermulm and Brett Sneed, CB, 8-4
No. 3 Tyler Cema and Ryan Collins, L, def. Dayne Barbie and Dillon Gray, CB, 8-0
Saturday, April 13
Fergus 5, Libby 1
Singles
No. 1 Jayce Philipps, F, def. Zach Carter, L, 8-6
No. 2 Logan Errecart, F, def. Ryker McElmurry, L, 8-4
No. 3 Ryan Collins, L, def. Michael deGuzman, F, 8-6
Doubles
No. 1 Nate Kindzerski and Ben Kolar, F, def. Colton Halvorson and Zack Morrison, L, 8-3
No. 2 Dylan Gatz and Jake Henderson, F, def. Cayman Lee and Trey Thompson, L, 8-7(2)
No. 3 Rafe Bruchez and Andrew Snyder, F, def. Tyler Cerna and Michael Hollingsworth, L, 8-4
Girls
Friday, April 12
Havre 5, Libby 2
No. 1 Laneigha Zeiler, L, def. McKenzie Tommerup, H, 8-6
No. 2 Kassidy Compton, H, def. Ivy Pierce, L, 8-2
No. 3 Jessica Cunningham, L, def. Tamera O'Leary, H, 8-0
No. 4 Sylvia Wilting, H, vs. forfeit, L, 1-0
Doubles
No. 1 Marcee Murphy and Devyn Solomon, H, def. Elise Erickson and Ciera Lucas, L, 8-2
No. 2 Cassidy Acor and Kadyn Acor, H, def. Starlyn Mayberry and Annika Thorstenson, L, 8-2
No. 3 Teagan Fee and Tiffany Ralph, H, def. Gabby Fantozzi and Maddy Broden, L, 8-1
Hardin 7, Libby 0
Singles
No. 1 Abi Noteboom, H, def. Starlyn Mayberry, L, 8-5
No. 2 Jonna Lind, H, def. Gabby Fantozzi, L, 8-4
No. 3 Melissa Old Crane, H, def. Maddy Broden, L, 8-2
No. 4 Elizabeth Black Eagle, H, vs. forfeit, L, 1-0
Doubles
No. 1 Makikio Reisig and Katie Murdock, H, def. Elise Erickson and Ciera Lucas, L, 8-5
No. 2 Boonista Apichartiwat and Jade Cruse, H, def. Ivy Pierce and Jessica Cunningham, L, 8-1
No. 3 Deidra Don't Mix and Riley Green, H, def. Annika Thorstenson and Laneigha Zeiler, L, 8-2
Cut Bank 6, Libby 1
Singles
No. 1 Lily Overstreet, CB, def. Starlyn Mayberry, L, 8-2
No. 2 Laneigha Zeiler, L, def. Sharaira First Rider, CB, 8-6
No. 3 Shannia Schmidt, CB, def. Maddy Broden, L, 8-0
No. 4 Courtney Anderson, CB, vs. forfeit, L, 1-0
Doubles
No. 1 Macee Barry and Jaycee Frydenlund, CB, def. Elise Erickson and Ciera Lucas, L, 8-5
No. 2 Katelyn Edinger and Madi Seifert, CB, def. Ivy Pierce and Jessica Cunningham, L, 8-2
No. 3 Falon Big Spring and Joscelynn Mills, CB, def. Annika Thorstenson and Gabby Fantozzi, L, 8-5
Saturday, April 13
Libby 4, Fergus 2
Singles
No. 1 Tessa Gatz, F, def. Elise Erickson, L, 8-6
No. 2 Dalice Church, F, def. Ciera Lucas, L, 8-5
No. 3 Laneigha Zeiler, L, def. Natalie Day, F, 8-5
Doubles – Girls
No. 1 Ivy Pierce and Jessica Cunningham, L, def. Marla Villaruel and Ellie Kuhlmann, F, 8-4
No. 2 Gabby Fantozzi and Annika Thorsenson, L, def. Taylor Haugen and Izzy Mecklenburg, F, 8-1
No. 3 Starlyn Mayberry and Maddy Broden, L, vs. forfeit, F, 1-0
Home
Tuesday, April 16
Boys
Whitefish 7, Libby 0
Singles
No. 1 Brendan Bals, WF, def. Zach Carter, L, 6-0, 6-0
No. 2 Jayce Cripe, WF, def. Zack Morrison, L, 6-0, 6-7(3), 6-3
No. 3 Jack Robertson, WF, def. Ryker McElmurry, L, 6-3, 6-1
No. 4 Highlord Lee-French, WF, def. Cayman Lee, L, 7-5, 6-7(1), 7-6
Doubles
No. 1 Mark Anderson and Colter Upton, WF, def. Ryker McElmurry and Cayman Lee, L, 6-1. 6-0
No. 2 Ian Calaway and Carver Gillman, def. Trey Thompson and Colton Halvorson, L, 6-1, 6-0
No. 2 Jackson Carson and Joe Brandt, WF, def. Tyler Serna and Ryan Collins, L, 5-7, 6-3, 6-3
Polson 5, Libby 2
Singles
No. 1 Colby Devlin, P, def. Ryker McElmurry, 6-4, 3-6, 6-4
No. 2 Trevor Schultz, P, def. Cayman Lee, L, 6-2, 6-3
No. 3 Colton Halvorson, L, def. MaKauly Morrison, P, 6-1, 6-4
No. 4 Natt Hobbs, P, def. Ryan Collins, L, 6-0, 6-0
Doubles
No. 1 Zach Carter and Trey Thompson, L, def. Bridger Wenzel and Kendal Ferman-Webster, P, 6-3, 6-4
No. 2 Cayman Lee and Colton Halvorson, L, def. Michael Smith and Tai Schriver, P, 6-1, 6-2
No. 3 Ryan Doss and Kenton Sislap, P, def. Tyler Cerna and Ryan Collins, L, 6-2, 6-3
Girls
Whitefish 4, Libby 3
Singles
No. 1 Gracie Smyley, WF, def. Marissa Wood, L, 6-0, 6-0
No. 2 Claire Carloss, WF, def. Jessika Jones, L, 6-3, 6-2
No. 3 Jesse Grawunder, WF, def. Starlyn Mayberry, L, 6-1, 3-6, 7-6(1)
No. 4 Olivia Potthoff, WF, def. Ruby Martin, L, 6-2, 6-0
Doubles
No. 1 Elise Erickson and Ciera Lucas, L, def. Payton Kastella and Abigail Shaffer, WF, 7-5, 7-6(7)
No. 2 Ivy Pierce and Jessica Cunningham, L, def. Stacia Trempor and Lauren Brown, WF, 6-2, 6-1
No. 3 Gabby Fantozzi and Laneigha Zeiler, L, def. Emma Shaffer and Anyah Cripe, WF, 6-7(5), 6-2, 6-1
Libby 4, Polson 3
Singles
No. 1 Jessika Jones, L, def. Shea McGuinness, P, 6-4, 6-3
No. 2 Qia Harlan, P, def. Marissa Wood, L, 6-1, 6-4
No. 3 Ara Mercer, P, def. Starlyn Mayberry, L, 6-4, 4-6, 10-4
No. 4 Taylor Collinge, WF, def. Ruby Martin, L, 6-2, 6-1
Doubles
No. 1 Elise Erickson and Ciera Lucas, L, def. Megan Rost and Sarah Kinzle, P, 6-0, 6-3
No. 2 Ivy Pierce and Jessica Cunningham, L, def. Julia Reiners and Zenash Groves, P, 6-2, 6-2
No. 3 Gabby Fantozzi and Laneigha Zeiler, L, def. Arly Teaff and Avah Eggebrecht
---