Logger wrestling is foward focused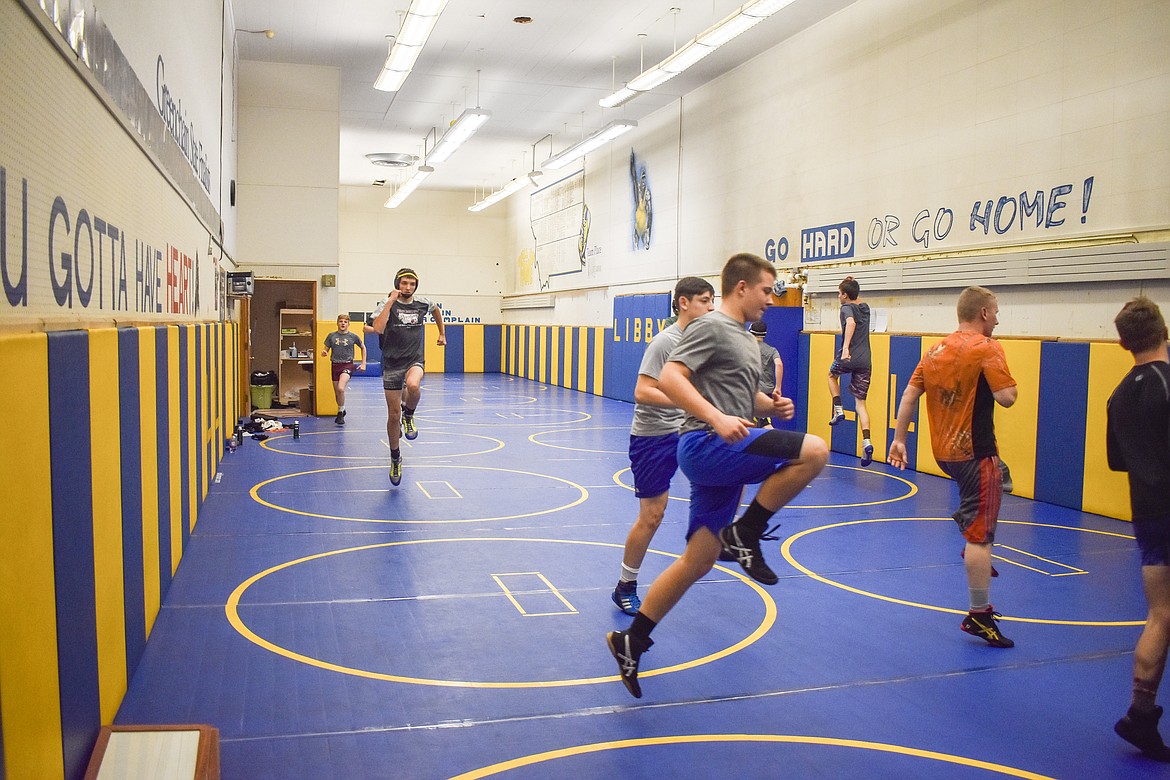 The Libby High School wrestling team warms up before practice Wednesday. (Ben Kibbey/The Western News)
by
Benjamin Kibbey Western News
|
November 30, 2018 3:00 AM
The Libby High School wrestling team is working with a more lean dynamic this season, with half of the 12-man roster completely new to high school wrestling.
Head Coach Kelly Morford said that he would have liked to see more student athletes come out for the team, but his only focus is the team he has.
"Like I've been telling the kids from day one, We can only worry about this year, and I'm excited about the group we have," he said.
The team includes experienced members to set the tone, such as senior Buddy Doolin, who Morford said has his eye on another state championship win.
"We've got guys like Buddy Doolin, who's a great wrestler and this year has really evolved as a leader, and we need that a lot from guys like him," Morford said. "And (junior) Trey Thompson's right there as an older guy that's been around for a while and knows what it takes to be successful."
Though the roster lacks the depth to be competitive in team scores, Morford said that there is a lot of promise coming at the individual level.
Along with Thompson, sophomores Cody Crace, Tucker Masters and Zach Morrison have personal goals to make it to the podium at state as well, he said.
For the less experienced Loggers, Morford sees promise.
The six include two freshmen who are just new to high school wrestling, but have some experience. But the team also has four members who have little or no wrestling experience.
"We've thrown a lot at them in practice, technique-wise, and hopefully some of it sticks for the first weekend," Morford said as the Loggers prepared to compete in Polson on Friday and Saturday.
"But we know that it's just a starting point, and we just need to get better as the season goes along," he said. "And this group will."
Moford said he was impressed with the older student athletes with no experience who came out for the team.
"I wish we would have had them for a few more years, but to come in as a high school junior or senior and be willing to take up a new sport and the challenges that come along with it and take their lumps -- that says something about their character," he said. "And you have to respect somebody who can do that."
The Loggers will wrestle today at 3 p.m. and Saturday at 9 a.m. in Polson. They will wrestle at home for the first time on Tuesday, Dec. 11 when they face Bonners Ferry at 6 p.m.
---