Customers contribute to Libby woman's citizenship dream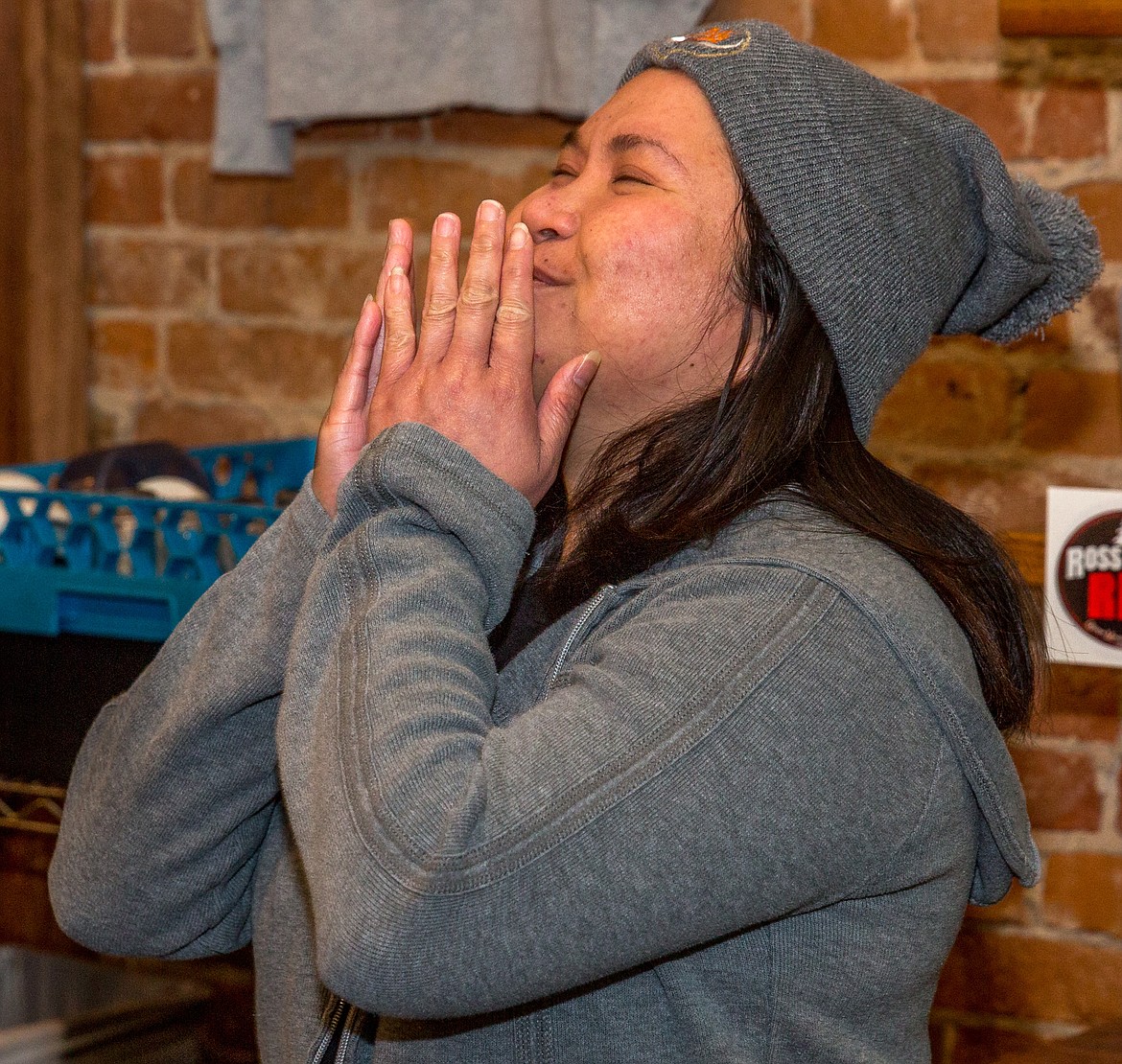 Girlie Piment reacts March 22 to learning that her customers at Cabinet Mountain Brewing Company had contributed $869 to help pay for her citizenship exam and travel costs. (John Blodgett/The Western News)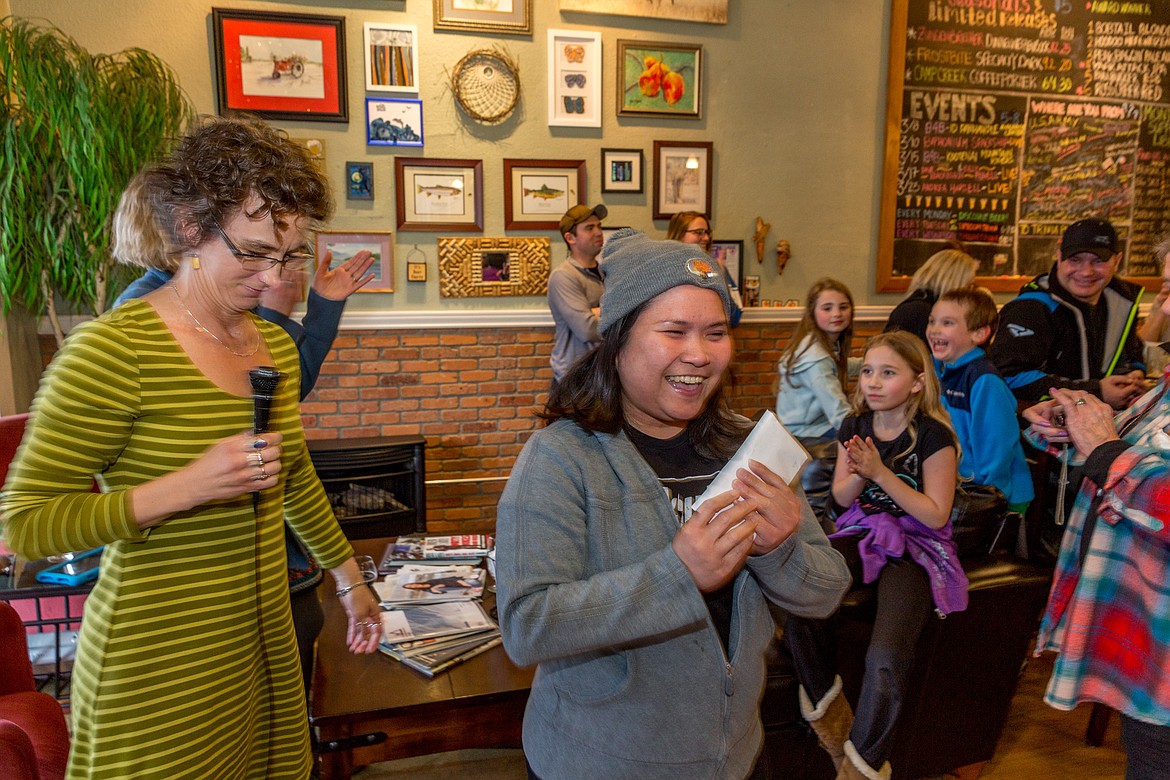 Girlie Piment, center, clutches an envelope full of donations handed to her by Kristin Smith, left, co-owner of Cabinet Mountain Brewing Company in Libby, on March 22. (John Blodgett/The Western News)
Previous
Next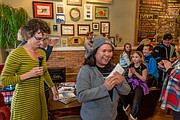 A local woman's journey toward citizenship was made smoother recently by the generosity of customers she waits on at Cabinet Mountain Brewing Company in Libby.
About 40 to 50 people contributed $869 for server Girlie Piment, according to brewery co-owner Sarah Smith Sorensen.
"(That) should cover the cost of the application fees as well as some travel expenses," Sorensen said via email.
Sorensen and co-owner Kristin Smith presented an envelope full of donated cash and checks to Piment on Thursday, March 22, in front of a few dozen applauding customers who had gathered for the occasion.
The fundraising idea was Glenn Gibson's.
"On Monday afternoons, a group of retired firefighters gather at the brewery to tell lies about our heroic adventures," Gibson explained via email. "We usually chat with the servers, all of which are great."
Some months ago, Gibson wrote, Piment told them about her efforts to prepare for the citizenship test.
"Our group was impressed with her effort and commitment to getting through the process and becoming a U.S. citizen," he wrote. "We kept encouraging her and she kept us up to speed on her progress."
Several weeks ago, realizing the expenses Piment faced, Gibson said the former firefighters asked Sorensen and Smith about setting up "a secret fund" that brewery patrons could contribute to. The fund was established, word was quietly spread, and in a couple months the money was raised — which didn't surprise Gibson.
"We are all long-time Libby residents and know how the people in Libby step up and support a good cause," he wrote.
Sorensen and Smith said Piment has "had a tremendous impact on our customers as evidenced by their generous support and contributions" and that they "are honored to be a part of her journey towards reaching her goals."
Piment, a citizen of the Philippines who has lived in Libby since moving here with her husband in 2014, said she is "completely overjoyed by the kindness that the patrons that frequent the brewery and the community of Libby has shown me."
"It never ceases to amaze me how much the people of Libby will go to help their neighbors," she said. "I wish to thank everyone and I am so grateful for all the help and support that I have received."
Piment said she wanted to become a United States citizen after living here for a number of years as a permanent resident and seeing the "great opportunities and a happier way of life" the country offers.
"The preparation is always a bit overwhelming, as there are a lot of papers that I have to prepare and submit," she said. "I started getting the necessary paperwork together and took a class in civics to aid me about a year ago."
She is finishing the paperwork and will submit it soon, Piment said.
"I hope to be able to take the exam as soon as my paperwork is all approved, but that all depends on when I get the date from the government," she said
---