Loggers softball has support from inside and out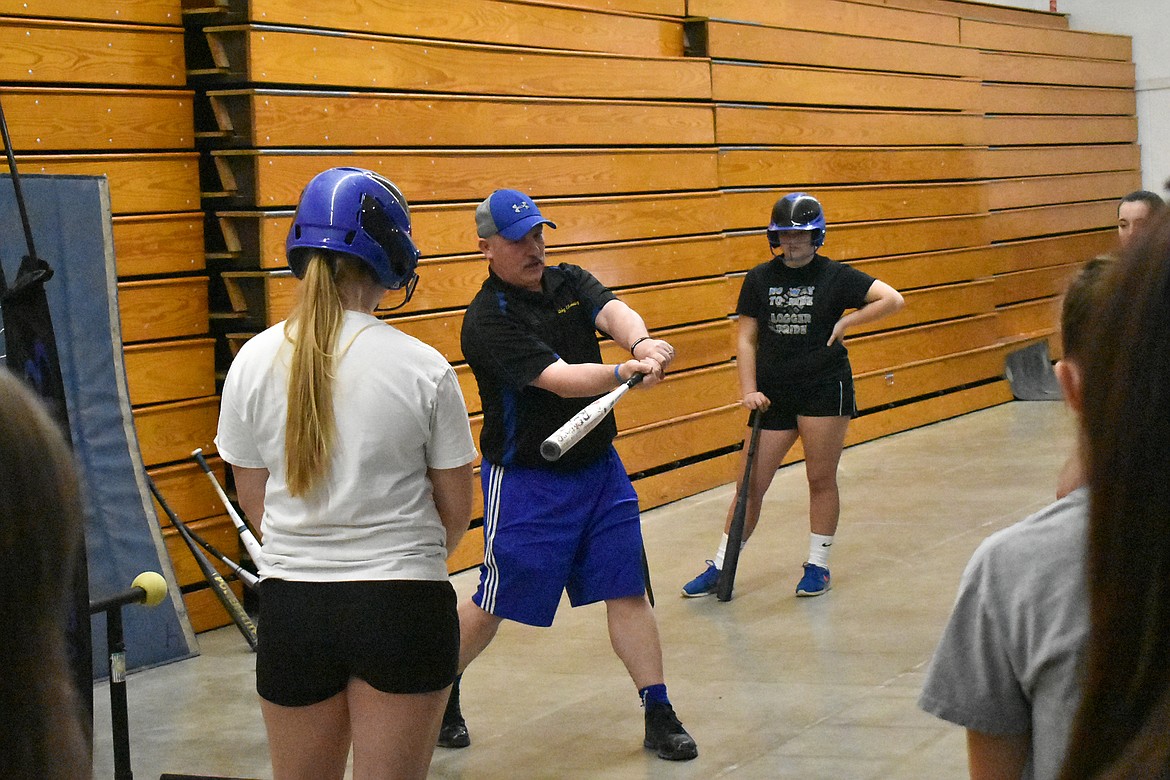 Logger Head Coach Dean Thompson goes over a proper swing with his players during practice. (Ben Kibbey/The Western News)
by
Benjamin Kibbey Western News
|
March 23, 2018 4:00 AM
Though Libby High School's softball team is young with only two seniors this year, the players coming up are showing a lot of promise, according to their coach.
"We have some freshmen ... pushing these older girls to get better," said Head Coach Dean Thompson.
"Right now, if I had to put a team on the field, I don't know who we'd put wherever," he said. "If my younger girls have worked hard in the off season and they're better, I'll start an underclassman over a senior. And my girls know that."
The goal every year is to add another state champion banner next to the five that already hang at Libby High School, he said.
Yet, the team still keeps its priorities in line, Thompson said. He tells his team that the number one thing is family, then school, and finally softball.
But the emphasis on family comes up when talking about the team itself as well.
"Our older girls are like big sisters. They take those younger girls on and they're really good with them," Thompson said.
Though he listed off most of the returning team as players he expects great contributions from, Thompson said two of his juniors, starting pitcher Khalyn Hageness and catcher Sammee Bradeen, stand out.
Hageness has been pitching since her freshman year, and this will be her second year starting, he said. Bradeen also has been catching for the team for the last two years.
"She's one of the hardest workers out there," he said.
Thompson said he depends on his coaches and staff to keep the girls motivated and the team running smoothly.
"I tell people 'I have two head coaches,'" Thompson said of Coach Jeremy Hageness.
He said he is also grateful for the community support, from the parents who have made Libby's softball fields "some of the nicest around" with the hours of work they put in, to the fans who don't even have players in the program, yet have followed the team all the way to the state tournament.
The Loggers will play their first game of the season at Ronan on Saturday, March 24 at noon.
Their first home game will be against Frenchtown on March 30 at 1 p.m.
---