Chad Clancy Ralls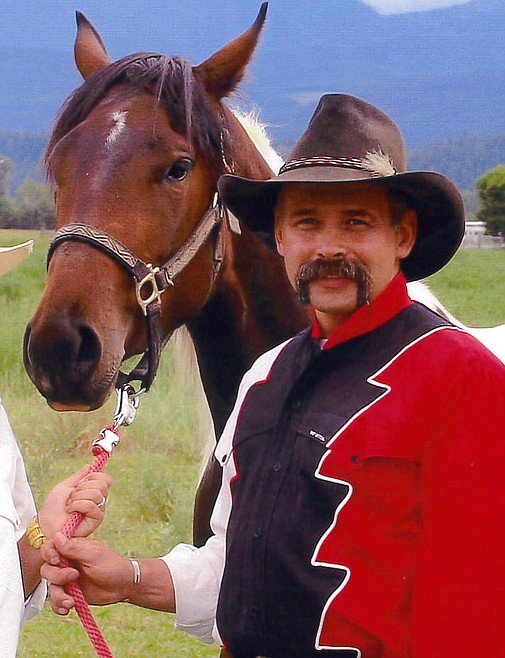 Chad Clancy Ralls, 55, passed away into eternal life on Sunday, March 11, 2018 at his home in Hamilton. He was born April 3, 1962 in Hamilton, where he also grew up and graduated.
Chad was raised on a ranch, where he grew up milking cows, raising elk, many kinds of deer, yaks, pheasants and many other birds. Chad loved to watch the cows grazing in the field, and was fond of chickens and ducks as well. He loved to ride to the top of the 75 acre and sing "Oh Papa" — we could hear him clear down at the house. Chad loved cutting the hay and being on the tractor.
Chad was raised in the LDS Church and baptized. Chad loved his Heavenly Father, and his big wish was to go on a mission.
Chad's first love was Tonka road graders and trucks; as he grew up, he got his first big Caterpillar for Christmas. He fixed and taught himself everything there was to know about heavy equipment in 10 to 11 years. Chad's career was a heavy equipment operator; there wasn't a piece of equipment he couldn't drive. He also was a heavy equipment mechanic. Chad was a landscaper in Hawaii, inland and in the Bitterroot in Hamilton. He built many beautiful waterfalls.
Chad also was an Eagle Scout and grew up in church and 4H, where Chad's main goal in life was a wife that would love him and be happy, to enjoy his children and grandchildren and to go to the temple. The Lord blessed Chad with many talents from drawing, growing beautiful things, carpenter, welder — there wasn't anything he couldn't do. His last job was in Hamilton, working as heavy equipment mechanic for Donaldson Ready Mix.
Chad lived in Libby for 12 years, while he worked at the Troy mine. He also worked and lived in Alaska, but kept his home in Libby.
When Chad lived in Libby, he loved growing vegetables to feed the world. His whole backyard was garden and he shared it with everyone. His yard was full of dahlias, lilies and gladiolus that he landscaped. He gave flowers to people who stopped and asked for them for their weddings, and took vases of flowers to nursing homes, neighbors, stores and homes. He loved sharing and giving flowers to everyone. Chad loved sharing in general, giving his love through the flowers and vegetables he grew. Chad also canned vegetables, and made the best sauerkraut you could ever eat.
He loved the outdoors and talking to people and helping wherever he could and going fishing. He always had nicknames for his nieces and nephews, with whom he shared his love and his laughter.
Chad was preceded in death by his father, Clancy C. Ralls, Jr. He moved to Hamilton to take care of his father and read the Bible and brought him to Jesus before his death.
Chad is survived by his beloved children, Jesse Ralls and Kayla Ralls; his grandchildren, Alerk and Aura Ralls, and Braydy, Tyson and Owden Hixon; his parents, Dorothy (Rick) Klin; his sisters, Shawna Ralls Denney, Karla Ralls, Anna Schepp and Heidi Allen; and step-brothers, Frank and Ben Klin.
Viewing will be held at Daly Leach Funeral Home in Hamilton at 10 a.m. Sunday, March 24, 2018. The memorial service will be at the Mormon Church in Hamilton at 11 a.m. Sunday, March 24, 2018.
The lack of his presence leaves us with broken hearts, but we are grateful for all of the wonderful memories of that twinkle in his eye, his teasing and his wonderful smile and laugh.
Chad, we will see you soon, my dear beloved son.
---