Health center announces hires
by
The Western News
|
March 20, 2018 4:00 AM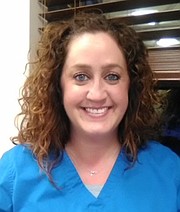 Northwest Community Health Center recently announced two new hires: Doug Richardson, a licensed clinical professional counselor and licensed addiction counselor who will see patients in the Libby and Troy offices, and Katie Pfeifer, a dental hygienist in the Troy office.
Richardson has a bachelor's degree in social work and a master's degree in professional counseling. His more than 20 years experience includes works as an addictions counselor in a detox program, a residential treatment center, a boarding school, and a halfway house, and four years experience as a behavioral health therapist for a children's shelter.
Pfeifer is a Libby native and Libby High School graduate who has a bachelor of science degree in dental hygiene degree and about 12 years of experience in the field, most recently working in pediatric dentistry in Washington.
---