Honored teacher credits culture of Troy school district, community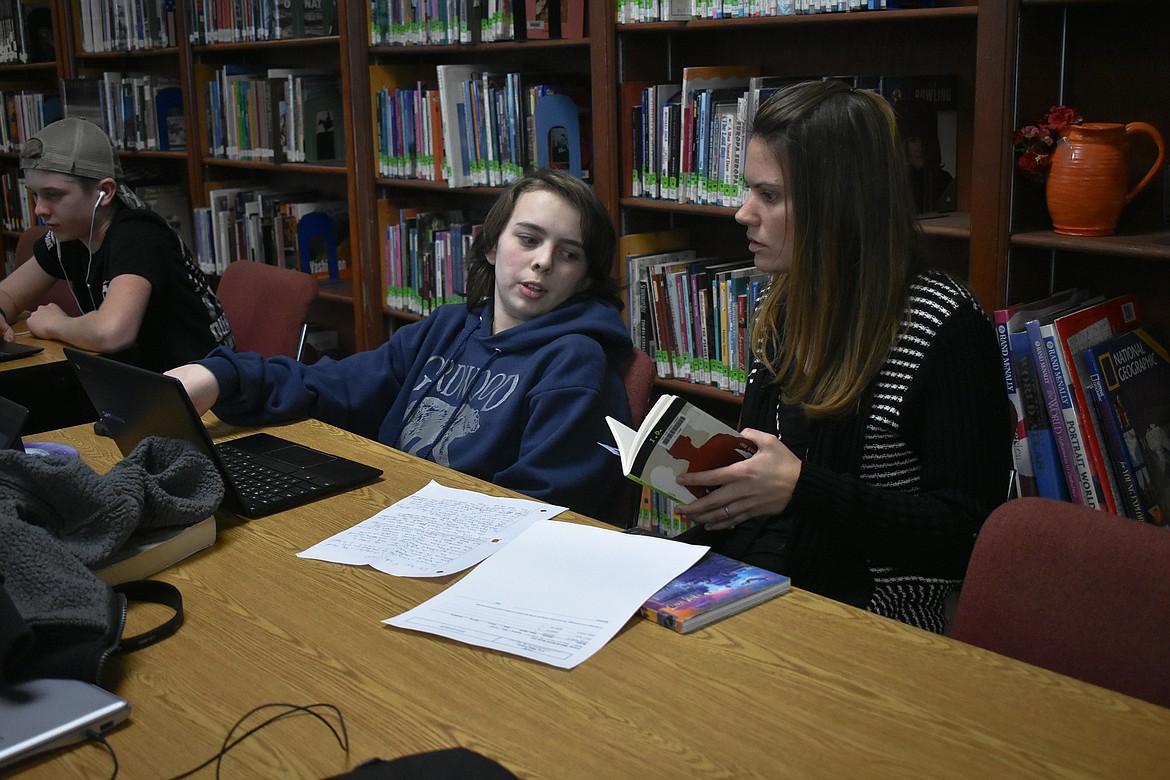 Christina Schertel works with students in the Troy Middle-High School library on March 6. Pictured are Trevor Grant (background) Dustin Mendive and Schertel. (Ben Kibbey/The Western News)
By BENJAMIN KIBBEY
The Western News
Troy Public Schools' special education director — the Montana Council for Exceptional Children Special Education Teacher of the Year — started at W.F. Morrison as a first grade teacher, but special education is her dream job.
Christina Schertel was recognized by the council in Missoula on March 1.
"She has impacted the lives of many students," said Troy Public Schools Superintendent/Middle-High School Principal Jacob Francom by email. "She is able to motivate and inspire students. She is always trying to find a way to help each student succeed."
Schertel said growing up with a sister who had cerebral palsy influenced her veiw of special education.
"My parents were huge advocates for my sister growing up, so I grew up in the world of special education," she said.
A Montana state program that pays for teachers to be certified in special education gave her the opportunity to focus on her passion, Schertel said.
"It was a dream come true for me," she said.
Schertel started as a special education teacher at W.F. Morrison, moving to the middle-high school and into the director position, she said. Part of her motivation was the opportunity to continue her work with students she had made progress with, she said.
Schertel now teaches class six periods a day in addition to overseeing the district's program.
Troy's special education program provides services to 73 students, almost a quarter of enrollment. Schertel said she works directly with 21 of those students.
The individual needs of students are varied, from learning disabilities to anxiety or autism. Schertel said.
Students may even stop by her classroom as they need help with specific classes or assignments. "I have a very inclusive outlook on special ed, so I use my program as a tutoring class," Schertel said.
"And sometimes I have kids that don't know what I teach, which is the best thing that anyone could tell me, because that means that there's no stigma attached to what I do," she said.
Making connection
"She has a great sense of humor, and she is able to see the good in almost any situation, or to take a positive angle on almost anything," said W.F. Morrison Elementary School Principal Diane Rewerts.
Schertel's ability to relate to students helps her de-escalate tough situations, Rewerts said. She approaches her job creatively and her first concern is always the students.
"She's really funny. She's very intuitive. She treats people with a lot of dignity," Rewerts said. "I think people sense that she wants to help and make the best of any difficult situation."
She uses her humor to model appropriate behavior and help students change habits, but always manages to do it in a way that respects and never humiliates a student, Rewerts said.
"I guess because I grew up in a world with so many kids with special needs, I see people as people," Schertel said. "Everybody wants positive energy, positive reinforcement, a great sense of humor: so I treat every kid here like I treat my own child.
"I try to be happy, positive, I feel like every kid deserves that every day," she said. "School should be fun. Learning is fun if we make it fun."
Schertel is aware that not everyone is able to relate as easily and openly as she does.
"I feel like I have a natural gift to maybe decipher behavior interventions for kids," Schertel said. "I guess I just try to approach from different points of view so it's more like game."
Schertel said she once had to come up with a way to test a child with Down syndrome for color recognition. Because the student liked to joke and tease, they were having trouble figuring out whether or not he knew his colors.
"I pulled out a bag of M&Ms and said, 'If you can name these and sort them, then you can have them, but you can't eat them,'" Schertel said. "He was very quick to sort the M&Ms and show me what he knew."
Rewerts said that Schertel is trusted and respected by staff around the schools as well, especially the rest of the special education staff. She likened to a partnership the way that Schertel and elementary special education teacher Andrea Cummings work together.
Pam Tallmadge and Heidi Sedler assist Schertel at the middle-high school. Addie Fiedler splits her time between the elementary and the middle-high school.
"It's been incredible," Tallmadge said. "She's been not only fun to work with, but she really knows what she's doing when it comes to all the kids."
The environment in Schertel's classroom is fun, relaxed and accepting, Tallmadge said.
"And she's so calm," Talmadge said. "She handles it like she's been doing it for 100 years.
A larger culture
Schertel often returns to the theme of relationships, whether she is talking about her philosophy for teaching, about parents and staff working as a team, or about the community itself.
"Relationships are probably the most important thing to people in Troy," Schertel said. "People in Troy embrace everybody. They care, they want to get to know you, they want to find ways that they can help you so you're part of the community."
What is true of the community is true of the school as well, she said.
Rewerts and Francom collaborated on the nomination for Schertel as Special Education Teacher of the Year. In the nomination, they detailed her work implementing and organizing the program that allows the school system to track individual student progress and adapt learning solutions to their needs.
Schertel is quick to point credit back the other way, both at Rewerts and Francom for the administrative atmosphere they foster, and to the school staff as a whole.
"Special ed — this is an awesome acknowledgement, but — it really is a collaborative process, and it really says a lot about what a great school system we have and the culture we have here that everybody's so willing to do what's best for kids," Schertel said.
"I try to work really hard, because I feel like we really do have amazing families, amazing kids," Schertel said.
---