Beulah L. Nellis Price Childs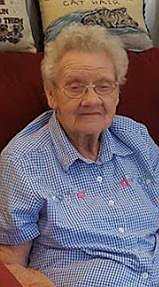 |
February 16, 2018 3:00 AM
Beulah L. Nellis Price Childs passed away on Feb. 10, 2018 with her family at her side in her daughters' home in Libby. She was born Jan. 16, 1927 in Baker City, Oregon to Winifred and Inez Nellis. At a young age she moved with her parents, two sisters and one brother to Rexford, locating in the Pinkham Creek area. Beulah was educated in the Libby Public School Systems.
Beulah worked for a time at the Old High-Note Cafe on Mineral Avenue and later, when her children were young adults, she worked at Janet's May Tag Launder Mat. She met George R. Price through her work at the High-Note Cafe and they were married on Feb. 16, 1946. To George and Beulah were born two children: Nancy Carol (Curly) and William Winfred (Smokey).
When daughter Nancy was just 3 weeks old, George and Beulah moved to Spokane, Washington in 1950 where George had joined the U.S. Air Force, serving many years. During Beulah's time in Spokane, she was a stay-at-home mom taking care of her husband, daughter Nancy and son Bill.
In 1967 George and Beulah decided to come back to Montana. Those years prior to George's passing in 1984, Beulah and her family spent their leisure time camping, fishing and cutting Christmas trees. They were avid square dancers. Beulah was very active for over 20 years volunteering time in the Libby Christian Church Mission Store.
Young children and friends throughout Beulah's life had difficulty saying her name, so Beulah was given another name: the name of Peewee. The name stuck with Beulah for the rest of her life. She never had an enemy, was not the type of person to engage in any negative or mean behaviors. She loved all and was loved by all who met her. She loved, and was loved, by two very fine gentlemen and was loved and respected by two very fine families. She will be missed.
Beulah was preceded in death by her first husband, George R. Price, in 1984 and her second, Roland "Rolly" Childs, in 2014; her sisters, Ilene VanDeVanter and Freda-Tiffany; and by her brother, Marvin Nellis.
Beulah is survived by her daughter, Nancy Gab (husband Tom), of Libby; her son, William "Bill" Price (wife Midge) of Kuna, Idaho; step-children Mike Childs (wife Dianne) of Condon; Leslie Spain (husband Bruce) of Ferndale, Washington; and Bonnie Schultz (husband John); many grandchildren, great-grandchildren and one great-great-grandson; and also by many nieces and nephews. She loved them all, and they all loved her.
Funeral services are being held at 2 p.m. Saturday, Feb. 17, 2018 at Libby Christian Church with Pastor Phil Alspaw officiating. Arrangements are by Schnackenberg and Vial Funeral Home in Libby.
Online condolences and memories may be shared at www.schnackenbergfh.com.
---