Snowmobilers come together to raise money, share good times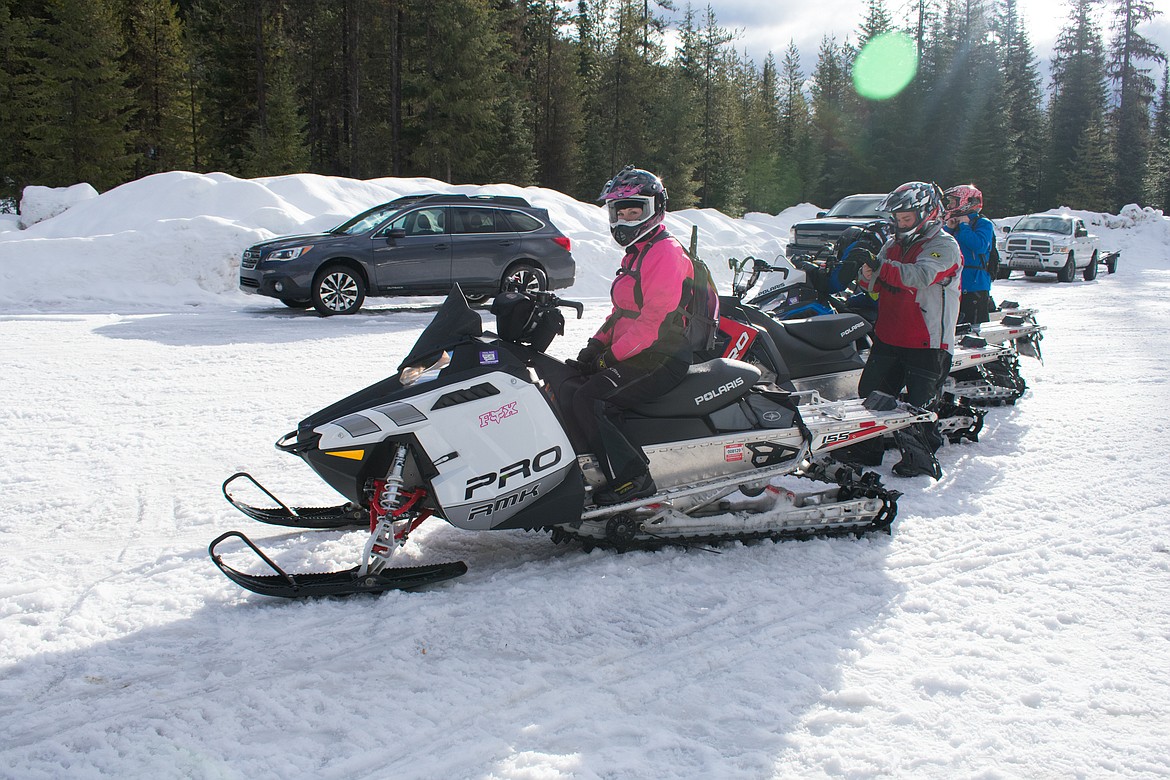 Beth and Chris Loyd prepare to head out at the Lincoln County SnoKats' annual Fun Run on Saturday. The Loyds are members of the Trout Creek club, but like to come out and support snowmobiling wherever they can, Chris Loyd said. (Ben Kibbey/The Western News)
|
February 6, 2018 9:39 AM
By BENJAMIN KIBBEY
The Western News
The Lincoln County SnoKats snowmobile club hosted 127 snowmobilers — some from as far away as North Dakota — during their annual fun run, February 2.
The annual event, which raises money to cover operating expenses for the club, also raised money for local volunteer organizations and charities, such as David Thompson Search and Rescue, said club secretary Emily Pauley.
There is no fee for entry, said club treasurer Jennifer Culpepper. Instead participants are asked to make a donation.
The event also raises money through a raffle at the end of the night at Veterans of Foreign Wars Post No. 1548.
The SnoKats also donated money to Sunburst Community Service Foundation, funds to sponsor four families through Into the Light Ministries, and even money to help a local woman with her medical bills.
Amy Nixon, who they are helping, is a member of the snowmobile community whose family has been involved in the club since it started, Pauley said.
That sense of community was a constant theme among the snowmobilers who came to the fun run and to the VFW hall after.
"It's an amazing community," said Kelly Haugen, who brought her 9- and 13-year-old children out to ride Saturday.
"It's like a huge family. And everybody supports everybody to continue learning, to be safe… one big family," she said.
Lenny Pauley was one of the club members who worked the day, spending the entire time at the warming hut that stands part way along the route. What makes it worth it to him to not be riding on a day he described as perfect?
"Just seeing everybody having a good time, especially when you have a good day," he said. "They come in, they're not cold, they're excited."
Adam Carr also worked the warming hut the day of the event, but it's not the only thing he does for the club.
Carr said that the club maintains approximately 150 miles of groomed snowmobiling roads. All of them are groomed by Carr and another club member.
They groom three days a week, and average about 14 hours a day, he said.
"I feel like I'm giving back to the community, and I'm able to do it, and it's peaceful and nice country to look at," he said.
Carr said he feels a sense of camaraderie and loyalty to the community, and that he likes knowing people have a place they can ride safely and enjoy themselves, whether they are alone or go out as a family.
In the same stroke, Carr said he is grateful for the people who come out for the raffle and otherwise support the club.
"The clubs that put these on do a lot of work, and there's very little people that do it," he said. "So, that's why you see the packed house tonight: they're here in appreciation of us, and that's pretty cool."
Haugen said that snowmobiling is something she enjoys sharing with her children.
"We're shutting off the world and enjoying time with each other," she said.
"It is our passion," Haugen said. "We get done riding on Sunday, and by Monday we're planning for the next weekend."
Robin Kyes said he has been riding since he was a child, though it got a little harder to afford the gas when he was a starving college student. He said he loves the adrenaline.
"You start getting way up in the high mountains, and it gets nerve wracking and scary, and that's the best part," he said.
But, he also enjoys the other people who share his passion.
"We all like to ride, and we're all kind of the same people. We're all adrenaline junkies to some degree," he said. "Everybody likes to go fast."
---