Lady Trojans fall to T-Falls in final seconds, 42-35
Troy junior Montana Rice gives "ten" to junior Isabel Ramirez. Though there to support her team, Rice has been benched by a shoulder injury. (Ben Kibbey/The Western News)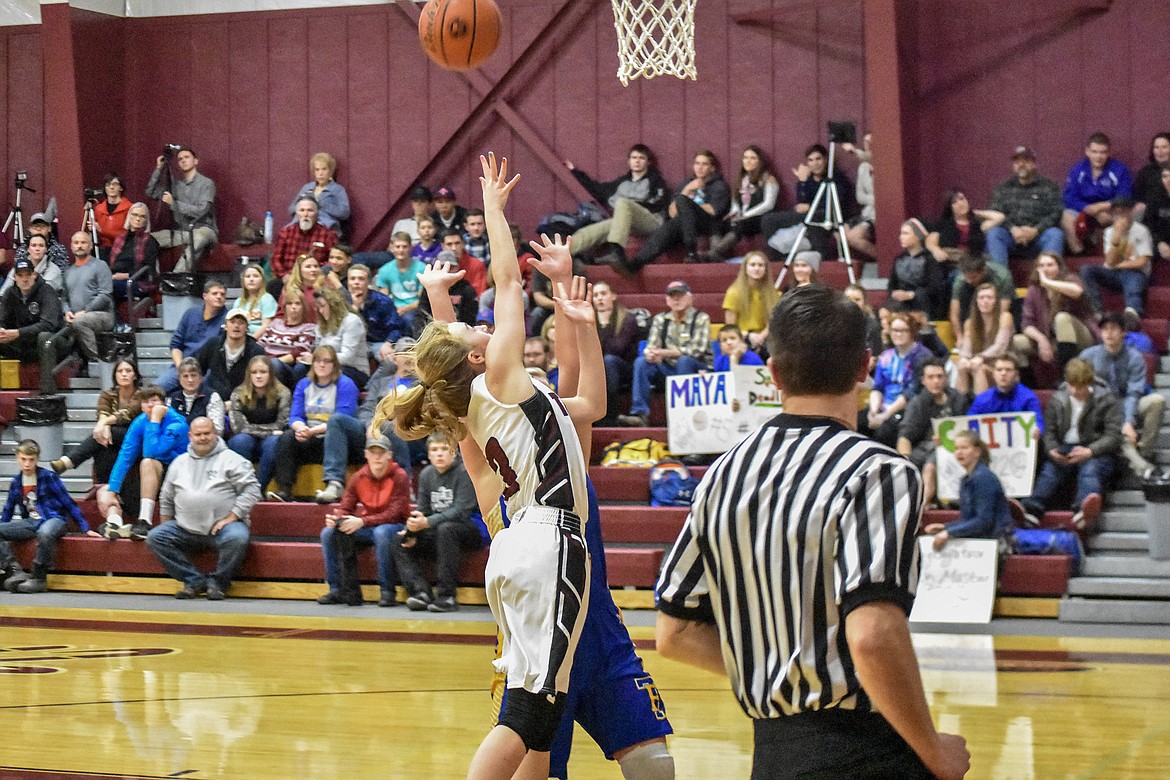 Troy senior Annie Day goes in for a layup early in the fourth quarter against Thompson Falls Friday. (Ben Kibbey/The Western News)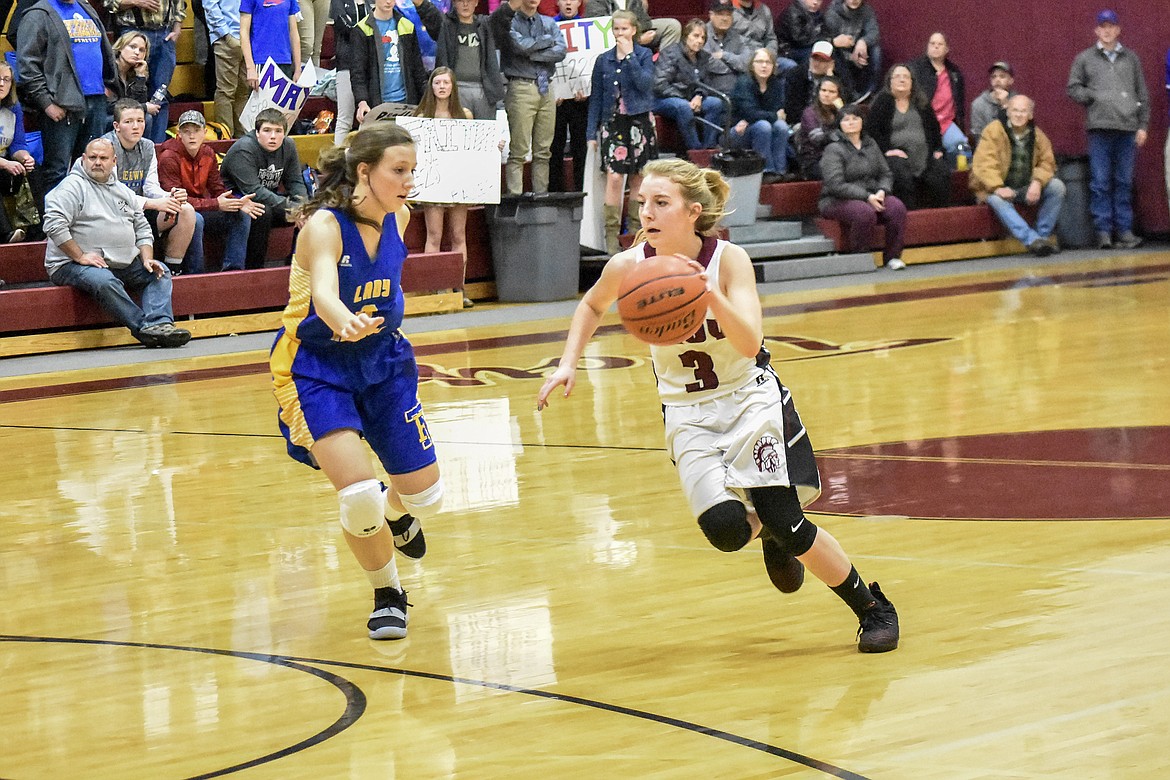 Troy senior Annie Day charges down court early in the first quarter quarter against Thompson Falls Friday. (Ben Kibbey/The Western News)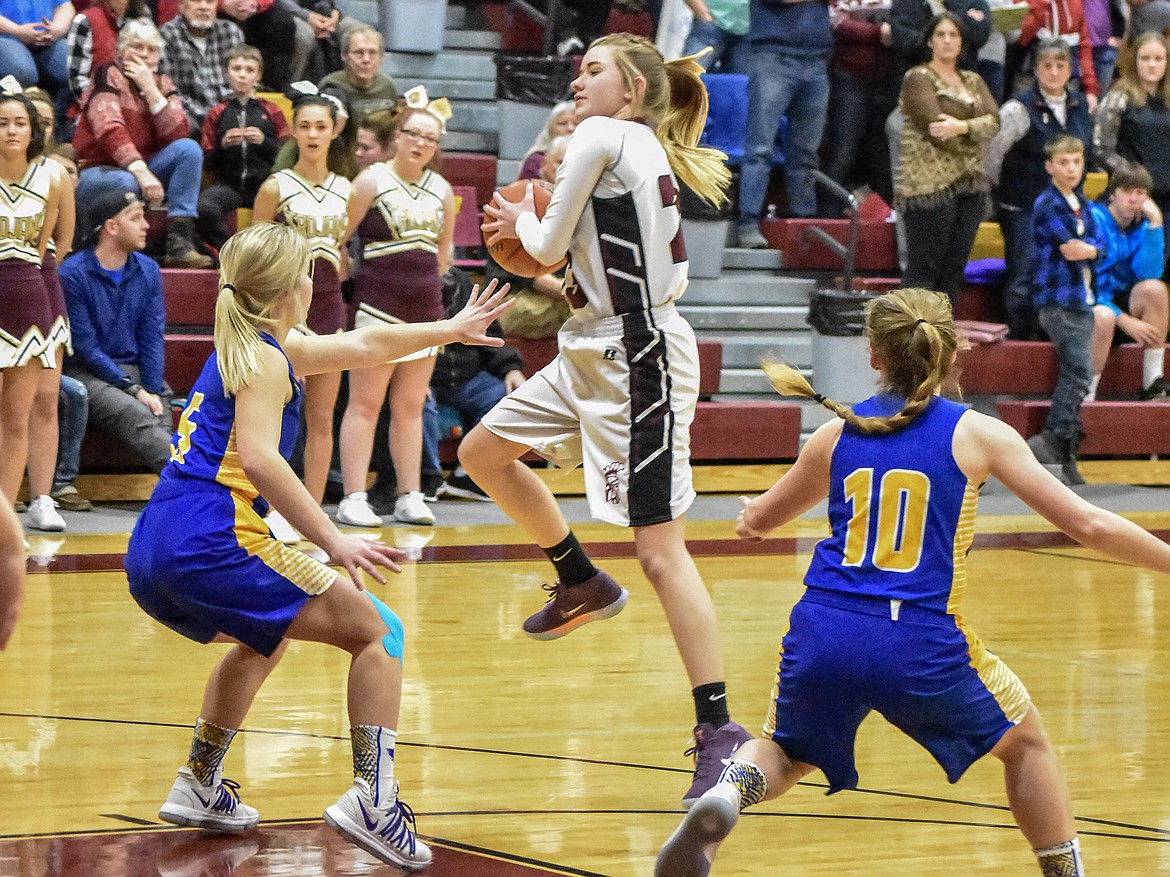 Troy junior Katelynn Tallmadge catches a pass early in the first quarter against Thompson Falls Friday. (Ben Kibbey/The Western News)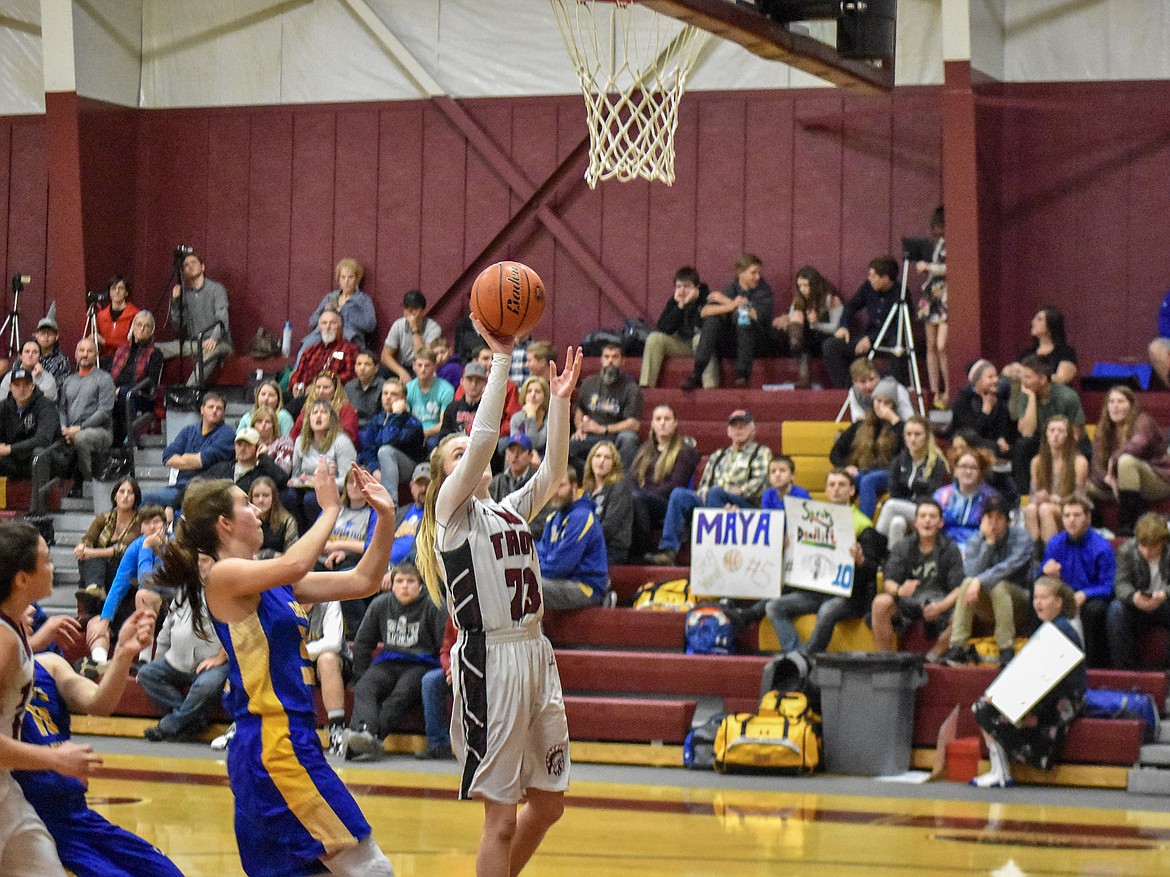 Troy junior Katelynn Tallmadge scores late in the third quarter against Thompson Falls Friday, narrowing the lead to 23-21, Lady Bluehawks. (Ben Kibbey/The Western News)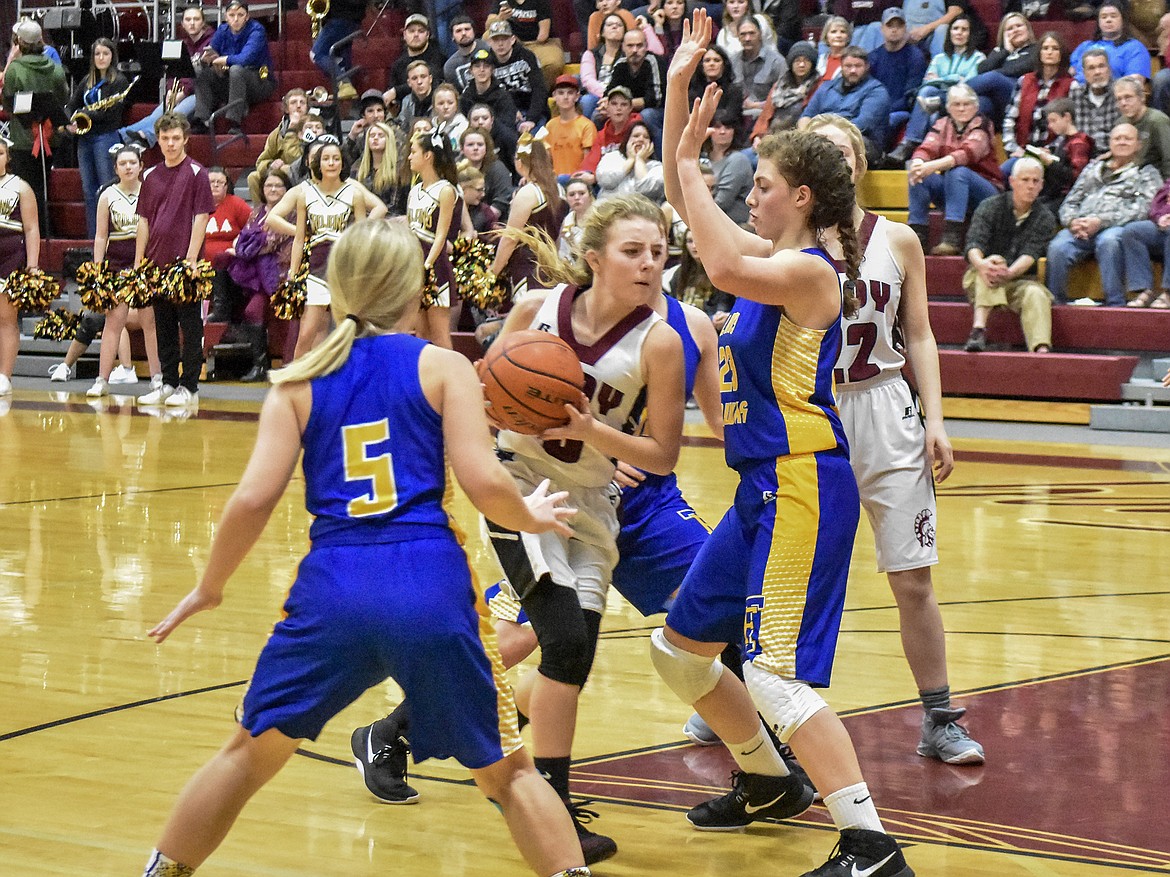 Troy senior Annie Day charges into the Thompson Falls defense on her way to the basket during the fourth quarter Friday. (Ben Kibbey/The Western News)
Previous
Next
by
Benjamin Kibbey Western News
|
December 25, 2018 3:00 AM
In a game that was anyone's up to the last seconds, the Troy High School girls basketball team fell to the Thompson Falls Lady Bluehawks, 42-35, on Friday.
The Lady Trojans came out of the gate hot, taking a 4-0 lead early, only to have the Lady Bluehawks tie it up 4-4 in the final 30 seconds of the first quarter.
The game stayed close, and Troy pushed into the lead again in the second quarter, 9-8, after senior Annie Day sunk two free throws with apparent ease.
Thompson Falls started to widen the gap, putting themselves in a 13-9 lead, but Day came back to narrow it to 13-12 with a three-point shot. Yet, by the half, the Lady Bluehawks had pushed out to a 19-13 lead.
In the third quarter, the Lady Trojans struggled to catch up, with Day again putting them within striking distance at the free throw line. But, the Lady Bluehawks kept Troy in their rearview and pulled ahead 26-21.
Scoring 21 of the Lady Trojans' 35 points for the game, Day escalated her effort with each quarter, scoring 10 points in the final eight minutes.
Juniors Isabel Ramirez and Katelynn Tallmadge added to Day's scoring in the fourth quarter, and Troy brought it back to a single-point game with three minutes left to play.
The Lady Trojans kept close on the heels of Thompson Falls and with a minute left to play, they were still down by only two points, 37-35.
Troy Head Coach Bradley Dunn-meier said he felt Troy played to their potential Friday, but it's a potential that they are building on.
"We're improving little things a little bit at a time," he said.
When one of the players mentioned to him how she was missing her shots during the game, Dunn-meier told her she was rushing them, he said. While she still had some misses, after that, she started getting closer, and she stopped rushing her shots as much, he noticed.
"It's just a lack of experience, is really what it is. They just haven't played under pressure enough," he said.
The Lady Trojans are motivated to get better, though, he said. Over Christmas vacation, the players who are at practice will be working with a shooting machine, and Dunn-meier plans to have it set fast.
"So they have to catch and shoot, catch and shoot — that's just what they need. They need repetition," he said.
The kind of performance that comes with practice and experienced dedication shines in Day, Dunn-meier said.
"She's the one kid who has put time in, and she's the most athletic person on the team," he said. "You can tell she's been playing a lot. She goes out and just shoots."
The Trojans were missing another performer against Thompson Falls, junior Montana Rice, who is currently benched with a shoulder injury.
Against the Lady Bluehawks' high-performing post players, Rice could have been a game-changer, Dunn-meier said.
"Montana would have made a huge difference in that game. I think we would have beat them by 10," he said.
But Rice's situation is still uncertain, and Dunn-meier said they won't know if she will play again this season until after a doctor's appointment in January. He doesn't expect her back before February regardless the news.
And that leaves the Lady Trojans — who were already running without much depth on their bench — with few options.
"I'm proud of them. Like I told them, we're shorthanded. Really, we have six varsity players," Dunn-meier said. "Those five kids on the bench are our JV team."
Dunn-meier also gave praise for the effort he had in the Thompson Falls game from sophomore Emma Johnson.
"She's the one person who can help us inside. She's got decent skills," he said. "She just needs time working with the rest of the group."
Dunn-meier said he is working with the team to break old habits and form new ones, from dealing with pressure while shooting to moving their feet instead of their hands on defense. When they get tired from playing long games without relief, their habits are what they will fall into.
The Lady Trojans will play next at Bigfork on Friday, Jan. 4, with junior varsity games scheduled to begin at 3 p.m. Their next home game is against Noxon on Thursday, Jan. 10, with junior varsity scheduled to start at 4 p.m.
Friday, Dec. 21
Thompson Falls 42, Troy 35
TF: 4 15 7 16 - 42
T: 4 9 8 14 - 35
Thompson Falls: Elli Pardee 2 points, 2-2 FT; May Stiles 7 points, 4-6 FT; Sarah Detlaff 2 points; Riley Wilson 5 points, 3-5 FT; Faith Frields 2 points, 2-2 FT; Jody Detlaff 14 points, 6-12 FT; Megan Baxter 10 points, 2-5 FT
Troy: Annie Day 21 points, 5-7 FT; Katelynn Tallmadge 4 points, 2-2 FT; Isabelle Ramirez 2 points; Ella Pierce 4 points, 0-3 FT; Talise Becquart 4 points, 2-8 FT
---