Firm to study Troy Internet needs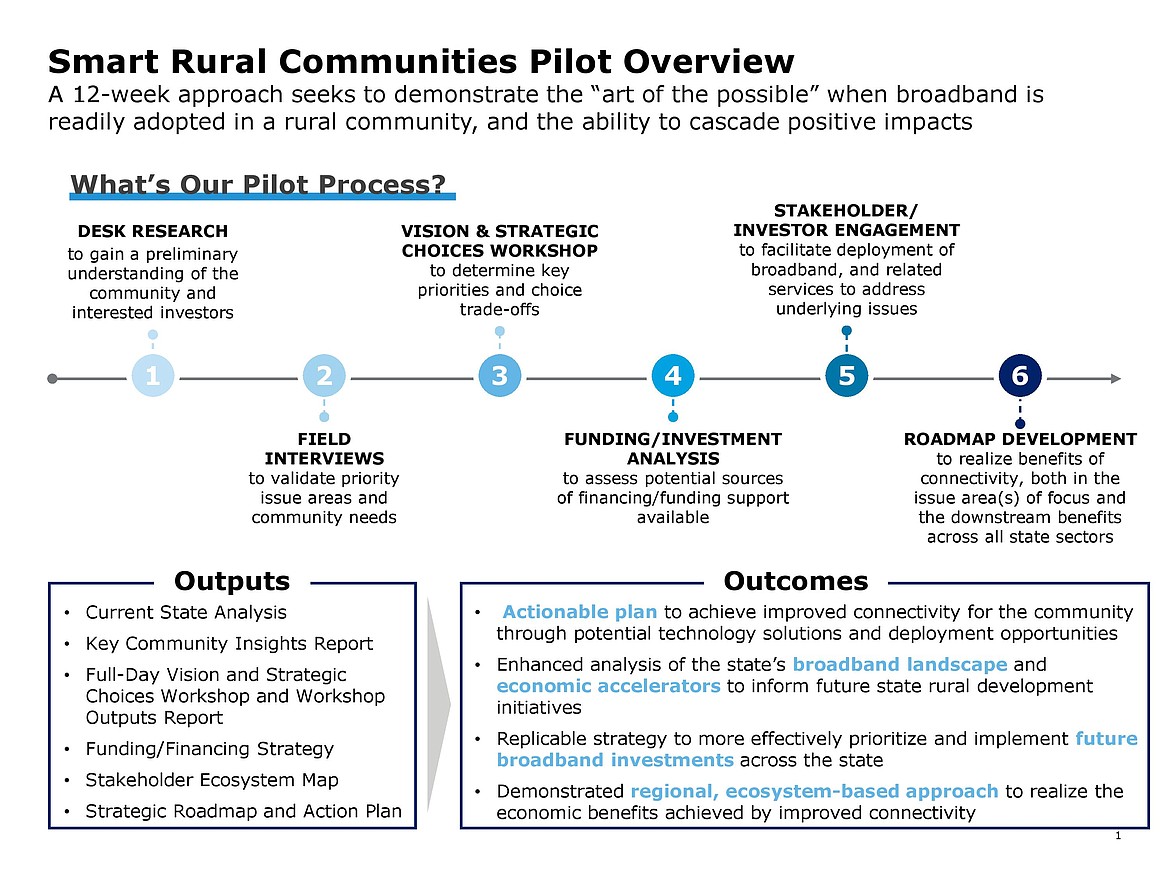 by
Benjamin Kibbey Western News
|
December 25, 2018 3:00 AM
Only two months after Lt. Governor Mike Cooney met with Troy area residents to discuss what being picked as one of six rural communities for the Main Street Montana Project meant for Troy, an initiative spawned by that meeting is already making progress.
One committee created out of that meeting was designated to begin looking for ways to improve Internet and telecommunications for the Troy area.
Shawna Kelsey — a Troy City Council Member and the Community Development and Education Director for the Yaak Valley Forest Council — led discussion during Cooney's October visit.
Recently, she contacted members of the telecommunication committee about a new prospect: a pilot program by Washington, D.C.-based consulting firm Delloitte intended to help communities find solutions to broadband connectivity.
Since it is a pilot project, Delloitte has offered to conduct the study for free.
Staff at the Montana Governor's Office helped to facilitate the connection between Troy and Delloitte, Kelsey said.
The firm has offered to conduct a 12-week, in-depth analysis of the state of Internet connectivity and needs in and near Troy.
To the street
The Main Street Montana Project is not a program that provides funding, but rather is intended to help connect target communities with information resources and coaching to help find solutions to improve their economic situation, Kelsey told the Troy City Council at their regular meeting Wednesday.
"At the same time, by learning more about our community, it will help them serve other communities like ours in the state," she said.
While the October meeting identified multiple areas to begin discussing, Internet connectivity has emerged as an underlying factor that could affect other areas of economic growth.
"If we want to have economic development, if we want to have people bring their small businesses here, we have one problem, and that's that our Internet is not great," Kelsey said.
While looking for resources that Troy could tap into for addressing Internet needs, staff from the Governor's Office found Delloitte, which has an office in Helena.
"They really wanted to find a community in Montana to do a pilot project, so the Governor's Office recommended Troy for this pilot project," Kelsey said.
An overview from Delloitte of the 12-week project ends with an "actionable plan" for improving broadband access for Troy.
Step up
The Delloitte project has six steps, beginning with "Desk research," which will involve research conducted from their offices "to gain a preliminary understanding of the community and interested investors."
Kelsey said that Delloitte will be looking at not only what services the area has on paper, but trying to find out what the actual service level is on the ground.
In discussing a meeting of community members who had agreed to be part of the telecommunications committee, Kelsey noted that when they did a quick poll of the room, no one was receiving the Internet service levels their providers claimed to provide.
After the initial research step, Delloitte plans to conduct field interviews "to validate priority issue areas and community needs."
Once that is complete, the third step will involve a "vision and strategic choices workshop to determine key priorities and choice trade-offs."
Kelsey said this step would look at things such as where the community wants to be in regard to Internet connectivity in the next five years.
The fourth step will be to seek potential funding, such as grants.
In the fifth step, Delloitte will engage stakeholders and investors.
In the final step, Delloitte will seek to create a roadmap for taking Troy from where it is now to where the community wants to be in regard to Internet connectivity.
In addition to giving the community an outlined set of goals, that final informational package could also be useful in demonstrating need when applying for funding, such as grants, Kelsey said.
"It would set us up for success in the future. It would also give us this opportunity to work together on what we want as a community," she said.
Stakeholders
As part of the process, Delloitte would be looking at potential providers already working in the local area, including Frontier, Montana Sky and potentially even InterBell — the telecommunications co-op that provides telephone and Internet service around Eureka.
Kelsey told the council that InterBell may be interested in extending their service further south in Lincoln County.
If that were the case, the Delloitte project should be complementary to any feasibility study InterBell may wish to conduct, she said.
---