New, returning county officials sworn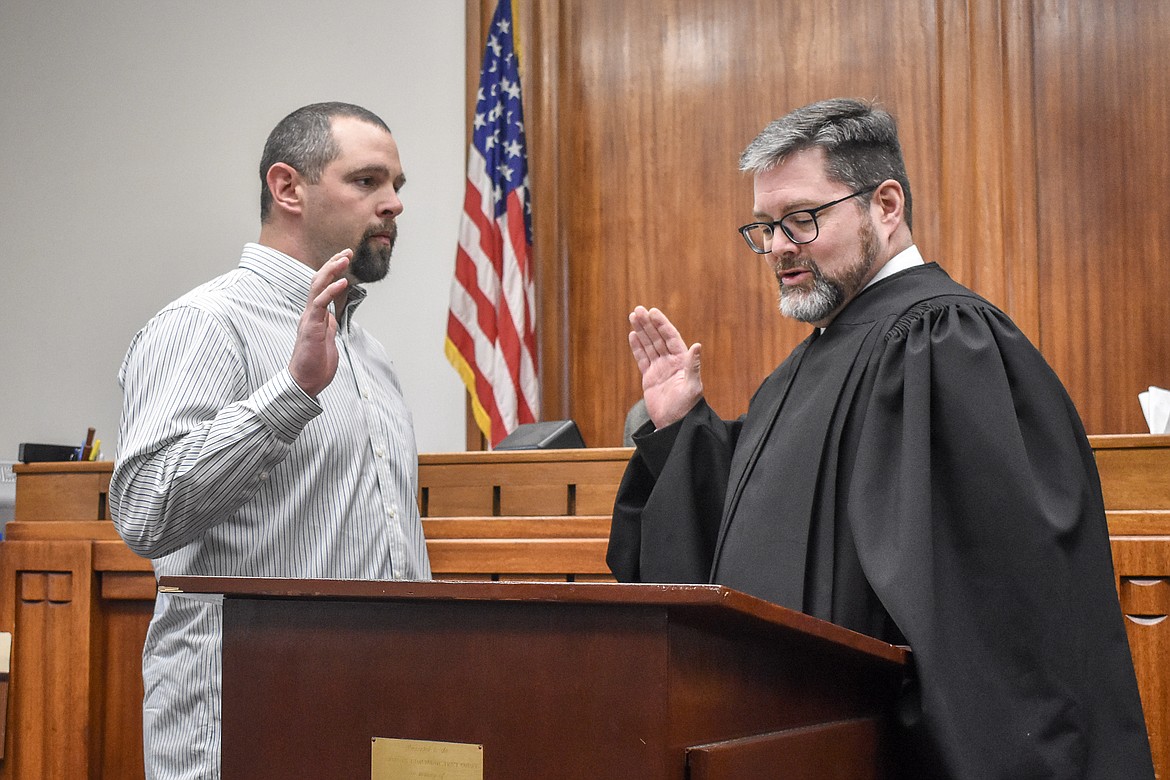 Montana 19th Judicial District Judge Matt Cuffe swear in new Lincoln County Commissioner Josh Letcher, representing Eureka, in the Lincoln County Courthouse Wednesday. (Ben Kibbey/The Western News)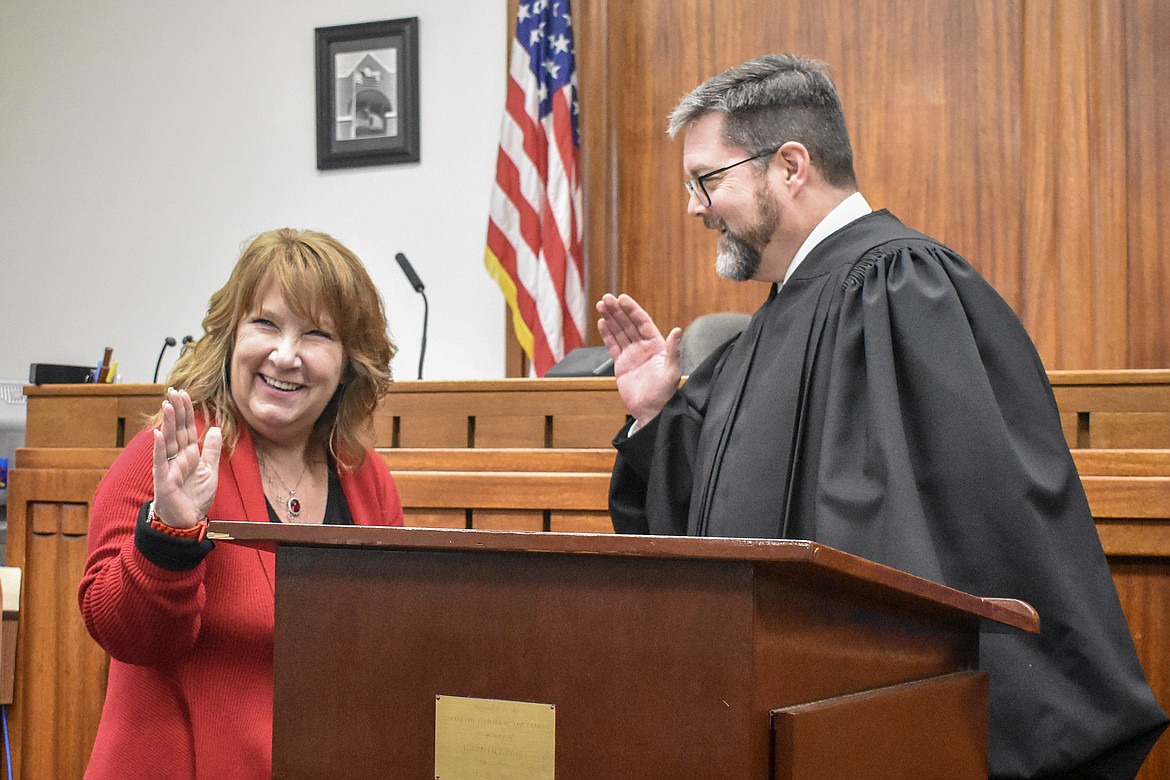 Montana 19th Judicial District Judge Matt Cuffe and Lincoln County Clerk and Recorder/Auditor/Assessor/Surveyor Robin Benson share a moment of levity at the length of her title during her swearing in at the County Courthouse Wednesday. (Ben Kibbey/The Western News)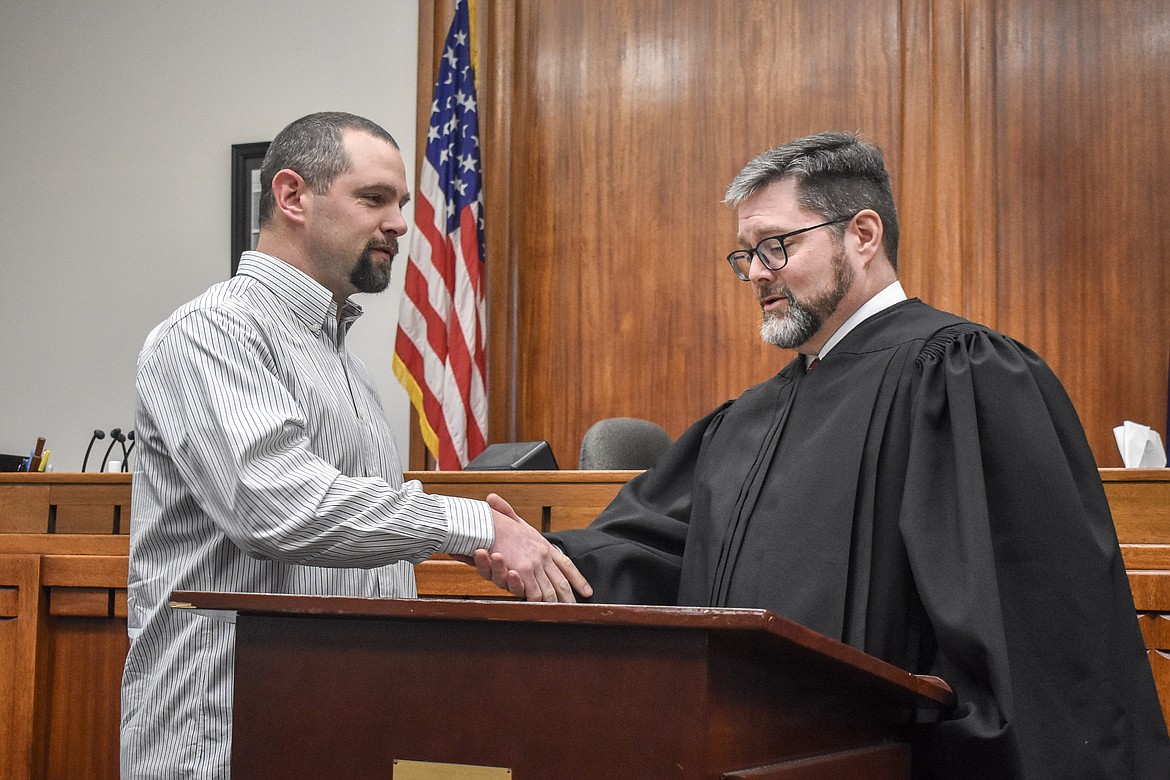 Montana 19th Judicial District Judge Matt Cuffe shakes hands withnew Lincoln County Commissioner Josh Letcher, representing District 3, in the County Courthouse Wednesday. (Ben Kibbey/The Western News)
Montana 19th Judicial District Judge Matt Cuffe congratulates Lincoln County Justice of the Peace Jay Sheffield after his swearing in at the County Courthouse Wednesday. (Ben Kibbey/The Western News)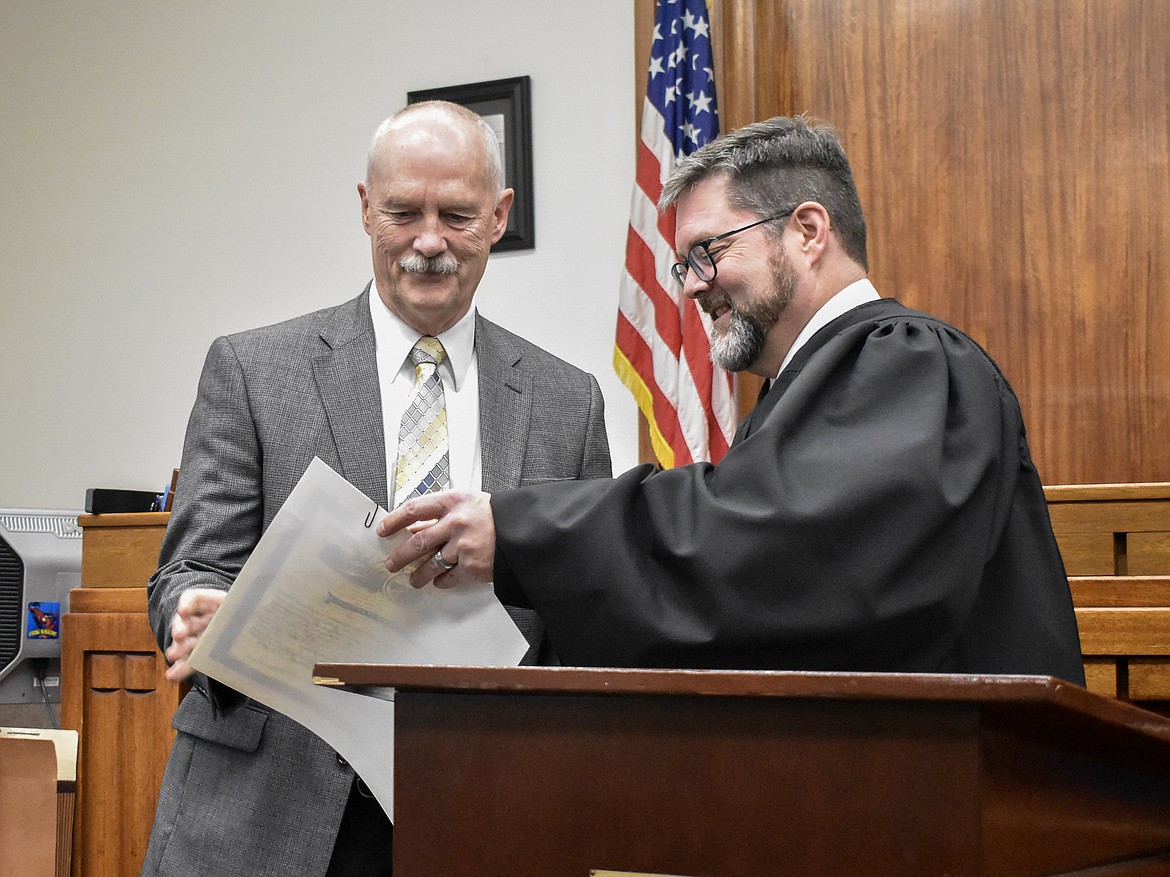 Montana 19th Judicial District Judge Matt Cuffe hands Lincoln County Coroner Steven Schnackenberg his papers to sign after his swearing in at the County Courthouse Wednesday. (Ben Kibbey/The Western News)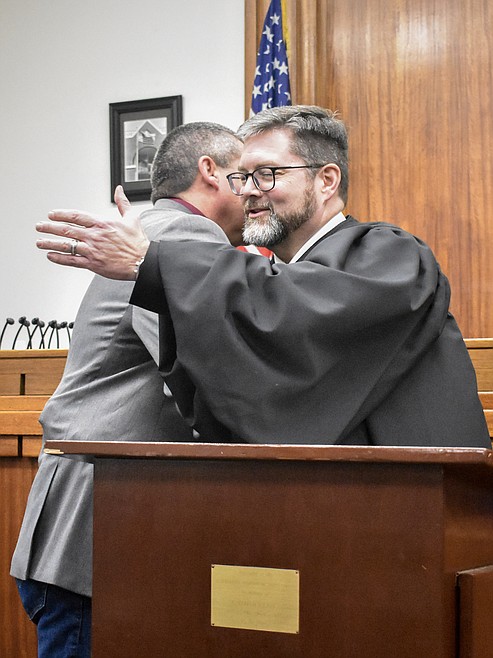 Montana 19th Judicial District Judge Matt Cuffe congratulate new Lincoln County Sheriff Darren Short after Short's swearing in at the County Courthouse Wednesday. (Ben Kibbey/The Western News)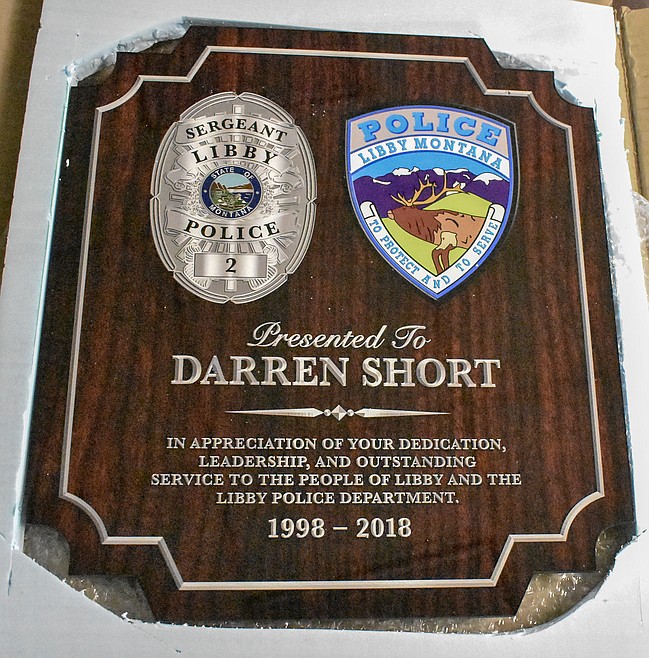 Libby Police Chief Scott Kessel presented incoming Lincoln County Sheriff Darren Short with a plaque recognizing his service to Libby after Short was sworn in as Sheriff at the County Courthouse Wednesday. (Ben Kibbey/The Western News)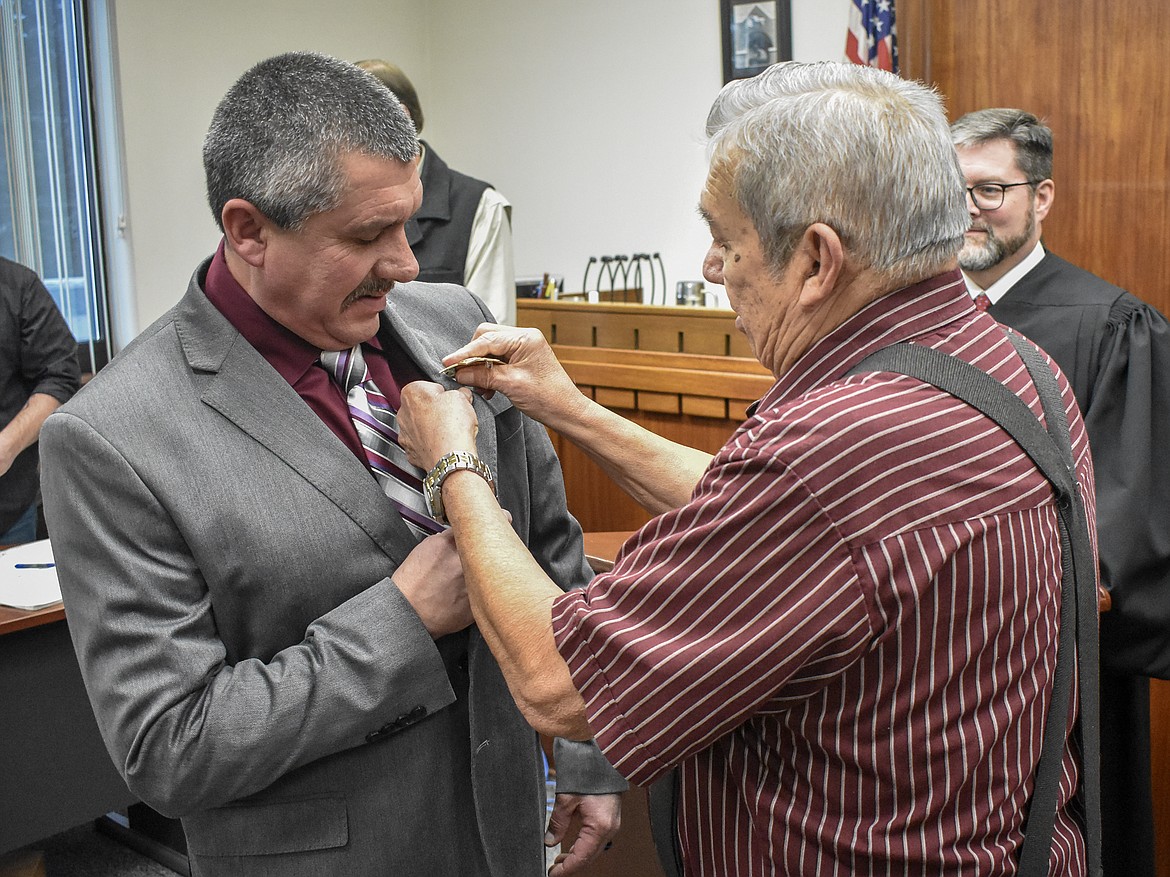 James Short pins his son, new Lincoln County Sheriff Darren Short, with his badge after his swearing in at the County Courthouse Wednesday. Though the pinning would normally be done by outgoing Sheriff Roby Bowe, Bowe offered the honor to Short's father. (Ben Kibbey/The Western News)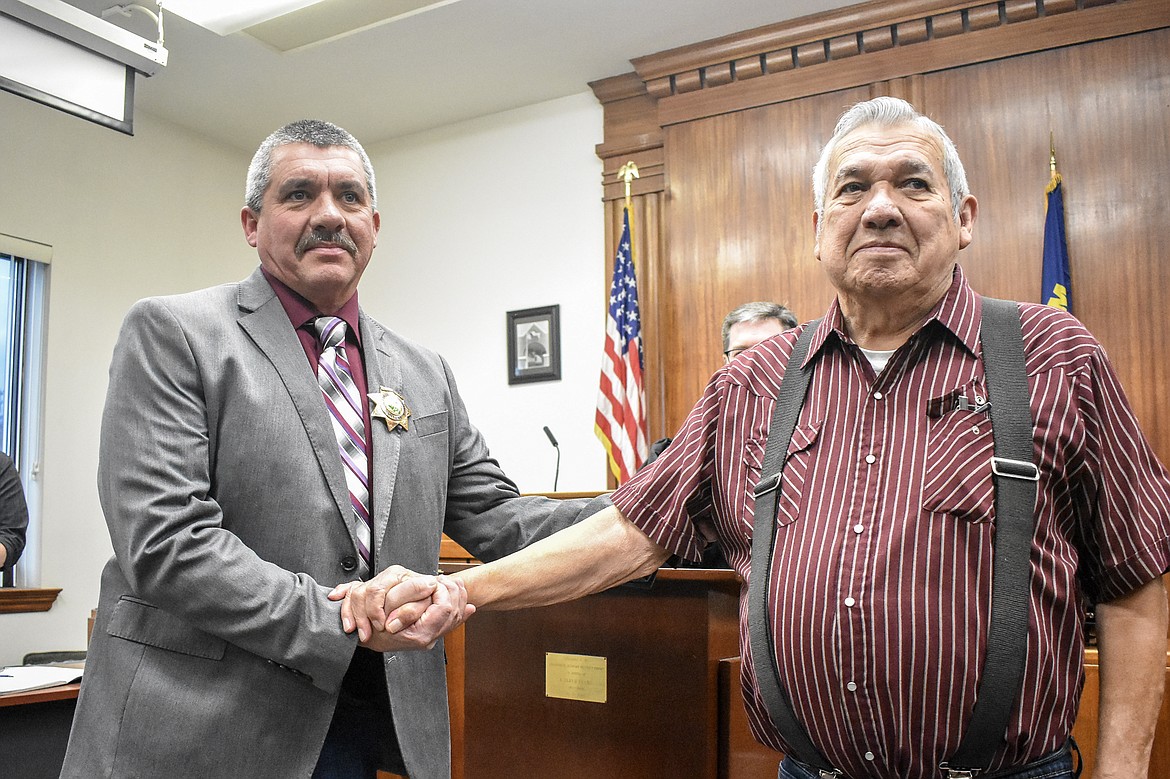 James Short congratulates his son, new Lincoln County Sheriff Darren Short, after pinning him with his badge at the County Courthouse Wednesday. Though the pinning would normally be done by outgoing Sheriff Roby Bowe, Bowe offered the honor to Short's father. (Ben Kibbey/The Western News)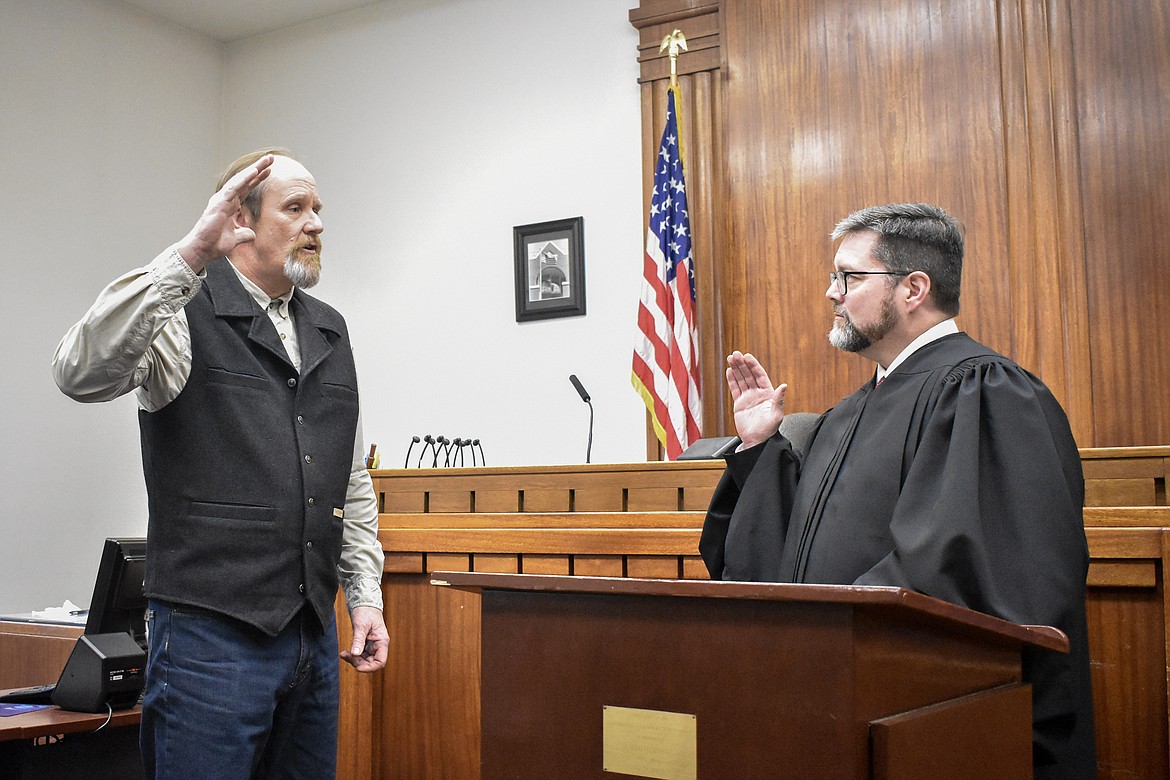 Montana 19th Judicial District Judge Matt Cuffe swears in Lincoln County Justice of the Peace Jay Sheffield in the County Courthouse Wednesday. (Ben Kibbey/The Western News)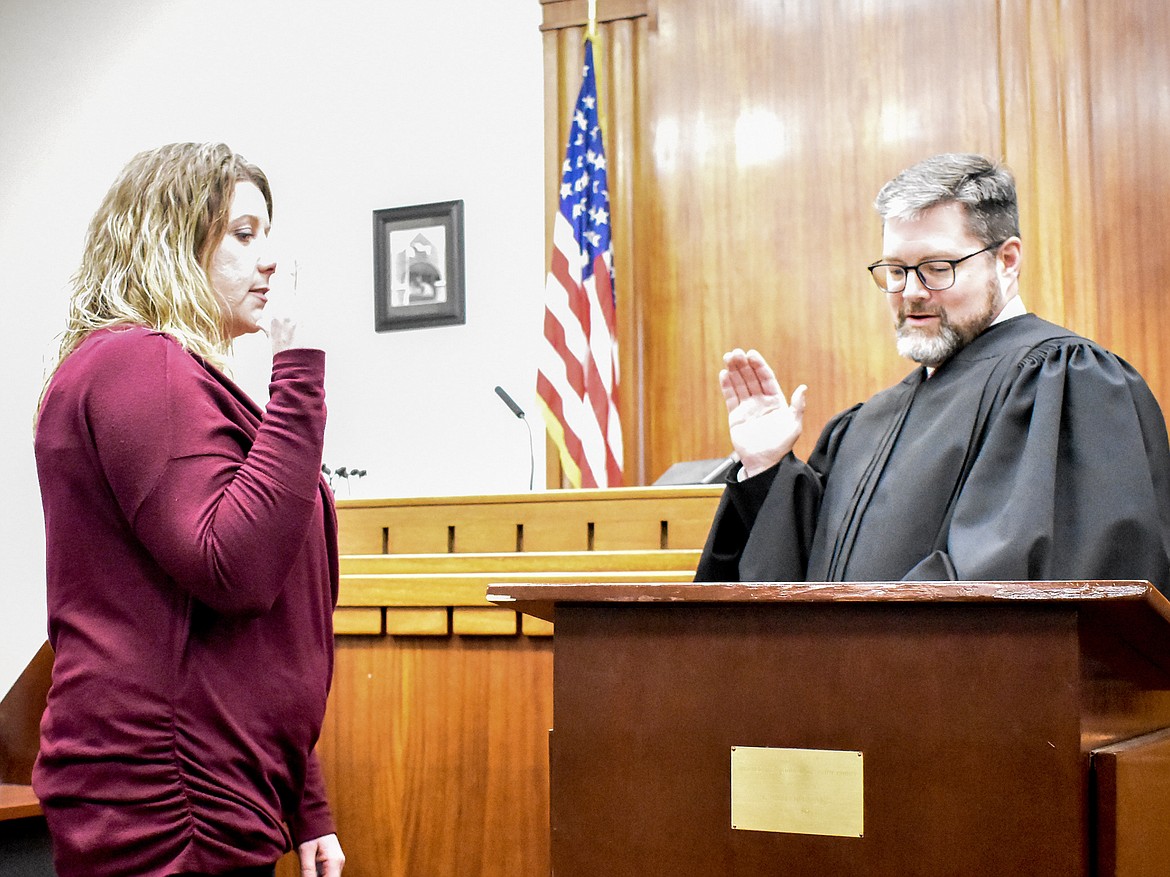 Montana 19th Judicial District Judge Matt Cuffe swears in Lincoln County Treasurer/Superintendent of Schools Sedaris Carlberg in the County Courthouse Wednesday. (Ben Kibbey/The Western News)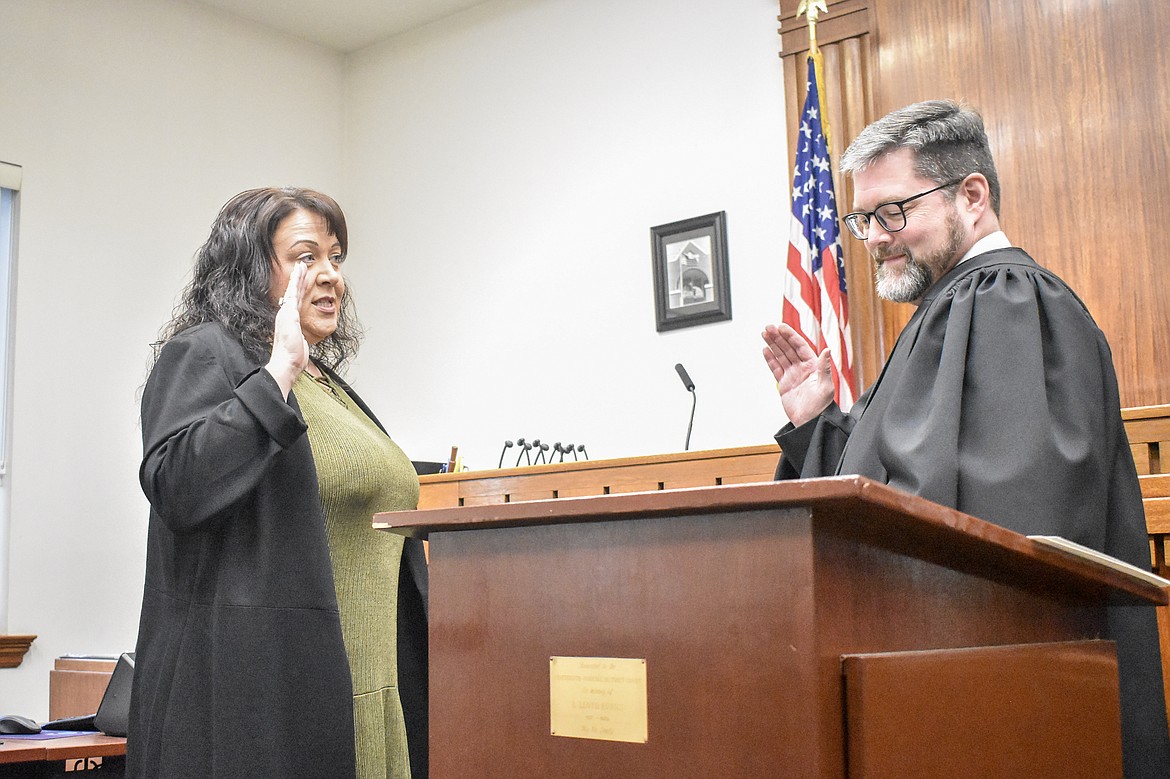 Montana 19th Judicial District Judge Matt Cuffe swears in Lincoln County Attorney Marcia Boris in the County Courthouse Wednesday. (Ben Kibbey/The Western News)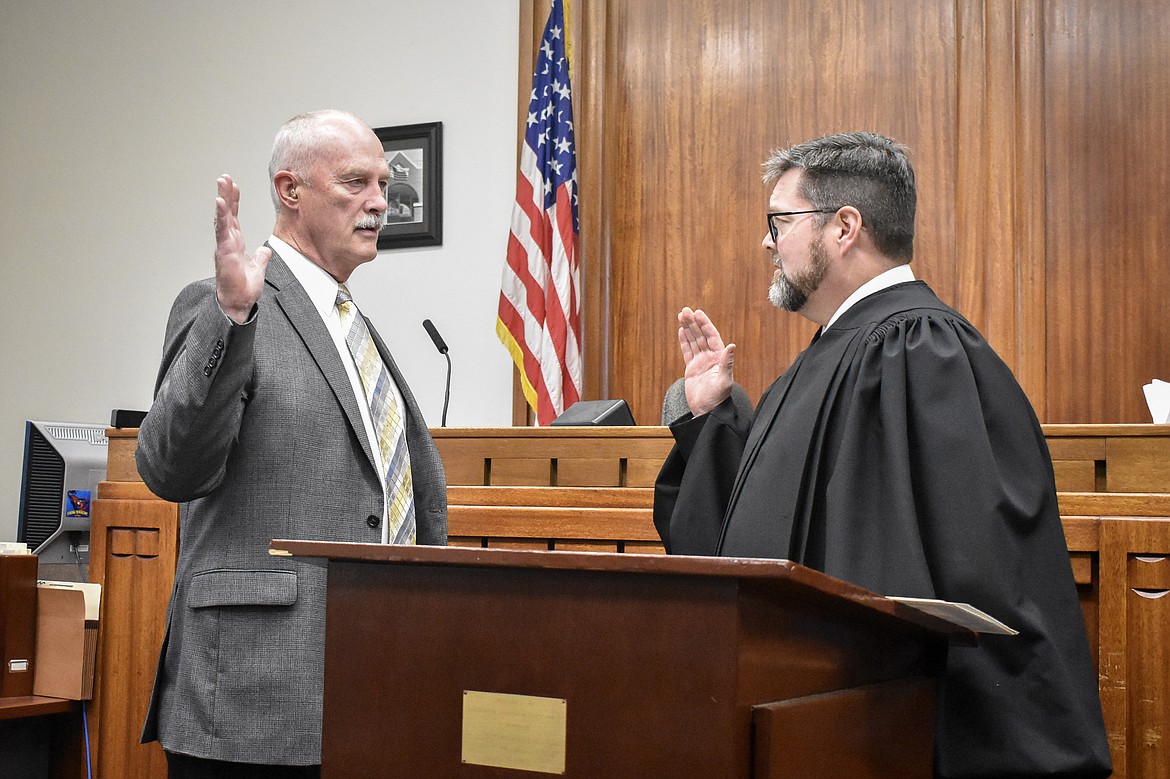 Montana 19th Judicial District Judge Matt Cuffe swears in Lincoln County Coroner Steven Schnackenberg in the County Courthouse Wednesday. (Ben Kibbey/The Western News)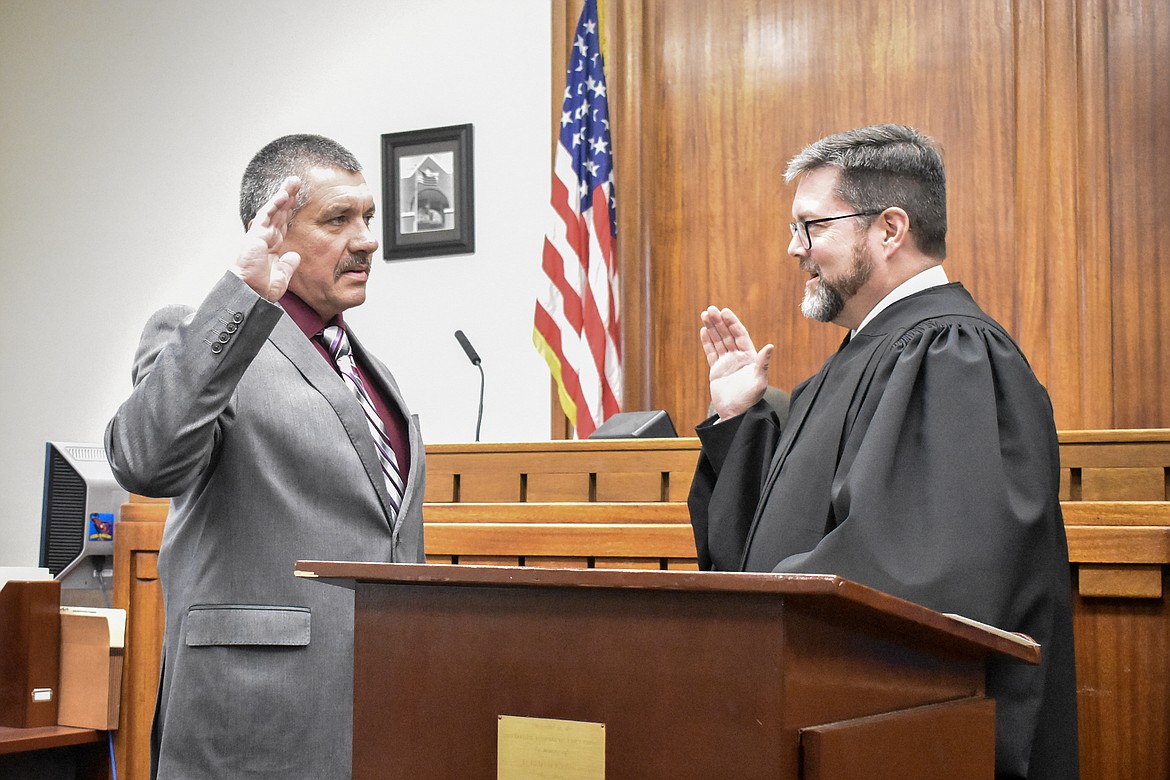 Montana 19th Judicial District Judge Matt Cuffe swears in Lincoln County Sheriff Darren Short in the County Courthouse Wednesday. (Ben Kibbey/The Western News)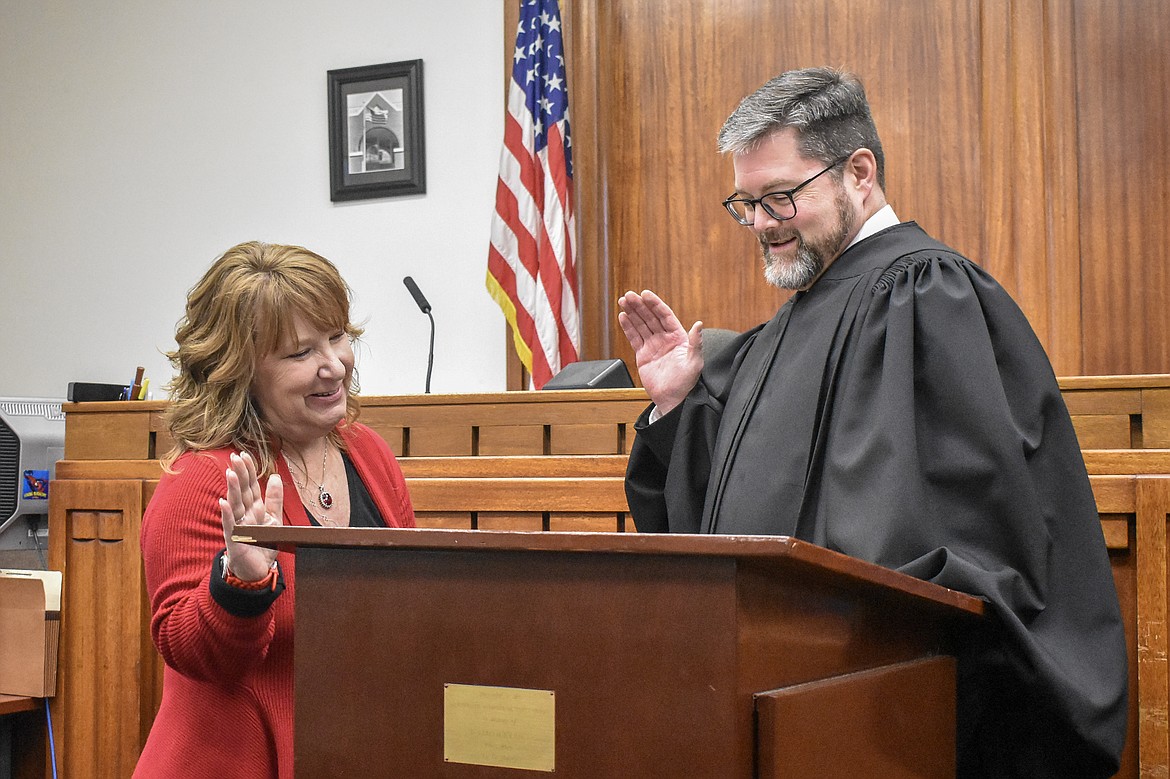 Montana 19th Judicial District Judge Matt Cuffe swears in Lincoln County Clerk and Recorder/Auditor/Assessor/Surveyor Robin Benson in the County Courthouse Wednesday. (Ben Kibbey/The Western News)
Previous
Next
by
Benjamin Western News
|
December 21, 2018 3:00 AM
Three new Lincoln County elected officials were sworn in at the County Courthouse Wednesday, alongside four who are returning to office.
Sheriff Darren Short, Treasurer/Superintendent of Schools Sedaris Carlberg and District 3 Commissioner Josh Letcher took their oaths for the first time Wednesday.
Returning to office, Justice of the Peace Jay Sheffield, County Attorney Marcia Boris, Clerk and Recorder/Auditor/Assessor/Surveyor Robin Benson and Coroner Steven Schnackenberg were also sworn in Wednesday.
Short, who recently retired from the Libby Police Department to take over as sheriff, was presented a plaque after the swearing in by his former boss, Libby Police Chief Scott Kessel, recognizing Short's two decades of service to the department and community.
"He's been, basically, my second in command. Now he's going to head his own agency," Kessel said. "He's admired by the officers he supervises, and I have nothing but deep respect for him and his ability to do the job."
Kessel said he looks forward to continuing the strong professional relationship they have built over the time they have served together.
Short's parents, Anita and James Short, attended the swearing in, and James Short was given the opportunity to pin his son with the Sheriff's badge. The honor would have been outgoing Sheriff Roby Bowe's, but James Short said that Bowe came to his home and offered it to him the day before the ceremony.
"I'm very proud of him," James Short said of his son. "I think he will do an excellent job."
Darren Short said that it was incredible and a special moment to have his father pin his badge on him. "I have to thank Roby for that."
See more from Wednesday's ceremony on page A4.
---