Lady Loggers down Lady Trojans 48-12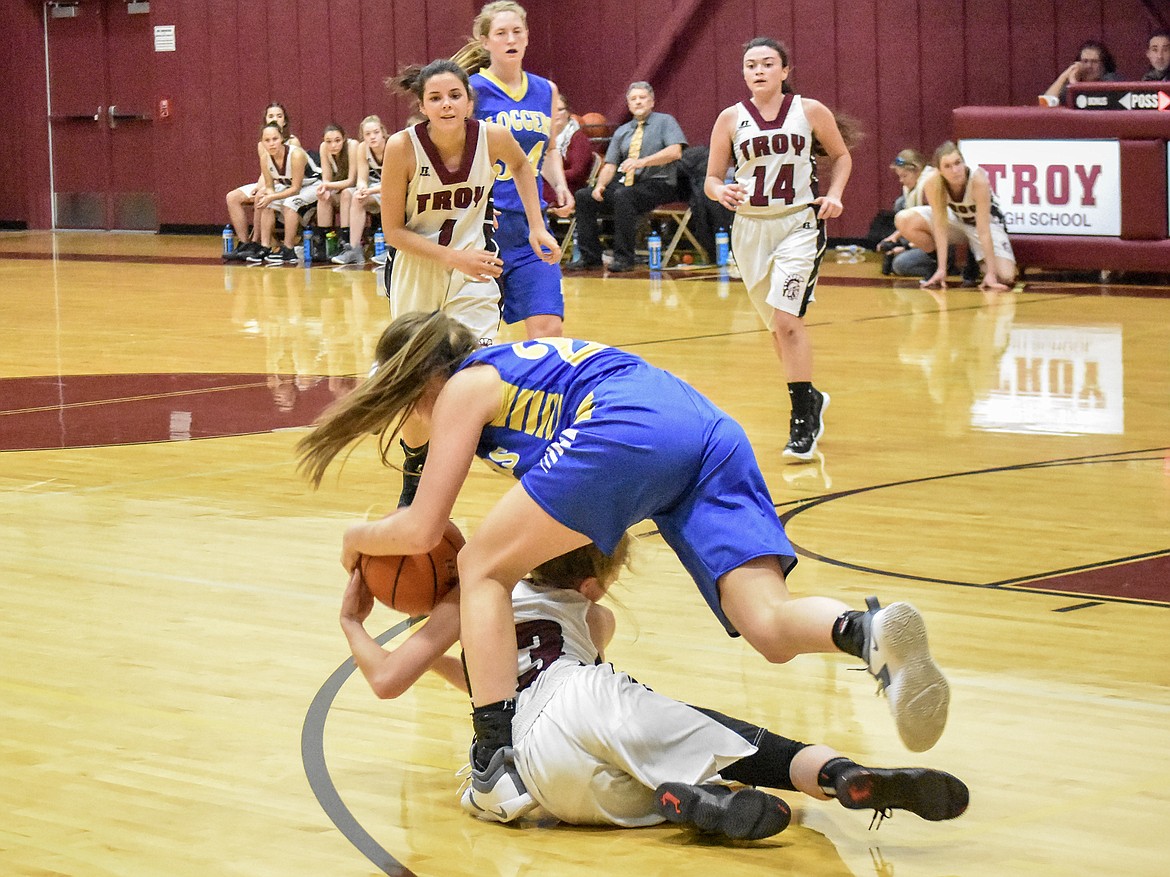 Troy senior Annie Day and Libby senior Jayden Winslow fight for possession of the ball late in the fourth quarter at Troy Tuesday. (Ben Kibbey/The Western News)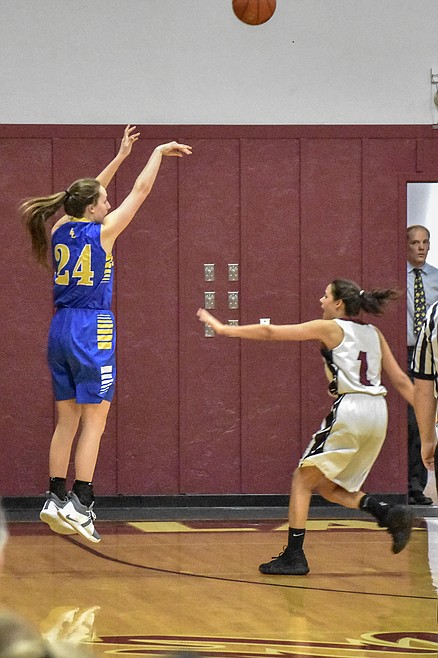 Libby senior Jayden Winslow makes a three-point shot early in the fourth quarter against Troy at Troy Tuesday. (Ben Kibbey/The Western News)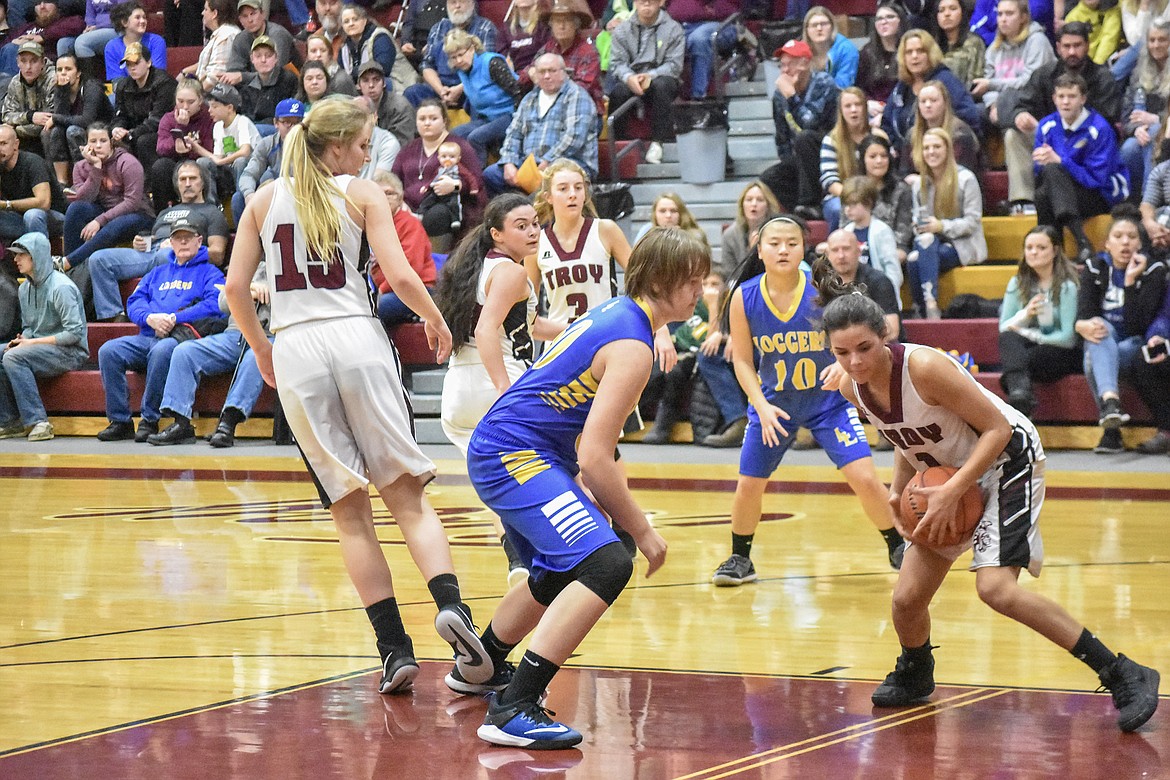 All eyes are on Troy sophomore Talise Becquart moments before she scored the only Lady Trojan basket of the third quarter against Libby at Troy Tuesday. (Ben Kibbey/The Western News)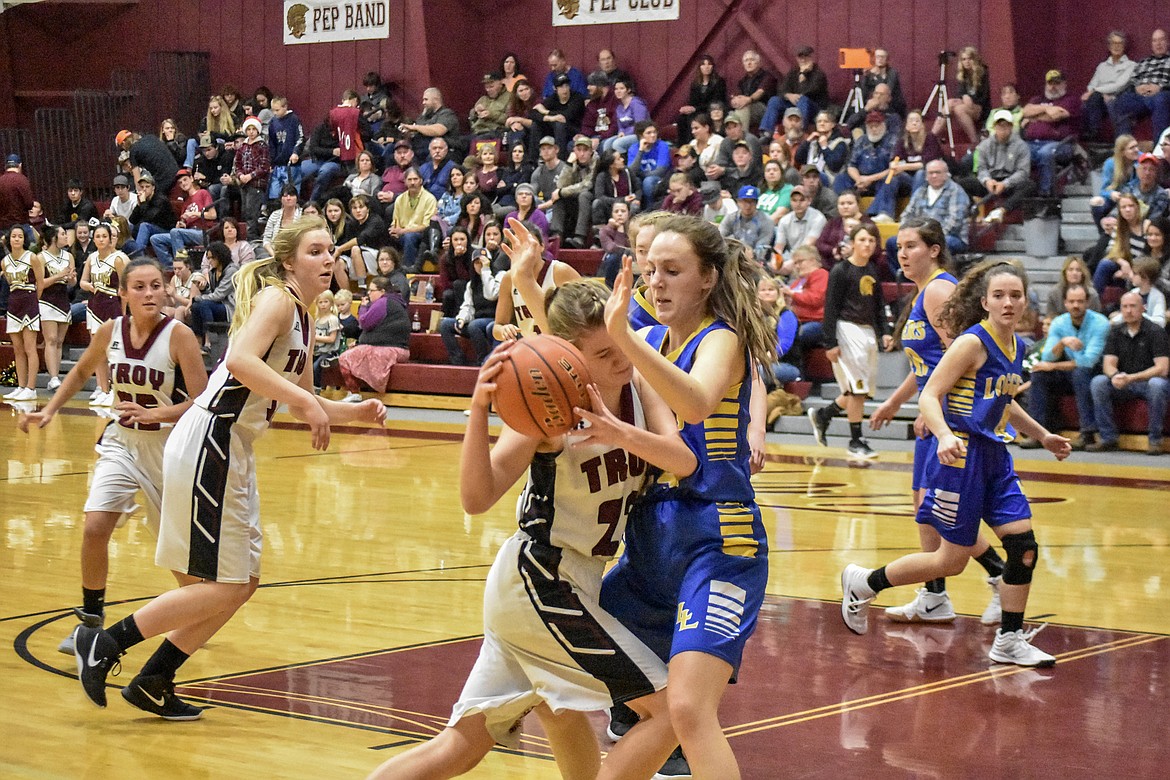 Troy junior Katelynn Tallmadge attempts to drive past Libby senior Jayden Winslow in the fourth quarter at Troy Tuesday. (Ben Kibbey/The Western News)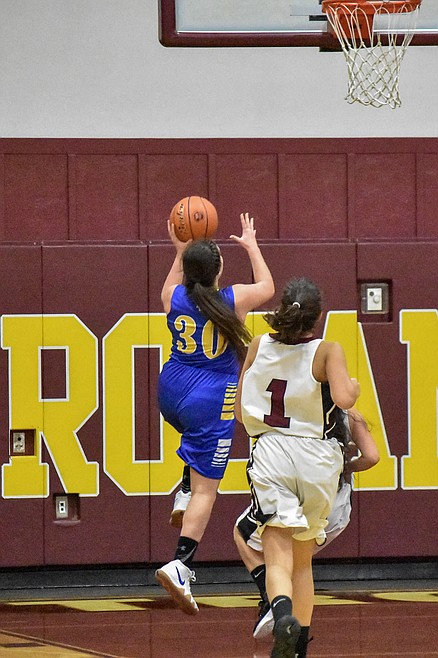 Libby senior Sammee Bradeen goes in for a layup with Troy sophomore Talise Becquart at her heels in the third quarter against Troy at Troy Tuesday. (Ben Kibbey/The Western News)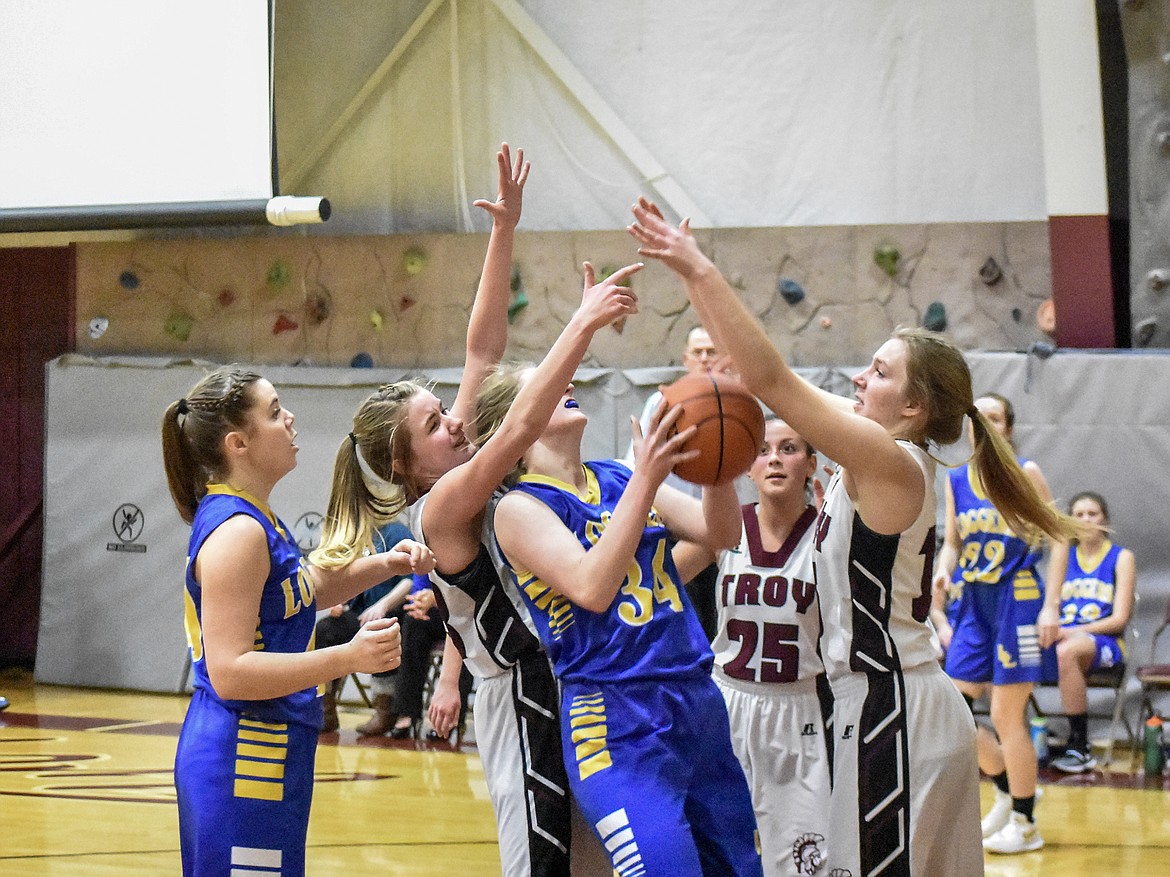 Troy juniors Katelyn Tallmadge and Ella Pierce fight to keep Libby junior McKenzie Proffitt from the basket moments before Proffitt scored in the fourth quarter at Troy Tuesday. (Ben Kibbey/The Western News)
Previous
Next
by
Benjamin Kibbey Western News
|
December 21, 2018 3:00 AM
Despite holding the Libby Lady Loggers to a 6-3 lead at the end of the first quarter, the Troy Lady Trojans fell 48-12 at the end of their annual basketball cross-county showdown Tuesday.
Libby Head Coach Wally Winslow said that the Lady Loggers were hemmed-up by Troy early on.
"I thought Troy came out well," he said. "Their defense — their zone — kind of frustrated us a bit, because we couldn't make a perimeter shot."
While the Lady Trojans were able to harry Libby starting out, the short-rostered Troy wasn't able to keep it up. They gradually fell further behind as the game wore on, scoring only four points in the second half.
"They did what they needed to defensively to take us off our rhythm a little bit, and that's what Coach Dunn-meier knows how to do," Winslow said. "In the second half we got going a little bit and had a chance to get some run-outs and hit some threes and do things that we like to do. But, yeah, they were ready to go."
Libby is undefeated early in the season, and was favored going into Tuesday.
Adding to their disadvantage, Troy sophomore Montana Rice suffered an injury Saturday against Mission, benching her for the Libby game.
Troy Head Coach Bradley Dunn-meier said that though Rice is eager to get back to playing, he is more concerned about making sure she heals properly.
Despite "running out of gas," Dunn-meier said that he was pleased with how his team performed in the first half and of how the girls fought through their fatigue to keep going in the second.
The Libby game reinforced some lessons about conditioning and stamina that have been hitting home for Troy this season, he said.
Dunn-meier said he sees coaching as teaching the girls about life as much as about basketball. The lessons they are learning about preparation and responding to failure with the determination to fix their mistakes will apply in every aspect of their lives.
"If you can motivate yourself to play that hard, even though you're tired, even though you're down by 20, then you really learn," Dunn-meier said.
As the Lady Trojans lost steam, the Lady Loggers stayed steady, and the Libby defense eventually slowed any Troy gains to a crawl.
"We played great defense, and then, once we kind of got in the flow a little bit, we got running and made a few perimeter shots, so that kind of loosened things up a bit," Winslow said.
Even though the teams are in two different classes and the Lady Trojans are rebuilding after losing some quality seniors from last season, Winslow said he didn't underestimate what Troy would have in store.
"We're Class A, their Class B, so generally speaking, the majority of the time, we have an advantage, but that's not always that way," Winslow said. "And like I said, I like what they're doing right now. I think they're doing some good things."
After a 40-point loss to Mission Saturday, Dunn-meier said the Lady Trojans had a hard look at how they approach the game, and some of that accounted for their early effort against Libby.
Mission is a team that spends a lot of time working hard in the offseason, he said. After the loss, he talked with his players about the skill deficit they faced.
"I told the girls, they're months ahead of you guys," he said.
But what Dunn-meier said he found most encouraging was the honest critiques the Lady Trojans gave themselves after the Mission game. They recognized that they were behind their opponents in both conditioning and time spent practicing the game.
"I said, 'It's got to come from you, that motivation,' and they said, 'Yeah, we're ready,'" he said. "So we had a really good practice yesterday, and I think you saw it in the first half tonight, the hustle."
From the start of the season, Dunn-meier has said he has been encouraged to see how ready his players are to listen and try to apply his instructions.
Dunn-meier said he has been frustrated in the past with teams that meet challenges and respond with the assumption they aren't good enough or just don't want to put in the work.
"These girls don't have that attitude. They want to get better. They really want to get better," he said. "What I hope this will do now is carry over to the offseason."
Dunn-meier and Winslow agreed that their teams enjoy the cross-county rivalry, regardless if it is lopsided some years.
"It's a game that we look forward to every year, just because it's good playing," Winslow said.
Dunn-meier said that though the rivalry is friendly and not bitter — as some he has seen are — the Lady Trojans still really wanted a win against Libby. But, he said they understand what getting a win against Libby will take.
"You have to earn it. Nobody's going to give it to you," he said.
The Lady Trojans play next at home against Thompson Falls on Friday, with varsity starting at 6 p.m.
The Lady Loggers play next at home against Columbia Falls on Friday, Jan. 4, with varsity starting at 7:15 p.m.
Tuesday, Dec. 18
Libby 48, Troy 12
L: 6 10 16 16 - 48
T: 3 5 2 2 - 12
Libby: Alli Collins 13 points, 0-1 FT; Emma Gruber 2 points; Samantha Miller 3 points; Jayden Winslow 9 points; Sammee Bradeen 4 points; McKenzie Proffitt 8 points, 2-7 FT; Elise Erickson 2 points; Taylor Holm 4 points, 2-4 FT; Sheyla Gallagher 3 points, 1-2 FT
Troy: Annie Day 6 points; Isabelle Ramirez 2 points; Ella Pierce 2 points, 0-2 FT; Talise Becquart 2 points
---