Lady Loggers take Ronan 36-31 over winning weekend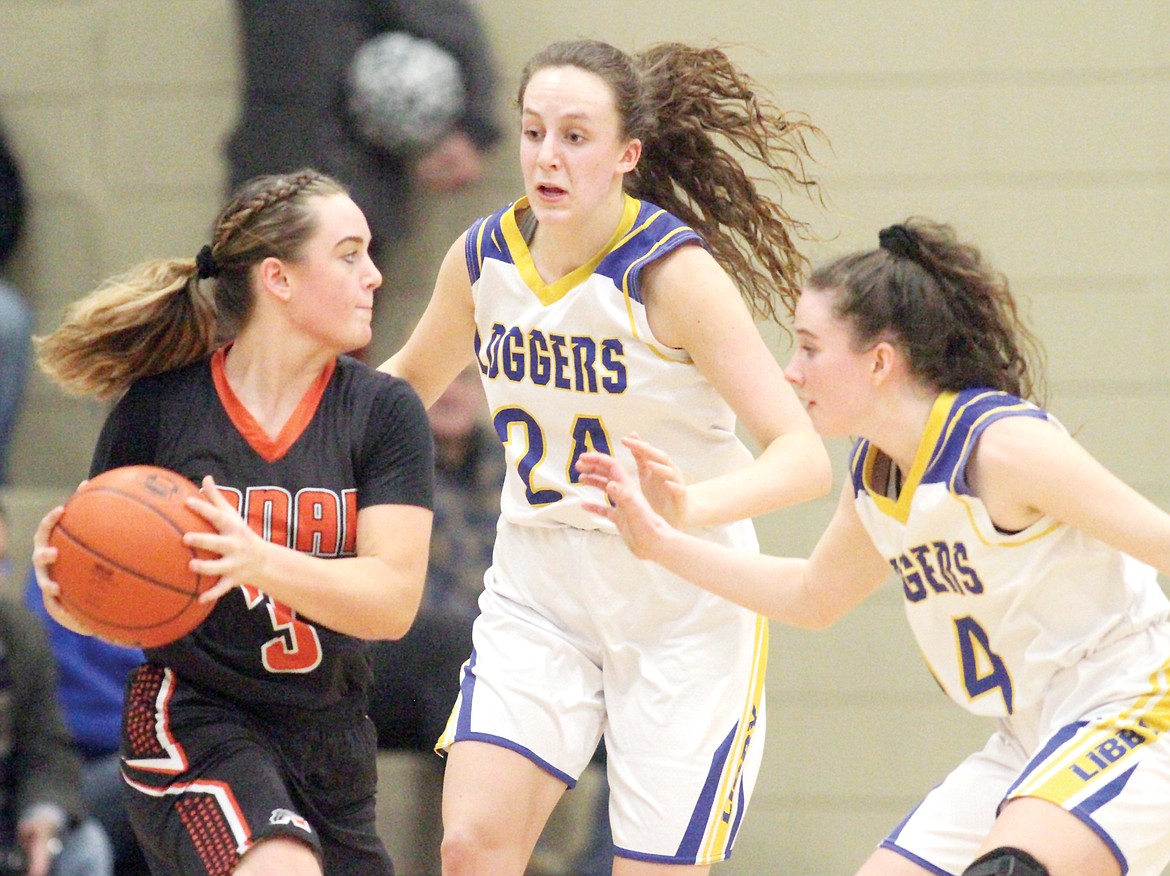 Emma Gruber, right, and Jayden Winslow guard Hannah Moss in second quarter Saturday vs. Ronan. Lady Loggers prevail 36-31. (Paul Sievers/The Western News)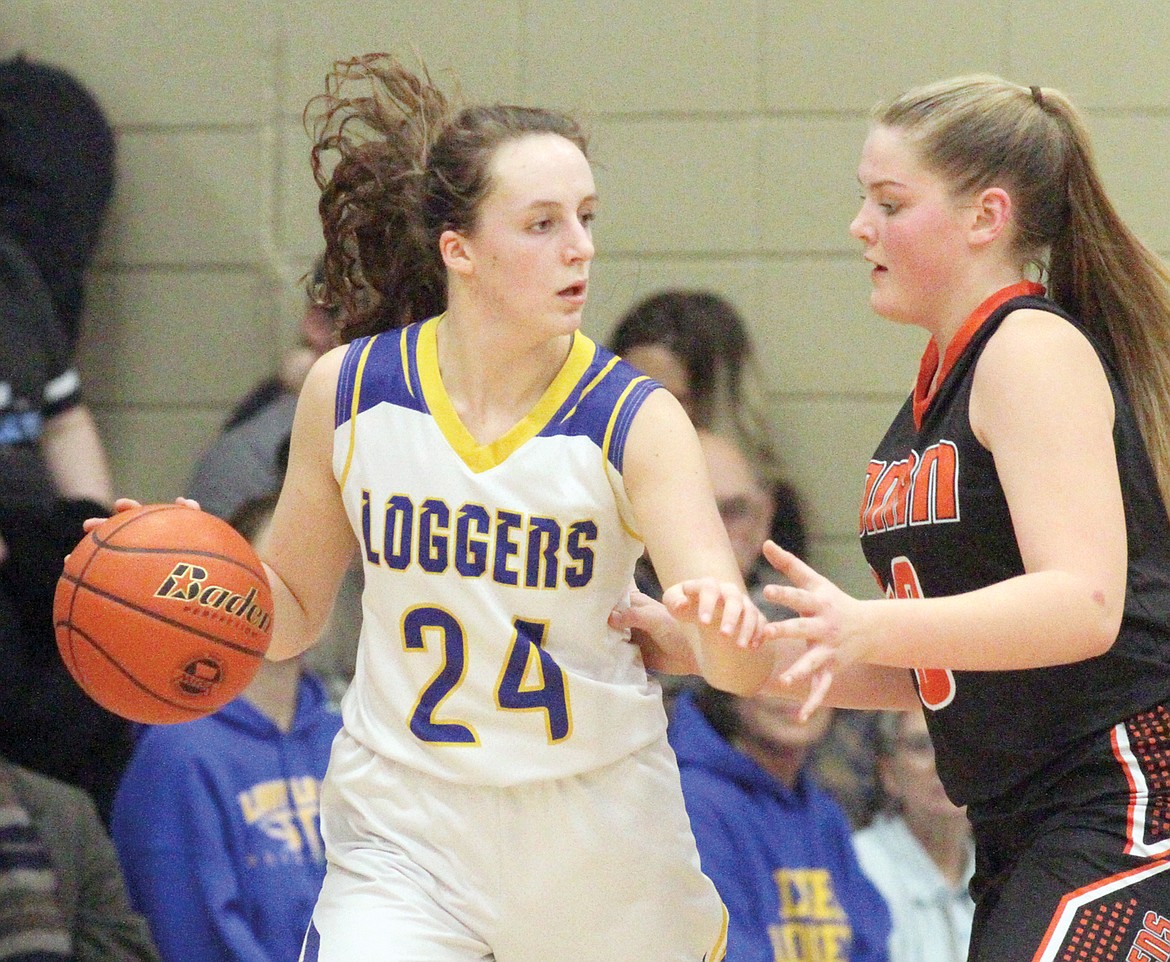 Senior Jayden Winslow looks for the lane in the fourth quarter while being guarded by Ronan's Jaylea Lunceford Saturday at Ralph Tate Gymnasium. (Paul Sievers/The Western News)
Previous
Next
by
Benjamin Kibbey Western News
|
December 17, 2018 12:13 AM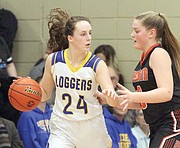 The Libby High School girls basketball team had a winning weekend, defeating the Whitefish Lady Bulldogs 37-33 Friday, and following up with a 36-31 win over the Ronan Maidens on Saturday.
Though the Lady Loggers maintained a lead most of the game Saturday, the Maidens kept on their heels.
In the first quarter Saturday, Libby had trouble getting into a rhythm, said Libby head Coach Wally Winslow. The Maidens led 8-5 entering the second quarter.
But in the final minutes of the second quarter, Libby made some breathing room between them and the Maidens, pushing out to a 23-16 lead.
"The girls stayed the course and just kept doing what they do, and that's what basketball is," Winslow said. "Every game that we've played, our defense has been solid and we're really working hard. And that's kind of cliche, but it makes a huge difference."
Winslow said that he expected tough competition from Ronan, as they have every year. "Ronan has some good kids, and they're really coached well."
While the Lady Loggers knew what to expect from the Maidens' defense, there was only so much they could do to prepare for it in practice, Winslow said.
"They got us on our heels a few times, and that's the way it goes," he said.
Winslow credited how well the Lady Loggers work as a team, as well as their capacity for maintaining their composure when the game isn't going their way.
"We'll get a lead, we'll lose a lead, we'll get behind a little bit, but we've just got to keep doing what we're doing," he said. "If we can maintain our focus and our enthusiasm for defense, we're going to be in games."
Basketball is not complicated, Winslow said. "If you don't turn it over and you play pretty good defense, you're going to compete well — whether you win or not, that's on some other things, but you'll compete well if you play good defense and don't turn it over."
The Lady Loggers still have some room to improve on their turnovers and shots on open looks, but there's always going to be room to improve, Winslow said.
"I told the girls in the locker room after the game, I expect perfection, but we're never going to get there," he said. "But if you don't expect it, you won't get any closer."
Building to that skill level is a constant effort, Winslow said. Even with an experienced varsity team, they still work on layups and free throws in practice, because the goal is not to miss any.
"And that's the thing people don't get about basketball — I really think a lot of people don't anymore — is how much time it takes throughout a lifetime to excel with the skills that are required to be a good basketball player," he said.
Luckily, Libby has players who understand that, Winslow said. "You see kids that are skilled and you notice it, it's because they put a lot of time in."
Having players like that is what makes his job as coach fun, Winslow said.
In the games, the girls show strong dedication as well, especially the upperclassmen, he said.
"Whatever it takes to make the team win, that's what they're going to do," he said. "Everybody's willing to do what they can to help."
Friday, Dec. 14
Libby 37, Whitefish 33
L 13 9 7 8 - 37
W 9 5 5 14 - 33
Libby: Jayden Winslow 21 points, 3-4 FT; Alli Collins 7 points, 2-2 FT; McKenzie Proffitt 6 points, 2-4 FT; Sammee Bradeen 2 points, 0-2 FT; Linsey Walker 1 point, 1-2 FT
Saturday, Dec. 15
Libby 36, Ronan 31
L 5 18 7 6 - 36
R 8 8 12 3 - 31
Libby: Jayden Winslow 21 points, 4-6 FT; McKenzie Proffitt 7 points 3-10 FT; Alli Collins 4 points, 2-2 FT; Sammee Bradeen 2 points, 2-4 FT; Emma Gruber 2 points, 2-3 FT
---