Dorothy Evelyn Fagg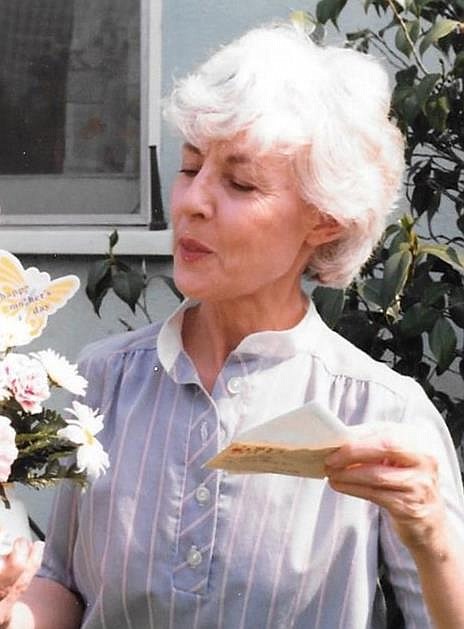 |
December 11, 2018 3:00 AM
Dorothy Evelyn Fagg, 93, of Troy, passed away Friday, Dec. 7, 2018 at Libby Care Center from health related issues.
Evelyn is blessed with passage to the Kingdom and to reunite with family and her husband Dale.
"When God's people close their eyes on earth, they open them in heaven, for 'to be absent from the body' is 'to be present with the Lord.'" (2 Corinthians 5:8)
Evelyn was born in Faulkton, S.D., on Sept. 20, 1925, to Leslie and Dorothy (Bent) Potter. Evelyn graduated from Central High School in Aberdeen, S.D., then married Dale Fagg, Sr. on Sept. 24, 1946 and relocated to San Diego for Dale's military enlistment.
After Dale's honorable discharge, Dale and Evelyn began raising their family in Claremont, Calif., devoting their careers to surviving sons Dale Jr. - Eddie Fagg and later, granddaughter to Dale Jr., Britney Bradbury.
Evelyn was the last survivor of her siblings Delmer, Donald, Richard and Melvin.
Evelyn loved family "All family." Mostly remembered by the family reunion and all the tireless planning and coordinating efforts she dedicated to that memorable event.
Evelyn embraced traditional values with strong morals and was always willing to provide for those who understood the values of respect and integrity. Dorothy's legacy will always be remembered as a spirited life mentor for all that new her.
Evelyn's cremains will be placed at the Riverside Memorial Cemetery in Aberdeen, S.D. Arrangements are by Schnackenberg Funeral Home in Libby. Online condolences and memories may be shared at www.schnackenberg.com.
---