Libby man on deferred imposition arraigned for assault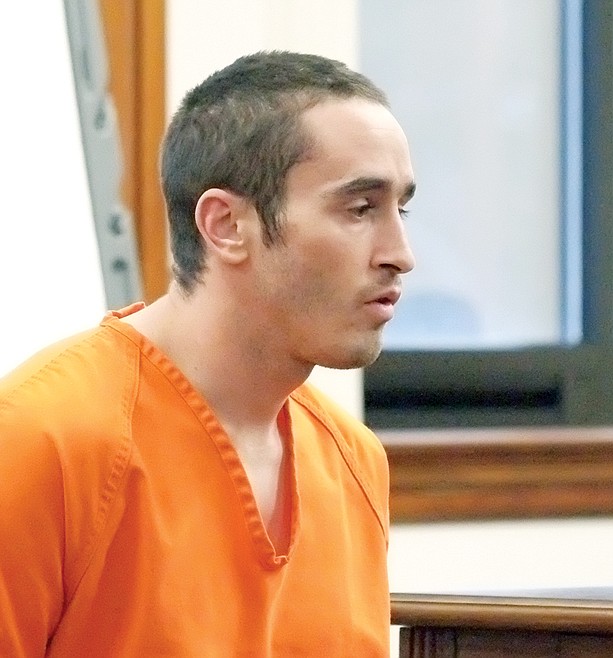 by
Benjamin Kibbey Western News
|
December 7, 2018 3:00 AM
A Libby man who received a six-year deferred imposition of sentence in August for a guilty plea for felony burglary was arraigned in Montana 19th Judicial District Court on Monday for multiple felonies.
Brandon Collier faces four felony charges, including two counts of assault on a peace officer, one count of strangulation of a partner or family member and one count of criminal mischief. He is also charged with misdemeanor partner or family member assault, second offense.
The charges stem from a Nov. 17 incident to which Lincoln County Sheriff's Deputy Jeff Streifling and Libby Police Officer Ron Buckner responded.
According Streifling's written narrative, he and Buckner responded to a motel on Highway 2 after a report of an assault on a woman by her partner.
Two men who witnessed the incident told law enforcement that they saw Collier assault a woman, and he threatened them when they attempted to intervene.
When Buckner asked Collier to turn and place his hands behind his back, Collier became agitated and took swings at Streifling, according to Streifling's narrative.
While this was happening, the woman Collier was alleged to have assaulted attempted to interfere, striking Streifling while he grappled with Collier.
While Buckner and Streifling dealt with continued attempts by the woman to interfere and with continued resistance from Collier, Streifling noted in his narrative that he used a taser on Collier to the left of his neck and subsequently to his right buttock.
After a third use of the taser, Striefling noted, "his aggression waned."
Once law enforcement had Collier handcuffed, they escorted him to Streifling's cruiser. However, Streifling's narrative alleges that Collier resumed resisting as they approached the cruiser.
Once in the vehicle, Collier, "immediately began banging his head on the left rear door window, though repeatedly told to stop."
According to Streifling's narrative, Collier's behavior continued during the drive to the Lincoln County Jail. While Streifling awaited assistance to unload Collier, Collier rolled onto his back and kicked out the rear driver's side window of the cruiser.
The men who witnessed the assault filed a report. According to Buckner's narrative, Charles Malo and Jesse Shelton stated that they were staying at the motel while in Libby for work.
Malo told Buckner he saw Collier follow the woman from a room at the motel, grab her by the hair and begin draggging her back into the room.
Malo said he continued taking his bags to his room, which was next to the one occupied by Collier and the woman. He claimed to witness Collier knock the woman to the ground and drag her back to the motel room by her hair.
Malo and Shelton alleged that Collier saw them and made threatening remarks to them.
Malo told Buckner he believed Collier may have been drunk or on drugs.
At the time of the incident, Collier was subject to the conditions a six-year deferred imposition of sentence that he received Aug. 13 in Montana 19th Judicial District Court.
According to court documents, after pleading guilty to felony burglary, he was also ordered to pay over $4,400 in restitution for damage he did at the Faith Bible Church.
On May 14, Collier was discovered amidst disarray and in possession of an aerosol can used for huffing inside the Faith Bible Church.
Pastor Ed Quillin had earlier in the day found Collier outside the church and offered him assistance, including driving him to get groceries for an alleged camp site.
Collier asked Quillin to take him to a liquor store, but Quillin declined. Collier then asked to be dropped off.
When Quillin returned to the church later in the day, he found evidence of a break in and items missing, and he called law enforcement.
Buckner responded to the May 14 incident, and during a walkthrough with Quillin they found Collier.
---