Lady Loggers brush off 5-1 Polson loss, come back for 10-0 shutout against Ronan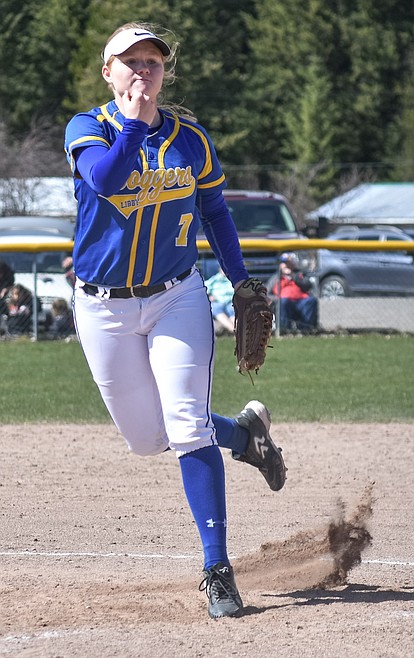 Libby's Khalyn Hageness pitched a 10-0 shutout against Ronan April 20, with only 3 hits and no errors in six innings. (Ben Kibbey/The Western News)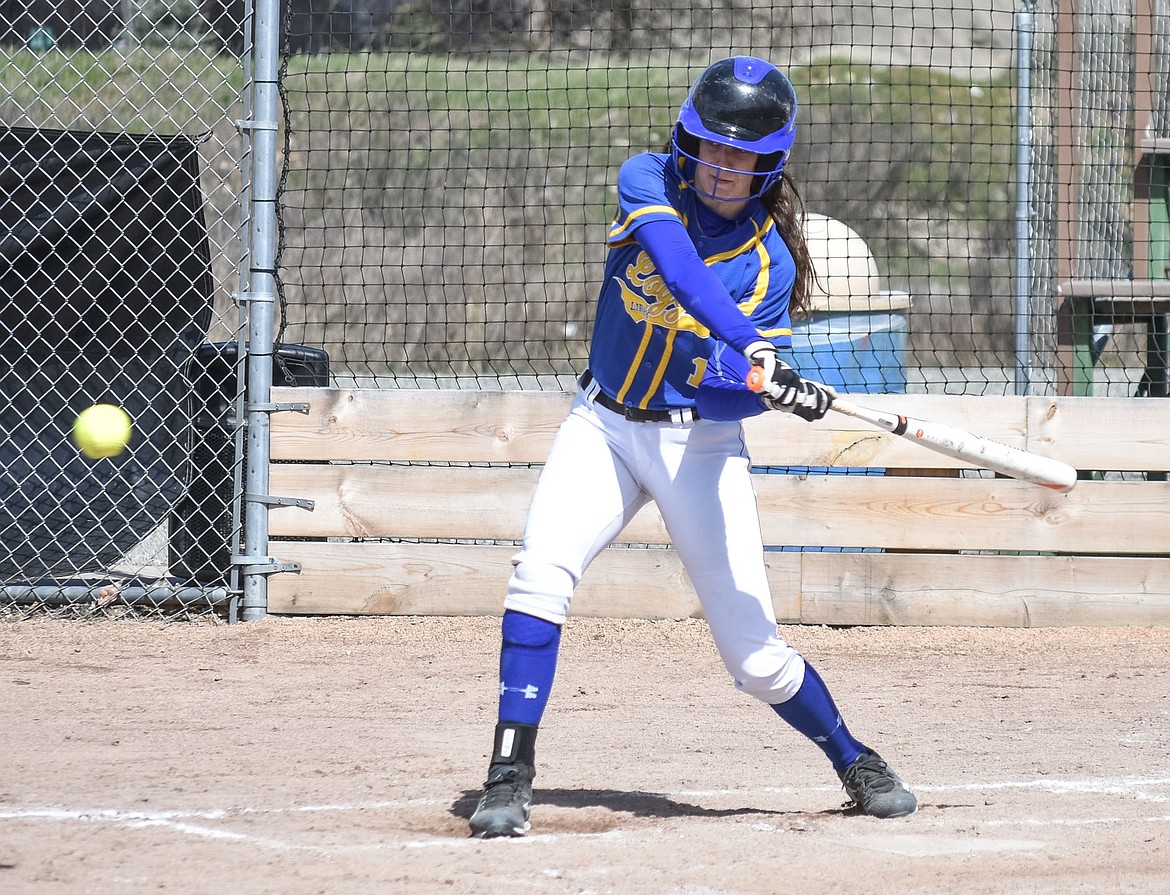 Libby junior Jayden Winslow hits a the ball right up the middle of the infield in a sacrificial play that got her tagged out at first, but let sophomore Ashlyn Monigold score in the bottom of the second inning against Ronan, April 20. (Ben Kibbey/The Western News)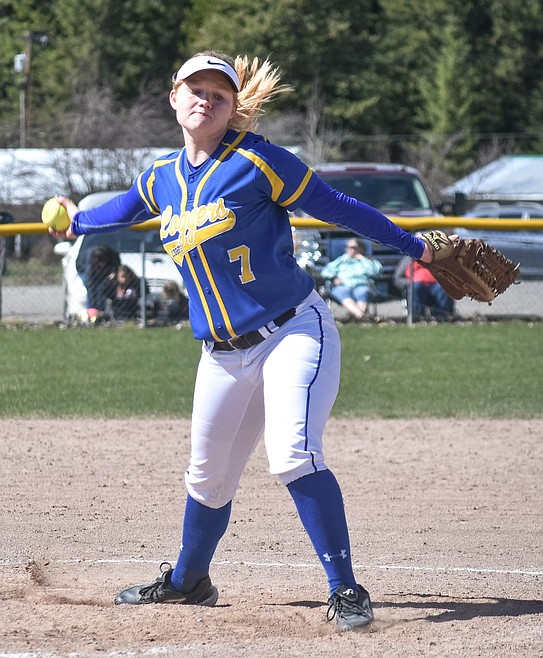 Libby's Khalyn Hageness pitched a 10-0 shutout against Ronan April 20, with only 3 hits and no errors in six innings. (Ben Kibbey/The Western News)
Previous
Next
by
Benjamin Kibbey Western News
|
April 24, 2018 4:00 AM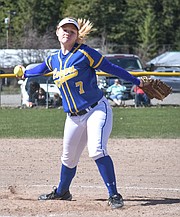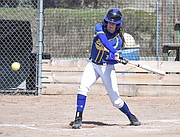 The Libby High School softball team took a few lumps batting against Polson on Friday with a 5-1 loss, but turned around Saturday for a 10-0 win against Ronan, with senior pitcher Khalyn Hageness throwing a shutout with only three hits for the Maidens over six innings.
But Ronan did not give up the win to Libby without a fight, Libby Head Coach Dean Thompson said.
The Maidens have shown they can compete in games against Hamilton and Polson, and the Lady Loggers expected a good competition Saturday, he said.
"We just really hit the ball hard today, and hit well," Thompson said. "Which was nice, and that's what we needed to do."
Hageness didn't have a terrible game pitching against Polson either, but her lock down on Ronan stood out with the back-to-back games.
"Khalyn was a little sore last night, but she came through," Thompson said.
The game Saturday was called by Thompson in the sixth inning, after junior Emily Carvey batted in junior Jayden Winslow, and as Carvey was still on her way to second base.
While Hageness had a good game pitching, she also contributed to the the improved batting the Lady Loggers displayed compared to the night before, joining Carvey's three doubles with one of her own.
Winslow lead the team in RBIs with five, two of them on a triple in the sixth inning.
"Last night against Polson we just didn't hit the ball real well," Thompson said. "Today, we came out, we hit the ball. That's the name of the game."
Thompson gave plenty of credit to Hageness and junior catcher Sammee Bradeen as well.
"Sammee Bradeen behind the plate, holy cow, she's doing a great job," he said.
But, like Hageness, Bradeen wasn't content to only help lock down Ronan, and racked up 2 RBIs of her own. Yet, both came after she took a painful hit in the bottom of the first inning.
On her first at bat, Bradeen swung at a low ball, making contact, but only deflecting it into her shin, sending her to the ground. Thompson and Bradeen talked at the plate, Bradeen insisting on getting to her feet and walking it off.
After only a short break, she picked back up her bat. Already at a full count, she got a single out of a fly ball that landed just past second, with the Maidens scrambling but all arriving just too late for the catch.
Freshman Bethany Thomas replaced Bradeen as runner at first, and stole her way home on a strike against sophomore McKenzie Proffitt.
Thompson had nothing but praise for Bradeen's determination.
"Sammee's the last person to leave here. She wants to be that player," he said. "If she's not succeeding at something, she's the last one to leave practice."
April 20
Polson 5, Libby 1
P 103 000 1 - R:5 H:7 E:0
L 000 001 0 - R:1 H:6 E:5
AB-H
P: Kaelyn Smith 3-0, 1R; Laurel Bitterman 4-0, 1R; Quinn Mottichka 4-3, 1R; Josie Caye 4-2, 1R; Grace Quinones 3-0, 1R; Marina Mayorga 3-2
L: Linsey Walker 4-1; Jayden Winslow 3-2; Emily Carvey 2-1, 1R; Sammee Bradeen 3-1; Haylee Cannon 3-1
Batting: HR - Caye; 2B - Bradeen, Winslow; RBI - Quinones, Caye 3, Mayorga, Sheyla Gallagher; ROE - Bitterman, Caye, Kaylanna DesJarlais
Pitching:
W, Vanessa Kent - 7, .663 S%, 6 H, 1 R, 1 ER, 2 SO, 2BB; L, Khalyn Hageness 7, .558 S%, 7 H, 5 R, 2 ER, 6 SO, 3 BB, 1 HR
April 21
Libby 10, Ronan 0
L 510 013 - R:10 H:12 E:1
R 000 000 - R:0 H:3 E:1
AB-H
L: Linsey Walker 4-2, 2R; Khalyn Hageness 3-2, 1R; Ashlyn Monigold 2R; Jayden Winslow 4-2, 2R; Emily Carvey 3-3, 2R; Sammee Bradeen 3-2; Bethany Thomas 1-0, 1R; Haylee Cannon 2-1
R: Katlyn Santos 3-2; Melanie Adams 2-1
Batting: 2B - Hageness, Carvey 3; 3B - Winslow; SB - Haylee Cannon 2, Bethany Thomas; RBI - Bradeen 2, Mckenzie Proffitt, Carvey 2, Winslow 5; ROE - Gabriella Wirz
Pitching: W, Khalyn Hageness - 6, .632 S%, 3 H, 0 R, 0 ER, 4 SO, 2 BB; L, Gabriella Wirz - 6, .623 S%, 12 H, 10 R, 10 ER, 4 SO, 3 BB
---