Eureka rolls to second straight state B title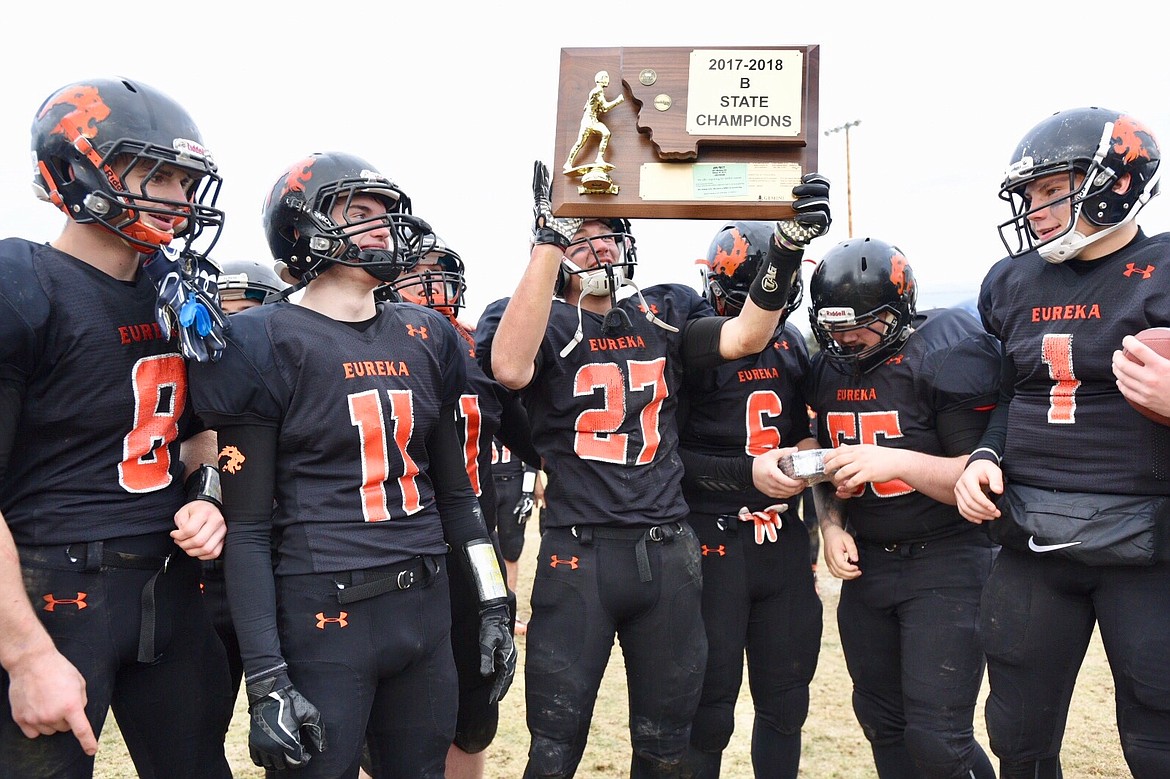 (Casey Kreider photo/Daily Inter Lake)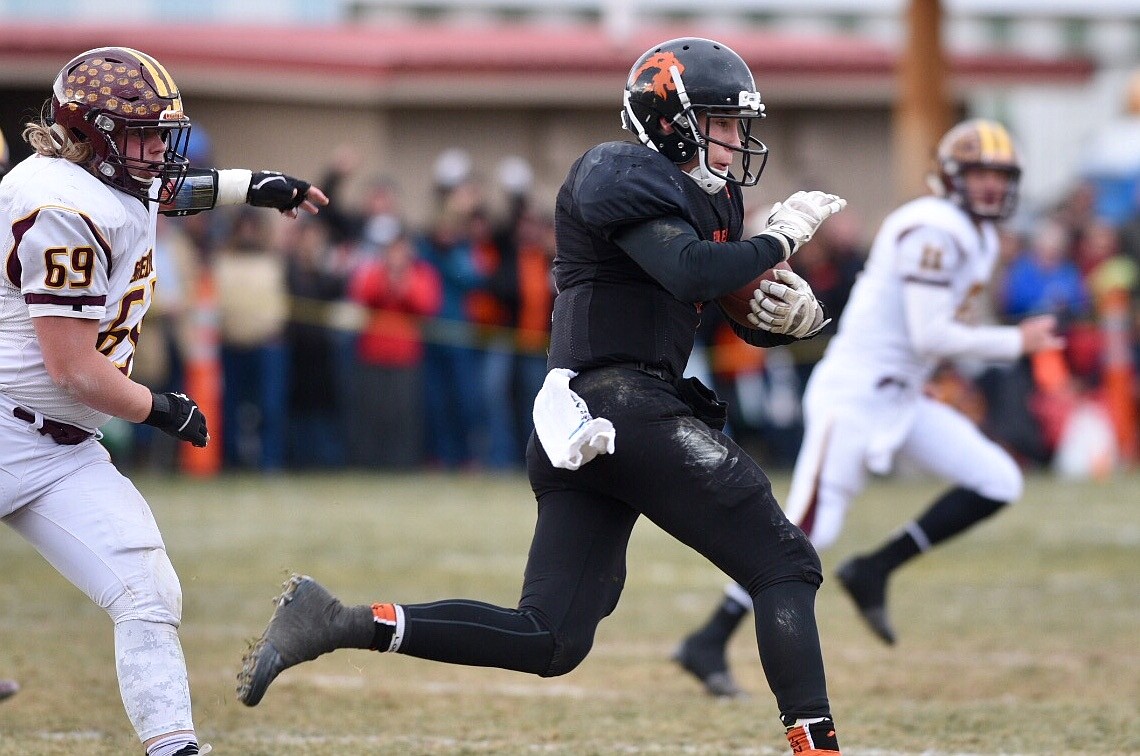 Eureka defensive back Garrett Graves returns an interception in the third quarter against Shelby. (Casey Kreider photo/Daily Inter Lake)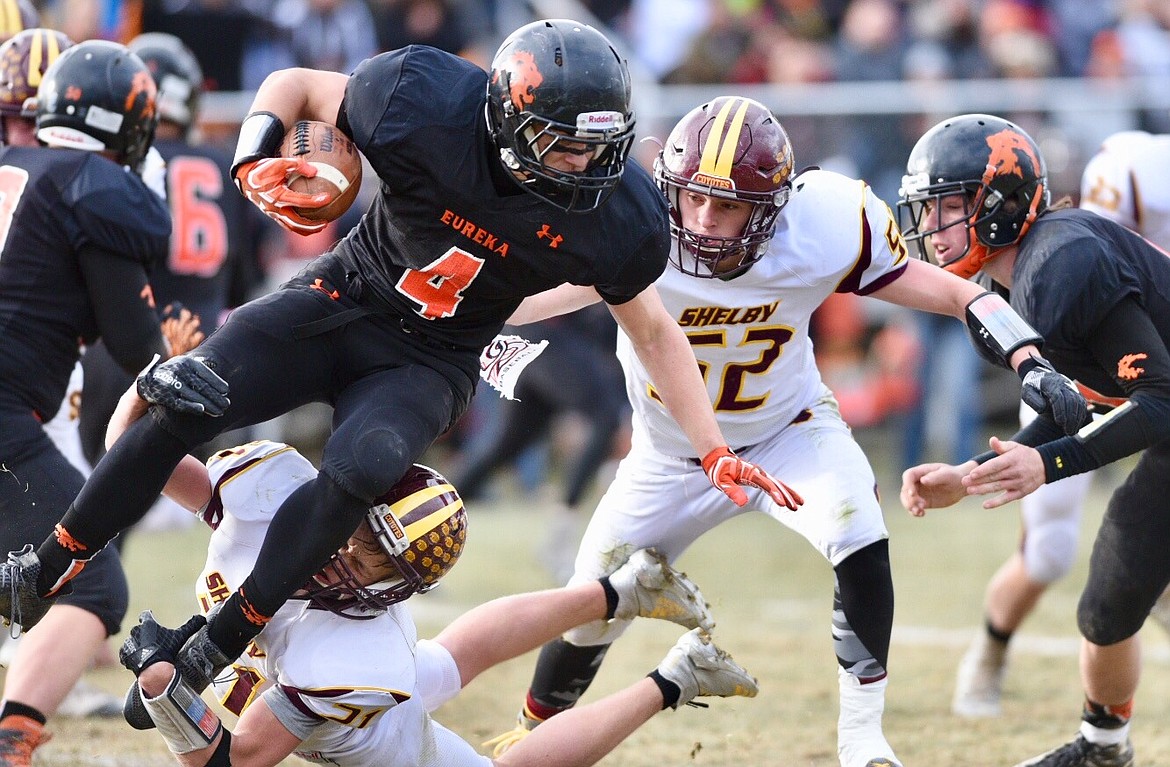 Eureka's Chet McCully picks up yardage on a first-half run in their 47-7 victory over Shelby in the Class B state football championship. (Casey Kreider photo/Daily Inter Lake)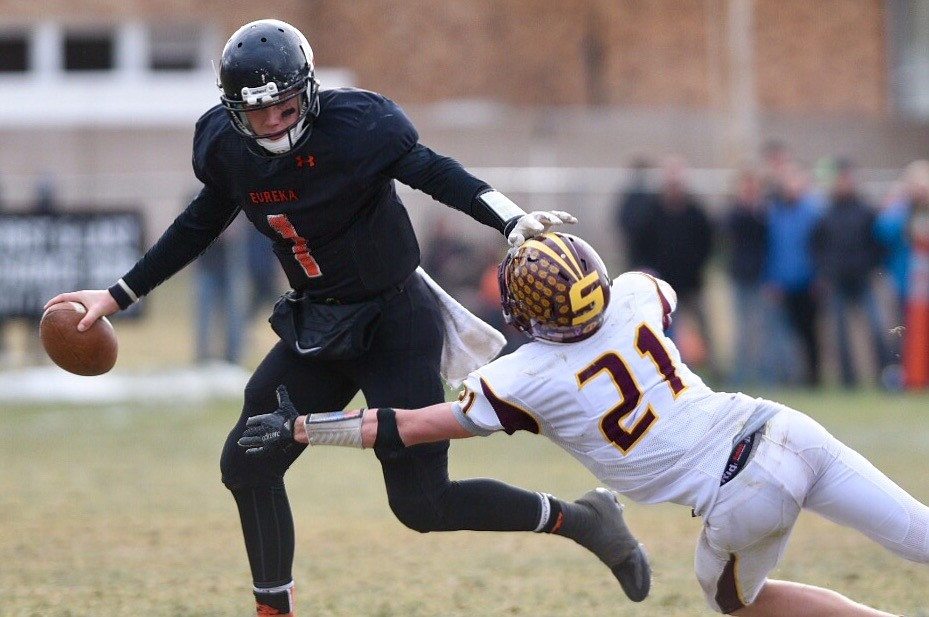 Eureka quarterback Garrett Graves stiff-arms Shelby defender Barrett Hansen on a scramble in the second quarter. (Casey Kreider photo/Daily Inter Lake)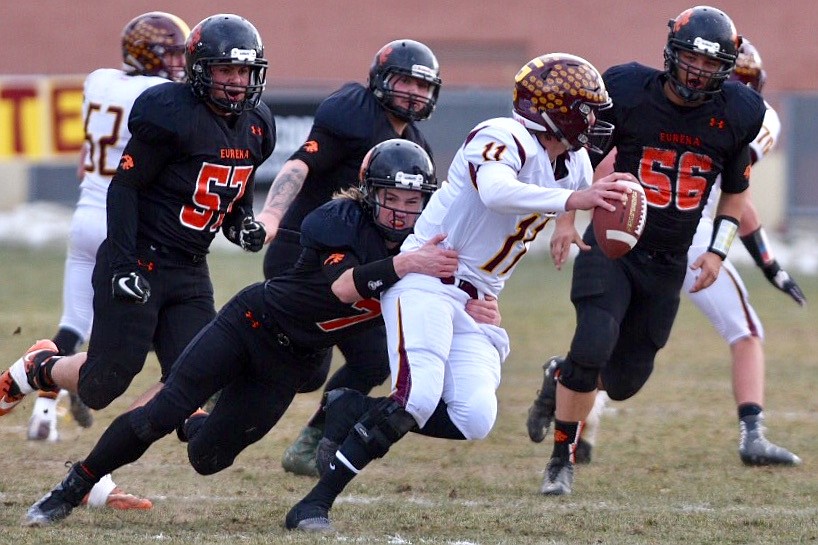 Eureka linebacker Mason Davis pressures Shelby quarterback Aaron White in the second quarter. (Casey Kreider photo/Daily Inter Lake)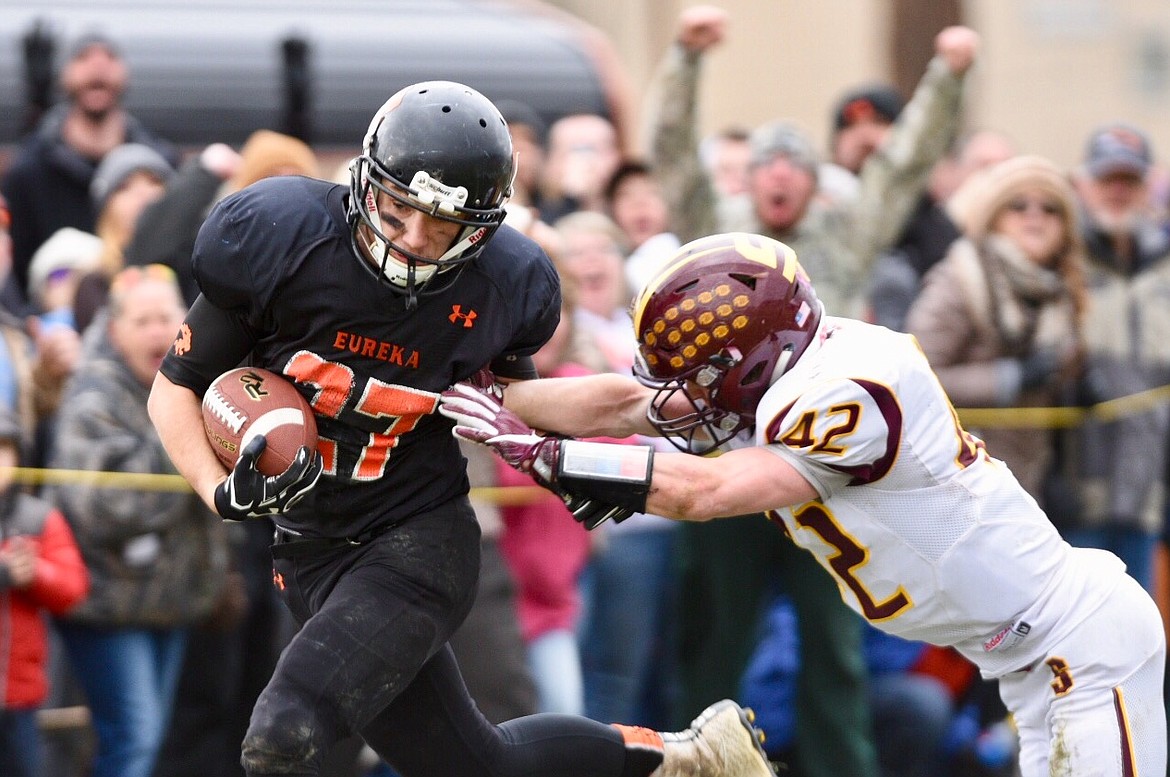 Eureka defensive back Bryant Little is tackled by Shelby running back Zach Torgerson at the 1-yard line on an interception return in the fourth quarter. (Casey Kreider photo/Daily Inter Lake)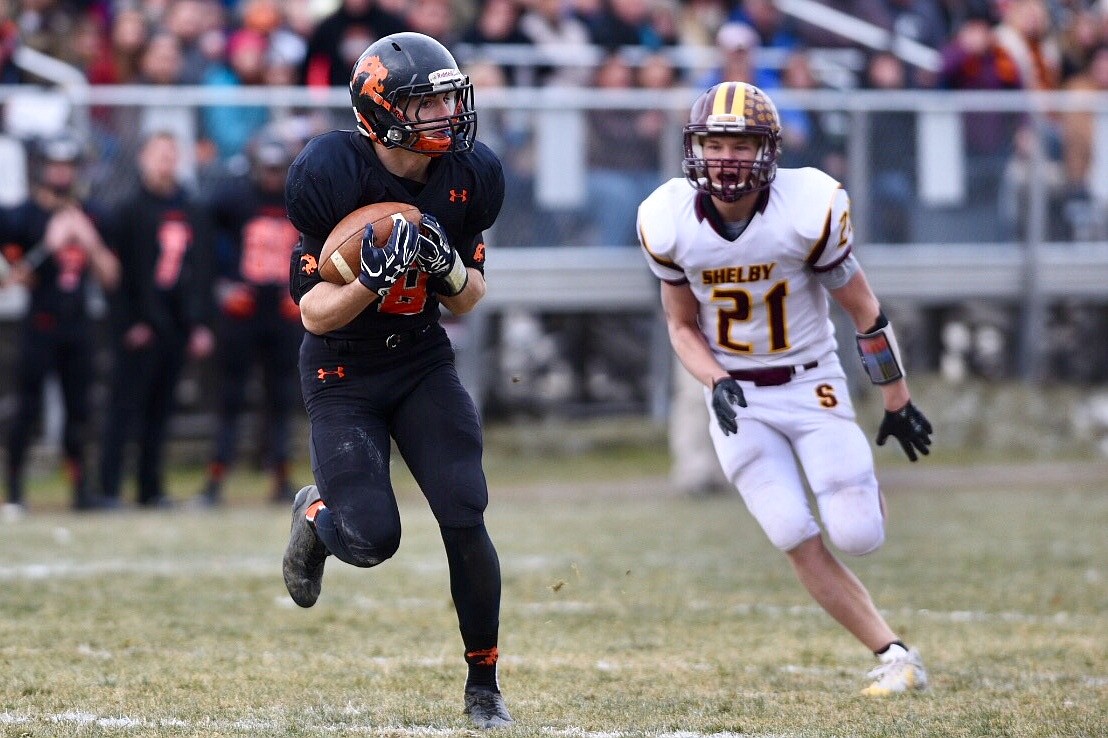 Eureka's Brenton Pluid hauls in a touchdown reception for the Lions first score of the game in the first quarter against Shelby. (Casey Kreider photo/Daily Inter Lake)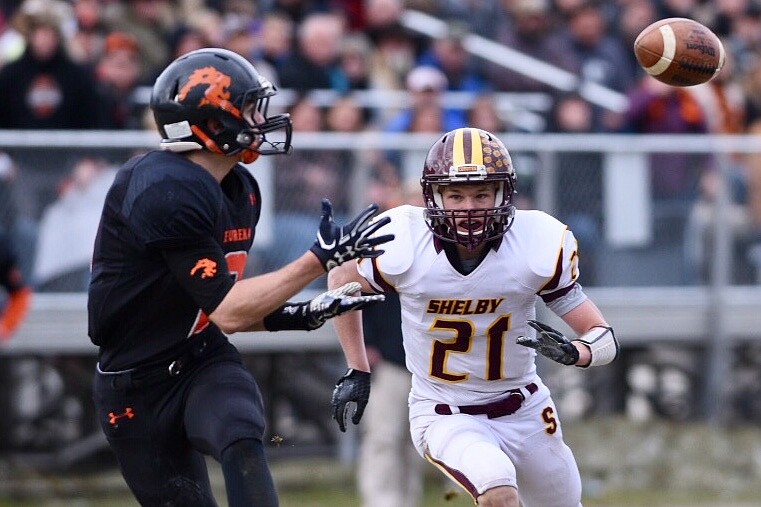 Eureka's Brenton Pluid hauls in a touchdown reception for the Lions first score of the game in the first quarter against Shelby. (Casey Kreider photo/Daily Inter Lake)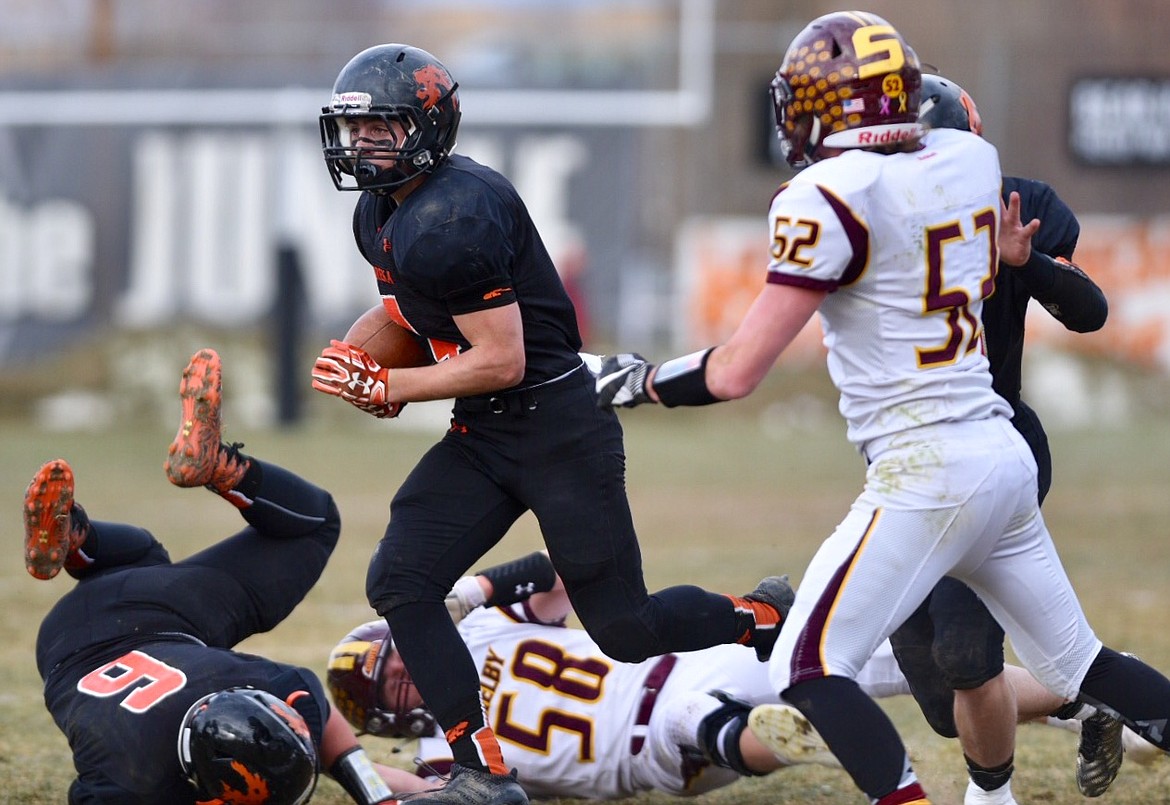 Eureka running back Chet McCully picks up yardage on a run in the first half against Shelby. (Casey Kreider photo/Daily Inter Lake)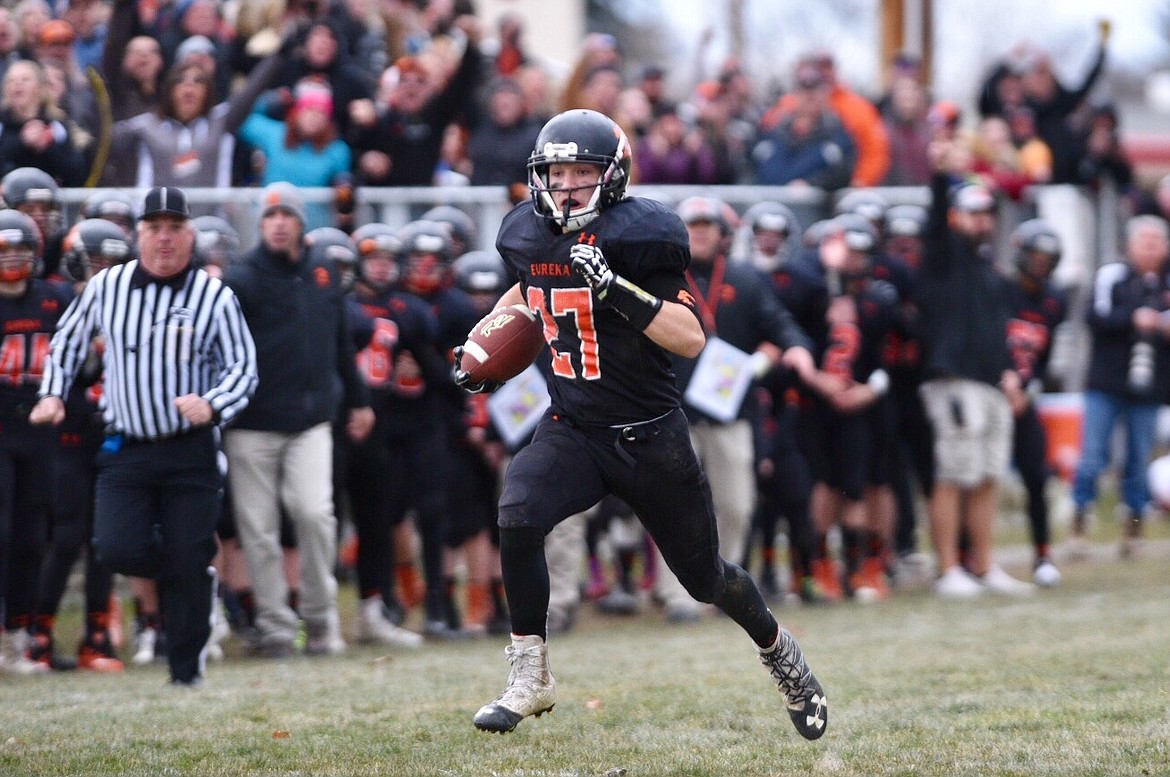 Eureka defensive back Bryant Little returns a fourth-quarter interception to the Shelby 1-yard line during the Class B football state championship game on Saturday at Eureka High School. Eureka beat Shelby 47-7 to capture its second straight state title. (Casey Kreider photo/Daily Inter Lake)
Previous
Next
|
November 21, 2017 3:00 AM
By EVAN MCCULLERS
The Daily Inter Lake
EUREKA — This time, Eureka didn't need a Hail Mary.
A year after winning its first state football title with a 38-yard heave on the last play of the game against Missoula Loyola, Eureka repeated as the Class B champs in dominant fashion with a 47-7 romp over visiting Shelby on Saturday.
"Last year was just so much fun winning," Eureka running back Chet McCully said. "To come home and get it here with the whole town watching, it's just the best feeling I could ask for right now, honestly."
Hobbled by an ankle injury he suffered early in the game, quarterback and Griz commit Garrett Graves didn't have his finest game. Fortunately for the Lions (11-0), his best wasn't needed.
Graves, who played with a noticeable limp for most of the contest, received an ibuprofen injection and tablet shortly after the injury but said they "didn't really help" manage the pain.
He struggled to plant his feet and completed only 8-of-26 passes, but he made those eight completions count.
Five went for 20 or more yards, including a 31-yard strike to Brenton Pluid that put Eureka in front early. Graves later added a 6-yard touchdown toss to Jonathan Schmidt and also found the end zone on the ground once in his final high school game.
"I wasn't going to quit for anything," Graves said. "It was my senior year, state championship. I wouldn't be able to walk if I was coming out."
With Graves unable to run the ball as effectively as he has all year, McCully stepped up to fill the void.
The sophomore rushed for 168 yards and three touchdowns on 28 carries while also leading the team with seven tackles. His last touch of the game, a 23-yard run off left tackle in the fourth quarter, gave him more than 1,000 rushing yards on the season.
"We've been riding him in the running game all year," Eureka head coach Trevor Utter said. "For him to, as a sophomore, eclipse 1,000 yards in this game is a pretty neat deal."
"He hasn't gotten half the limelight he deserves," Graves said of McCully. "Coach has been running me a little bit, too, so when you take me out, you see what he can really do with it."
While the offense put up points aplenty, the Lions defense regularly bent but hardly ever broke in the first half before a second half that it controlled from start to finish.
After a second-quarter touchdown by Shelby's Zach Torgerson made it 13-7, the Coyotes (8-4) failed to move the ball inside the Eureka 40-yard line again.
The Lions tallied four interceptions, including a SportsCenter-worthy, one-handed grab by Schmidt that led to Graves' rushing touchdown 16 seconds before halftime. Interceptions by Graves and Bryant Little set up two of McCully's rushing scores.
"Being prepared and then flying and making plays is what they've done all year, and today's no different," Utter said of his defense.
"To give up seven points to a fantastic offense is really impressive."
The blowout win was a fitting end to a dominant season for Eureka.
The Lions' defense surrendered more than seven points just three times in 11 games, while the offense put up 40 or more points in eight games and was never held below 31 in a single contest.
Eureka was never threatened, winning each game by at least 23 points.
Those hoping for a more competitive affair in the state title game were left sorely disappointed, as the home team dominated on the scoreboard and the stat sheet.
Eureka outgained Shelby 448-196 and notched five takeaways while giving it up just twice.
The Lions also converted 4-of-5 fourth-down attempts. Shelby failed to convert on any of its four attempts on fourth down.
The impressive win underscored the progress Eureka's program has made in six seasons under Utter.
He took over a successful but middling program and, after finishing with a losing record in three of his first four years on the job, has now won back-to-back state championships.
And while it is hard to argue against 2016's heart-stopping championship game that handed the school its first state title in any boys sport, you'd be hard-pressed to find anyone in Eureka who will say Saturday's win wasn't as special, if not more so, because the Lions were able to receive the first-place hardware at home for the first time.
"Our community, we've had a tough fall," Utter said. "A lot of people's houses burned, and we've had about five or six really prominent community members who have passed away.
"It was a pretty emotional time for our community. So to get something like this where everybody comes out and rallies around and we can celebrate together is pretty important to us."
After the trophy presentation, the hundreds of fans who had packed the stadium and stood five-deep on the sideline from end zone to end zone flooded the field, some with tears in their eyes, as Pilot's "Magic" blared over the sound system.
At least for a few moments, all was well in this small community of just more than 1,000.
Utter hopes its not the last time such a scene unfolds.
"My wife and I, we make these little prayer circles of things that are important to us in our lives that we want to pray for daily," he said. "One of those prayer circles says to win three state championships in 10 years. I don't know if I expected it to happen, but I've been praying for it. I've got two out of the way, so I guess I've got a few more years to get the other one. One year at a time."
Shelby 0 7 0 0 — 7
Eureka 13 6 8 20 — 47
First Quarter
E — Brenton Pluid 31 pass from Garrett Graves (Simon Granberg kick), 9:53
E — Chet McCully 8 run (Granberg kick), 3:05
Second Quarter
S — Zach Torgerson 4 run (Wyatt Brusven kick), 6:45
E — Graves 1 run (kick failed), 0:16
Third Quarter
E — McCully 2 run (Garrett Gollahon pass from Graves), 6:57
Fourth Quarter
E — McCully 1 run (Granberg kick), 10:50
E — Jonathan Schmidt 6 pass from Graves (Granberg kick), 5:31
E — Gunnar Smith 42 run (kick failed), 0:06
Shelby Eureka
First Downs 14 24
Total Yards 196 448
Rushes-Yards 25-65 48-287
Passing Yards 131 161
Comp-Att-Int 16-34-4 8-26-1
Fumbles-Lost 1-1 3-1
Penalties-Yards 4-20 6-55
INDIVIDUAL STATISTICS
RUSHING — Shelby, Zach Torgerson 18-61, Barrett Hansen 1-10, Brock Stores 2-2, Tyler Larson 1-0, Aaron White 3-(-8). Eureka, Chet McCully 28-168, Gunnar Smith 3-50, Garrett Graves 7-23, Jake Kindel 5-22, Brenton Pluid 2-13, Chance Muller 2-7, Bryant Little 1-4.
PASSING — Shelby, Aaron White 16-34-4-131. Eureka, Garrett Graves 8-26-1-161.
RECEIVING — Shelby, Zach Torgerson 4-43, Wyatt Brusven 2-32, Barrett Hansen 3-23, Logan Watson 4-21, Brock Whitted 3-12. Eureka, Garrett Gollahon 2-59, Brenton Pluid 2-56, Jonathan Schmidt 2-25, Bryant Little 1-12, Jake Kindel 1-9.
---