Walter Shjeflo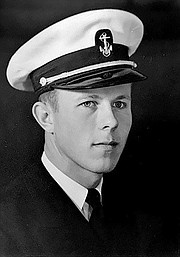 A memorial service for Walter Shjeflo, 92, will be held 10 a.m. July 29, 2017 in Dickinson, North Dalota at St. John's Lutheran Church, 146 6th Avenue West, with military honors being presented by the American Legion Post #3 Honor Guard after the service. Burial will follow at the Dickinson Cemetery, and there will be a reception at the Dickinson Elks Lodge.
Walt was born April 26, 1924 in Halliday, North Dakota to Axel Myron Shjeflo (Aksel Marius Skjeflo) of Trondheim, Norway and Sioux City, Iowa; and Judith Nellie (Rudd) Shjeflo of Yankton, South Dakota.
Walt grew up in a close-knit family with brothers Jelmer and Alton and sisters Myrtle and Florence. They lived and ranched in the North Dakota Badlands, where he learned to ride, hunt, trap and drive a team of horses. He later moved with his family to Dickinson, North Dakota, where the highlight was his first encounter with flush toilets and electricity. The family also lived in Medora, where Walt hunted for magpies to earn extra money from local farmers and ranchers, and for rattlesnakes to sell the rattles to tourists. He played basketball and six-man football while in Medora.
The family moved back to Dickinson where Walt graduated from Dickinson High School in 1942. That fall, he went on to the University of North Dakota (UND) in Grand Forks. He majored in civil engineering and pledged the SAE fraternity following in the footsteps of his two older brothers. Shortly thereafter, he enlisted in the U.S. Navy with many of his fraternity brothers, and joined the naval aviation program, training in Washington, Illinois, California and Texas. Walt was honorably discharged in 1945 and returned to UND to complete his Bachelor of Science degree in Civil Engineering.
In 1949, he married his Dickinson sweetheart, the lovely and talented Oral Frances Schnell. They soon started their family of five children, Laverne, Walter Jr, Douglas, Joann and Patricia. The family moved following Walt's professional career, which included power transmission engineering in Linton, North Dakota, managing the Farmer's Union Station in Hazelton, North Dakota, auction yard manager at the Schnell Livestock Market in Miles City, and as a civil engineer for the U.S. Forest Service in Libby, Grangeville and several forests in Arizona.
Walt and Oral retired in 1987 in Scottsdale, Arizona, and later moved to Bloomfield Hills, Michigan to be near their daughter, Patricia. After Oral's death in 2013, Walt moved to the Montana Veteran's Home in Columbia Falls, near his son Doug. Walt died there peacefully on January 9, 2017 at 92 years of age.
Walt, also known as "Shef," had a friendly greeting and a bit of humor to share with everyone. He was a livewire, and was always jovial, fun loving and a complete adventurer. He owned a small plane after World War II, loved music (Marty Robbins and Johnny Horton were favorites), was a ballroom dancer and loved to play tennis, including with his wife, Oral, well into his 70s. He was an avid hunter, and spent leisure time exploring, hunting and fishing both in the mountains and plains, and he organized and provisioned trail rides and camping trips with friends and family.
Walt could fix absolutely anything. He was a classic depression era kid, who re-used every resource he had, from baling wire to old car parts. His Norwegian heritage was important to him, and he visited Norway to see his mother's and father's relatives and family homesteads with his sister Florence and other family members.
Walt was a loving husband and partner to his wife, Oral, for 65 years, and a wonderful father, father-in-law and grandfather. He taught his children and grandchildren myriad skills, from bicycle riding to roofing a house. He was completely dedicated to his many siblings, in-laws, nieces and nephews, his children and all of their friends, often helping them with their many moves, or fixing whatever needed fixing. For many of these kids, Walt was the "go-to" guy for solid, straight-forward advice on everything from negotiating rent to a broken heart. There was no one who could make you feel strong and confident like Walt Shjeflo.
Walt had a large and loving extended family and he will be greatly missed. He is preceded in death by his wife, Oral Frances Shjeflo (Schnell), and his daughter Laverne Renee Shjeflo. He is survived by his children, Walter E. Shjeflo Jr. of Belmont, California (wife Carol) and grandchildren Erika, Colleen, Walter lll and Axel; Douglas Shjeflo of Dayton (wife Trudi) and grandchildren Leif and Olivia (husband, Tony McCormick); Joann Schwarberg of Mission Hills, Kansas (husband Craig, deceased) and grandchildren Carter, Guerin and Laine; and Patricia Batey of Bloomfield Hills, Michigan (husband Greg deceased) and grandchildren Piper and Sissel. Walt's siblings and their spouses preceded him in death, leaving many nieces, nephews and in-laws. Walt was also close to Oral's large family (Schnell), and he is survived by many of the Schnell siblings and their spouses, children and grandchildren.
In lieu of flowers, donations may be made in memory of Walt to: Montana Veterans Home Memorial Foundation, P.O. Box 250, Columbia Falls, MT 59912 or to University of North Dakota Foundation (Civil Engineering) , 3501 University Avenue Box #8157, Grand Forks, ND 58202.
Remembrances and condolences may be shared with the family at www.stevensonfuneralhome.com.
---