KNF unveils Capitol Christmas Tree logo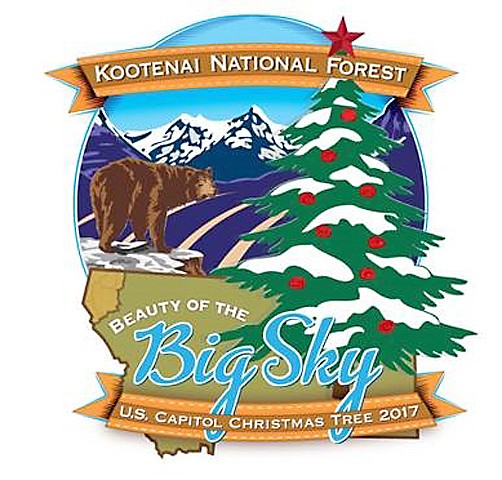 Beauty of the Big Sky logo that the Kootenai National Forest unveiled to accompany Washington D.C.'s Capitol Chrismas Tree that's been announced coming from the Kootenai Forest.
|
February 14, 2017 11:33 AM
"Beauty of the Big Sky" logo visually stamps the Kootenai National Forest Christmas Tree happenings
By BETHANY ROLFSON
The Western News
In conjunction with the news that the Kootenai National Forest has been selected to provide the 2017 U.S. Capitol Christmas Tree, the KNF has designed an accompanying logo to give a visual symbol to its preparations, according to a press release issued Monday.
"The Beauty of the Big Sky logo conveys the message that this tree is uniquely Montana. Reminiscent of a snow globe in shape, the logo captures the essence of Montana," the press release said. "The grizzly bear, Ursus arctos horribilis, is Montana's state animal. The tree resembles an Engelmann spruce. The purple and gold colors represent the plains and mountains of the state. Montana's state outline provides a solid base."
Preparations for the Kootenai Christmas tree project begin Saturday, Feb. 18 in conjunction with the District basketball games in Eureka, Mont. with a community event.
---