Kootenai snowpack at 113 percent of average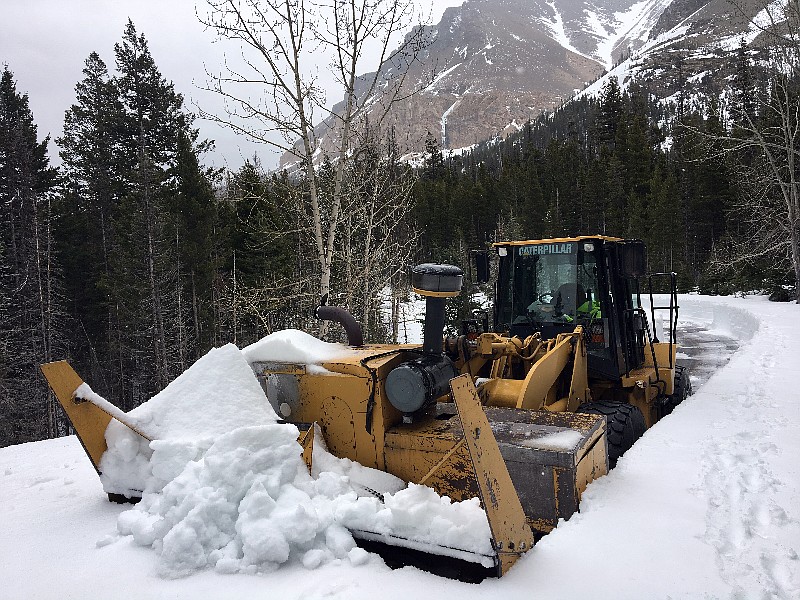 A plow clears snow from Going-to-the-Sun Road in Glacier National Park earlier this month.
by
Matt Baldwin Special For Western News
|
April 30, 2017 2:53 PM
The higher elevations of Northwest Montana received another round of winter-like weather this week, adding to a mountain snowpack that remains well above average for this time of year.
As of Tuesday, the snowpack in the Flathead River basin was at 120 percent of normal. The Kootenai River basin boasts snow totals 113 percent of average, while the Upper Clark Fork basin is at 108 percent.
"We still have a lot of snow in the high elevations," said Ray Nickless, a hydrologist with the Weather Service in Missoula. "And it continues to build. We certainly have a lot of water still to come down this spring."
Nickless pointed to a weather station at Flattop Mountain at 6,300 feet in Glacier National Park. The site shows more than 10 feet of snow on the ground, holding about 52 inches of water.
A weather station at Badger Pass at 6,900 feet south of the park has 82 inches of snow holding nearly 40 inches of water. Noisy Basin at 6,040 feet in the Swan Mountains has 101 inches of snow holding 48 inches of water.
Nickless noted that river and lake levels are a bit above average for this time of year as low and middle elevation snow is melting off. He said flooding is likely in the Flathead by the time the upper elevations begin shedding their winter coat.
"Projections have the Flathead [River] exceeding flood stage sometime in May or June, depending on how the weather reacts," Nickless said.
The Flathead River at Columbia Falls is currently at about 9 feet with a flow of 21,300 cubic feet per second. Typically this time of year the river is moving at 15,000 cfs. Flood stage is at 13 feet.
Nickless noted that some of the increased flow in the Flathead can be attributed to the Hungry Horse Dam releasing water to make room for the coming snowmelt.
Farther south, Flathead Lake is filling up quickly, Nickless said, with pool level at about 2,888 feet as of Tuesday. That's about 1 1/2 feet above normal.
"We're starting off higher than normal," Nickless said, noting that the lake level can impact flooding as water backs up in the river.
"It should be a good year for high flows on the rivers, and we'll certainly have a little flooding," Nickless added. "Depending on rain, it could be a problem or not."
More snow is forecast for Thursday and Friday as an onslaught of wet and cool weather continues to grip the region. Temperatures will be 5 to 10 degrees below the season's normal throughout the week and snow levels should lower to area mountain passes, according the National Weather Service. Even valley locations could see a few flakes or a rain/snow mix at the end of the week.
If the forecast holds, April will pass without a single day cresting the 70 degree mark in the Flathead, the first time that's happened since 2011. The high temperaure for the month in Kalispell was 62 degrees on April 22.
---