Carolann Foote, 76, of Troy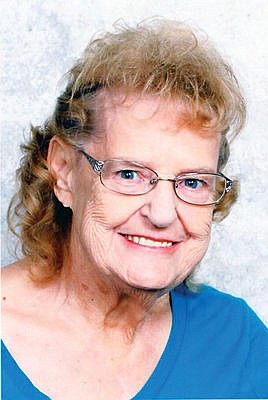 <p>Carolann Foote, 76</p>
Carolann Foote went to be with the Lord on June 2, 2016 at the age of 76. Graveside services will be held at 2 p.m. (Mountain Standard Time) at Milnor lake Cemetery in Troy, Montana.
She was born June 15, 1939 in Cass Lake, Minnesota to Orville and Aline LaVoy. Carol was the third of nine children.
She received her education in Drummond, Mont. and later moved to Troy, where she met and married the love of her life William (Bill) Foote on May 28, 1956. After a brief stay in Troy, they moved to Tensed, Idaho where they had two daughters Christy and Debbie. They moved back to Troy where they made their home, settled and raised their children. They were baptized together on February 14 with the United Methodist Church.
Carol was a homemaker and enjoyed her family. She loved to play bingo, Yahtzee, and card games. She was a master at putting together jigsaw puzzles, made the best canned peaches and enjoyed making Christmas cookies and candies with her grandchildren and great-grandchildren.
She was preceded in death by her husband, Bill, her parents, one brother, three sisters and a great-grandson (Lan).
Carol is survived by her daughters Christy Curtis and Debbie Cole, Son-in-law Bruce, sister Diane Zehner, Linda Sullivan and Toni House, five grandchildren Bob and wife Melody), Tiffani (husband Simon), Jennifer (husband Guy), Phillip (wife Chera), and Josh (wife Shayna), 15 great-grandchildren Artemis Kaden, Mahayla, Marissa, Makensie, Madalynn, Nolen, and Mindy Beggerly, Emma and Dayton Johnson, Ashley, Derrick, and Shelby Cole, Rylie Kylie and Joshua (JW) Cole.
Carol was much loved and will be greatly missed by her family and many long-time friends.
---