Quilters guild fetes best pieces at show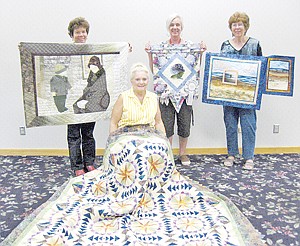 <p>The top quilters in the Kootenai Valley Quilt Guild include Jan Sanderson with her third-place quilt. In the back row, from left, are Becky Brundin, with her entry entitled "Little Bobbie," sewn from an 80-plus-year-old photograph of her father; Glena Hook with "Morning Dew," which won third place among Wall-Hangings, and Carrie Gehrke, whose second-place entry represents a scene from her honeymoon. Second-place winner in the Quilt category Nora LaFrance is not pictured. </p>
|
September 25, 2012 12:38 PM
The Western News
The Kootenai Valley Quilt Guild had what can only be described as a successful showing at Asa Wood Community Center during the Nordicfest weekend.
During the show, which was held all three days, the KVQG offered a drawing for its 2012 Quilt, which went to Darleen Goucher. Linda Gerard was the winner of the quilt basket.
Quilters also competed in a couple categories, including Quilts and Wall-hangings.
Jan Sanderson won the top prize in the Quilt category with her creation that featured more than 10,000 pieces. Sanderson also won third place in the Quilt category.
Nora LaFrance got second-place honors.
In the Wall-Hanging category, the top honor went to Becky Brundin with second- and third-place honors, respectively, going to Carrie Gehrke and Glena Hook.
The Quilt Guild already has begun the quilt to be raffled for its 2013 drawing.
For more information on the KVQG contact Jackie Johnson at 293-4575.
---