Gridders look to rebound after losses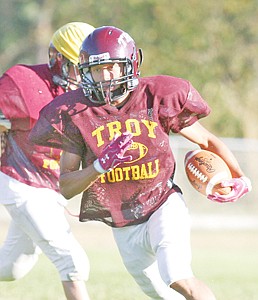 <p>Troy gridders practicing for Friday's contest with Eureka.</p>
by
Ryan Murray
|
September 25, 2012 12:43 PM
After both Libby and Troy were treated to high-powered opposing offenses last week, the football teams have good shots at notching conference victories this weekend.
Libby, coming off a 33-0 shutout by the hands of Stevensville, will travel to Whitefish to take on the throw-it-all-day offense of the rival Bulldogs.
Hardin smacked Whitefish last week 40-13 to drop the Bulldogs to 2-2. 
Libby and Whitefish have both played Browning and beat them. The Loggers by 7 and the Bulldogs by 5. 
If you give credence to that sort of thing, it looks like it may be a close, aggressive game.
Libby head coach Neil Fuller said what Whitefish would be bringing to the field won't be a surprise.
"They're going to throw the ball," he said. "They have a freshman quarterback with great composure. And a receiver, (Logan) Harwood, who can really fly."
Libby edged Whitefish 28-25 last season.
For the Troy contest, the Trojans prepare for its best chance at a victory yet this season as the talented but weary squad travels to Eureka. 
Eureka got worked 36-6 last week by St. Ignatius, and, like Troy, is 0-3.
The sole mutual opponent, Loyola, beat Troy by 60 and Eureka by 47, showcasing the parity of Class-B football in Montana. 
Eureka squeaked by Troy 12-6 last season en route to a 5-4 record.
Troy held Florence scoreless for a quarter last week before turnovers and fatigue took a clear toll on the Trojans, falling 44-12 to the Falcons.
---