SJLH selects its new CEO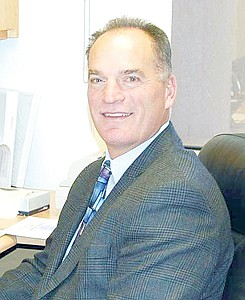 by
The Western News
|
September 18, 2012 5:00 PM
St. John's Lutheran Hospital has selected Bruce Whitfield to fill the roles of Chief Executive Officer and Chief Financial Officer.
According to Steve Sorensen, Chairman of the Trustee Board at St. John's Lutheran Hospital, Whitfield has what it takes to fulfill the dual role.   
"When the Board of Directors learned that Bruce Whitfield was interested in the CFO position at St. John's we were really excited.  We already knew of his excellent qualifications and capability as an administrator and CFO," said Sorensen in a statement released last week.
"After his interview, it was clear that this was a leader who can take St. John's to the next level of health care.  
"The Board immediately entertained the possibility of making Mr. Whitfield our new permanent CEO.   When he accepted the dual role of CEO/CFO we were very excited to have found a leader of his quality who wanted to live here in Libby," Sorensen said.
"We believe Mr. Whitfield will prove to be an administrative leader who will make St. John's Hospital one of the best Critical Access Hospitals in the country."
Whitfield comes to St. John's from Providence Health & Services System where he was the CFO of the Western Montana Region.  The Western Montana Region is comprised of St. Patrick Hospital in Missoula, a 253-bed tertiary acute-care hospital; St. Joseph Medical Center in Polson, a 25-bed critical access hospital much like St. John's; and Providence Medical Group, a network of 144 primary and specialty care physicians. 
Prior experience includes a stint as CFO for St. James Healthcare in Butte, Mont., and Regional Director of Financial Planning and Director of Finance roles with St. Vincent Healthcare in Billings, Mont.. Bruce received a masters of business administration from the University of Montana and is a certified public accountant. 
Whitfield has more than 20 years of health-care industry experience and brings a wealth of strategic and financial expertise with him, Sorensen said.  He has led several financial turnarounds and was instrumental in improving the financial health of each organization he served.  
When asked why he is making the leap from a large system to St. John's Whitfield said, "I started my career in a small hospital and really enjoyed the close interactions and working relationships with physicians and staff that you don't get in larger hospitals.  It is very exciting to be a part of constructing a new hospital and setting the strategic vision in order to meet the future healthcare needs of our community and surrounding areas."       
Whitfield said he is anxious to become part of the Lincoln County communities.  He has served on many boards around the state including the Butte YMCA, the Caring Foundation of Montana, and the Ronald McDonald House of Missoula.    
Whitfield and his wife Monique have three children - Dallas, Carson, and Savannah.  
---