June C. Keller, 86, of Libby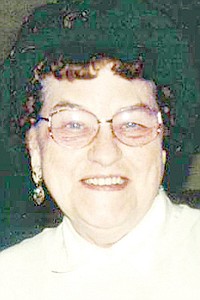 |
September 11, 2012 11:38 AM
June C. Keller, 86, of Libby entered into peace with her Savior on Aug. 31, 2012, after a very short stay at the Libby Care Center.  
She was born on June 10, 1926, at Kalispell, Mont., to immigrant parents Carl Eliasson from Lesvik, Norway, and Magdalena Grosen from Copenhagen, Denmark.  
June attended school and grew up in Somers, Mont., as the fourth of five girls.  She married her husband, Gerald A. Keller, on March 25, 1944, at Somers.  
They spent most of their 51 years of marriage in Libby.  
June enjoyed spending time with friends and family.  She had a strong spirit and a very loving heart.  She enjoyed having the ladies over for card games and many potlucks were enjoyed at her home.   
June was employed most of her adult life, working as a cook on a large wheat ranch, as a waitress, and even starting a business in Libby with a friend:  J & J Womens' Apparel; as a study-hall teacher at Libby High School; and as a Clerk for 15 years for the Montana Department of Revenue.
June was preceded in death by her parents and husband and three older sisters Alice Nelson, Lillian Hager, and Mary Stout.
Survivors include her son Michael and his wife Nancy of Libby; sister Inga Holmquist of Kalispell, Mont.; grandchildren Jerrod Keller of Olympia, Wash.; John Keller of Portland, Ore.; Christopher Keller of Chapel Hill, N.C.; Michelle Lowe of Valparaiso, Ind.; and Jennifer Weaver of Springfield, Ore.; six great-grandchildren:  Ryann Keller, Colby Keller, and Caden Keller of Olympia, Wash.; Kanesha Lowe and Thomas Lowe of Valparaiso, Ind.; and Emma Weaver of Springfield, Ore..  Surviving nieces are Paulette Bolla, Brownsville, Ore.; Joan Duffy, Gowanda, N.Y.; Wanda Byers, Kalispell, Mont.; and Carol Harvey, Promise City, Iowa,; and one surviving nephew, Jerry Hager of Collins, N.Y.
Services will be 11 a.m. Friday, Sept. 7, 2012, at St. John Lutheran Church in Libby with interment at the Conrad Cemetery in Kalispell.  
Visitation was Thursday, Sept. 6, 2012,  at Schnackenberg & Nelson Funeral Home in Libby.
---