White apprises Commissioners on changes to radio band-width changes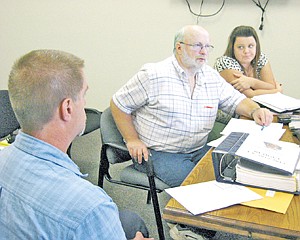 <p>Lincon Conty Sheriff's Department's Kirk Kraft, left, listens as County Emergency Management Director Vic White addresses Commissioners about the change from wide-band to narrow-band, a change mandated by the federal government. Looking on is Emergency Management Assistant Lisa Oedewaldt. Kraft oversees the Sheriff's Department radio system.</p>
by
Alan Lewis Gerstenecker
|
September 4, 2012 5:03 PM
Changes are coming to radio communications, and it's mandated, Lincoln County Emergency Management Director Vic White told Lincoln County Commissioners on Wednesday.
Come Jan. 1, radio communication for police,  emergency services and other county services in Lincoln County — and the rest of the nation for that matter — will change from wide-band to narrow-band.
White, with the assistance of assistant Lisa Oedewaldt, and Sheriff's Department officers Kirk Kraft and Undersheriff Brent Faulkner, explained the complexities of the transition from the stronger signal of wide-band transmissions to those of narrow-band.
Affected by the Jan. 1 changes will be the Sheriff, Road, Emergency and other radio-dispatched deparments. 
Kraft explained the relatively slight numerical differences existing between the four frequencies will be broadened to allow those frequencies more power to boost transmission and receiving capabilites of the countywide system. 
White said the cost is still to be determined, but said the agencies hope to make the transition some time in September, long before the Jan. 1 deadline.
---