DU dinner raises interests, funds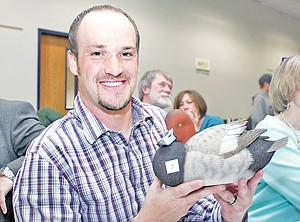 The 27th Annual Conservation Dinner presented by the Kootenai Valley Chapter of Ducks Unlimited on Saturday was a birthday bash that included more items to be won than attendees.
In all, 172 items were offered for the 136 persons who filled the Ponderosa Room at City Hall, many of whom went home multiple winners.
"It was another successful event," said Event Chairman Jon Jeresek. "We just want to thank all those who attended and contributed for this worthwhile cause."
Jeresek also thanked Frank Hendrickson of Kootenai Catering for his efforts.
"Frank does such a great job with the meal. We like to offer three to five meats, and we can always be assured when he's catering.
"If the food is great, we know people will have a good time," Jeresek said. "If they win an item that's even better."
In addition to various hunting items ranging from rifles, shotguns, decoy-carry bags to duck and goose calls, there was a myriad of items for the home, ranging from hand-carved and painted decoys to antler lamps to bronze sculptures to signed and numbered prints for the art collector. Many of the items were commemorative 75th Anniversary Ducks Unlimited signature pieces.
For some, it was an art collector's dream.
"There ARE an awful lot of nice items offered tonight, especially with this being the 75th anniversary dinner," said Linda Daugherty, a regional volunteer representative of Ducks Unlimited from Lincoln, Mont.
Daugherty attended the dinner with her husband, Jim, also a volunteer with DU.
"Libby always does a good job with its dinner," said Jim Daugherty, who will be the state chairman in 2014.
Jeresek, the local event chairman, is reluctant to release the final contribution that will benefit DU, but he did give a clue.
"Oh, it's more than $20,000," Jeresek said. "The folks who attend our dinner go way out to benefit DU."
In the end, there were a lot of smiling faces, most of whom were winners just for attending, Jeresek said.
---