People Profile: Glena L. Hook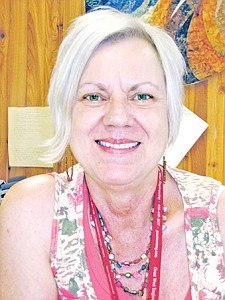 Recognition: Libby City Clerk/Treasurer
Tenure: Serving five years as City Clerk/Treasurer; lived in Libby for 22 years.
If you were not City Clerk, what would be doing? Probably doing bookkeeping elsewhere or be retired.
Family:  Married to Charles Hook; have three sons, Jesse of Kalispell, Chuck and Will of Spokane, Wash. 
Recognitions: Member of Quilting Guild, Clerk/Treasurer Association, Assembly of God Church.
Hobbies:  Quilting, camping, working in the yard, traveling with my husband.
Glena  was asked to complete these sentences beginning with "I am ...":
— "I  am committed to serving the people of Libby. ..."
—  "I  am a grandma. ..." 
—  "I  am ... happy to live in a beautiful community like Libby. ..."
—  "I  am ... very much looking forward to retirement. ..."
---