McGillivray beach receives facelift in part by youth corps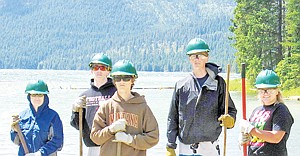 <p>Libby Ranger District's 2012 Youth Conservation Corps (YCC) crew members from left Brooke Calloway, Danny Leggins, Luke Adamson, Jake Reny and Darbi Brooks clear the debris from McGillivray's swim beach. </p>
Warmer weather and the full pool at Lake Koocanusa has made the McGillivray beach popular again, and the Youth Conservation Corps is making a good thing even better.
The YCC crew was busy clearing trails, piling slash and grooming campgrounds, but it took a day off to clean debris from the beach. 
The crew, funded through the Resource Advisory Council (RAC), is working with the Forest Service for eight weeks; their crew leader is Wilfred Johnson.
The McGillivray recreation area renovations, funded through the American Recovery and Reinvestment Act (ARRA), was completed the fall of 2011.  Pat Eblen, the campground host for McGillivray, exclaims "people are raving over the new improvements."  
Eblen urges visitors to come explore the new campground renovations while visiting the day use area. 
The improvements include long pull-through sites to accommodate larger recreational vehicles, new water system and vault toilets. 
In addition to the existing group pavilion rental, the campground has two new group sites that can be rented.  The new campground group sites can accommodate up to 25 people with each have a sizeable parking area, three picnic tables, fire pit, large park grill and three tent pads.  
Reservations can be made at http://www.recreation.gov/ or calling 1-877-444-6777. 
Lake Koocanusa's recent full pool is creating great recreational opportunities on the water.  
However, the full pool has dislodged a large quantity of woody debris which could obstruct boaters.  
Strong wave action has also weakened some banks, severely undercutting the shore line.  
The Forest Service urges caution while recreating in and around Lake Koocanusa.
Montana Conservation Corps is a nonprofit organization that empowers youth and young adults through hands-on conservation service and education. Each season we enroll over 200 young adults from across the country, age 18 and up, in our AmeriCorps program, and more than 100 local teens, ages 15 to 17, in our Youth Service Expedition program. 
For more information on recreation opportunities on Lake Koocanusa please contact the Libby Ranger District at 293-7773.
---