TIIP grant could pay for sprinkler system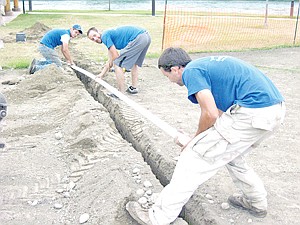 <p>Jack's Water Works staffers Robbie Hubbard, left, Keith Seefeldt and Freddie Thomas, right, lay a section of two-inch diameter pipe near the Fred Brown Pavilion on Friday at Riverfront Park. The workers are installing the sprinkler system at the park. It is expcted to take about 10 days to complete.</p>
This week, the city of Libby is expected to apply for a state Tourism Infrastructure Investment Program grant that could cover the costs of the Riverfront Park irrigation system, bathrooms and lighting.
The city, with the assistance of Kristin Smith of the Lincoln County Planning Department, were to complete and mail the grant application for the improvements.
"The costs are enormous but necessary to make it our showcase park," Park Committee Chairwoman and Councilwoman Peggy Williams said Friday. 
Williams estimated costs for the bathrooms to be about $35,000, coupled with the $25,513 price tag for the sprinkler system bring the total to $60,513, she said. As of yet, an estimated cost for the lighting was not available.
However, according to TIIP grant guidelines, the minimum amount that can be applied is $20,000 with the maximum to $550,000, so it is conceivable the city could see the lion's share of the expense covered. There is a matching criteria — for every $2 the city receives, it must contribute $1.
Smith, who is the architect of the grant, said she is hopeful of the city's chances in obtaining the funding.
"We applied last year, but it went to Big Sky, a resort area, which has a huge tax base," Smith said. "We were very disappointed (last year). We'd like to think we have a better chance this year."
"The grant is just for infrastructure, very specific things," Smith said.
Last Thursday, employees of Jack's Water Works began the irrigation system at the park. In all, there will be 2,600 linear feet of line and at least 150 sprinkler heads used in the project.
Jack Ehmann, owner of Jack's Water Works, said the project will take 10 days to complete, weather permitting.
Smith said the city should be notified about the grant by October.
---