People Profile: Todd Berget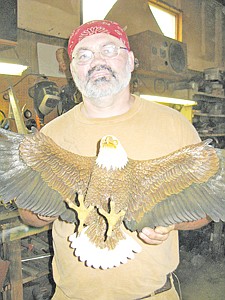 Occupation: Teacher for 24 years; sculpting Bald Eagles for 12 years.
Family:  Wife, Donna; daughters Trista, Kacie, and son Kody.
Favorite Quote: "Everyone is a genius. But if you judge a fish by how well it can climb a tree, it will always think it is stupid." 
           — Albert Einstein
Hobbies:  Building art of any kind.
Todd  was asked to complete these sentences beginning with "I am ...":
— "I  am ... a Libby resident. ..."
—  "I  am ... sold on Libby and its beauty. ..."
—  "I  am ... addicted to art, all art. ..."
—  "I  am ... a strong family man. ..."
—  "I  am ... a person who enjoys working with students and helping them reach their potential. ..."
---