Kenneth R. Hook, 80, of Libby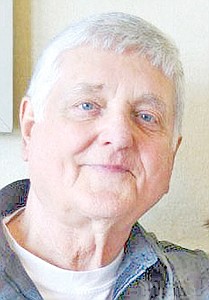 Kenneth Richard Hook, 80, passed away July 3, 2012.
Ken was born April 28, 1932 in Huron, S.D., the third of three boys born to Park A. Hook and Lula Mae Bloodgood.
At age 10, Ken moved with his family to Portland, Ore., where they worked in the defense industry during World War II.  
While in Oregon, Ken lettered in track and football, and set the state record in the shuttle hurdle event.  He received a football scholarship to Oregon State upon graduation but moved back to South Dakota and attended Huron College.  
He was called into service during his freshman year.
Ken joined the U.S.  Marine Corps and served in the Korean War.  He was wounded four times in combat and returned to the states in May 1952 on the hospital ship Constellation. 
Ken was awarded four purple hearts for his nearly two years of dedicated service to his country.  He returned to his parents' home to recuperate and resumed college at Rick's College in September 1952. 
On April 4, 1953, he married the love of his life LoRee Hansen.  They moved to Moscow, Idaho, where Ken attended the University of Idaho.  He received a BS in Agriculture in 1956 and began working on his Masters.
In 1957, Ken and family moved to Great Falls where he began his career working for the Social Security Administration.  
During his tenure, the family lived in Pocatello, Boise, Idaho, and Greeley, Colo., and finally to his target location of Missoula, Mont., where he retired as the District Manager in 1990.  
Ken and LoRee were blessed with three daughters and two sons, six grandchildren, two great grandchildren. 
Ken and LoRee moved to Libby in 2004 to be closer to two of their children.
Ken enjoyed life, spending time in his yard and shop, traveling and hunting and fishing with his children and grandchildren.  He was a member of the VFW since returning from Korea.
Ken is preceded in death by his parents Park and Lula Hook; brothers, Dwain and Les.
He is survived by his wife LoRee of Libby; three daughters, Deena (John) Shotzberger of Libby, Penney (Bruce) Broden of Libby, and Holly (Dusty) Molyneaux of Great Falls; two sons, Richard of Libby, and Park (Shelli) of Shawmut; six grandchildren, Amanda (Wes) Oedekoven, Jessica Shotzberger, Andy Randles, Bailey Hook, Dalton Hook, and Sophia Molyneaux; two great-grandchildren, Layla Randles and Colton Oedekoven.
Memorial services will be held July 7, 2012 at Schnackenberg & Nelson Funeral Home, 422 West Second Street, Libby at 10:30 a.m.  
Internment will be at the Libby Cemetery with military services.  
A celebration of life will be held following services at the Libby Veterans of Foreign Wars hall, 114 West Second Street, Libby.
Donations can be sent to the Camp Patriot, VFW Scholarship Fund or the charity of your choice.
Schnackenberg & Nelson Funeral Home assisted with arrangements.
---