William E. Escudero, Sr. 29, of Libby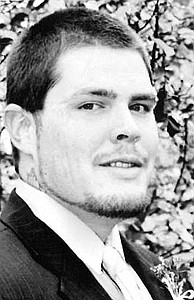 by
The Western News
|
January 19, 2012 2:33 PM
William E. Escudero Sr., 29, of Libby died Sunday Jan. 15, 2012 near Libby. 
He was born Sept. 26, 1982, in Libby to Andy and Roxanna Journot Escudero. 
At an early age he moved with his family to Jacksonville, Fla., where he attended school through middle school.  He then moved with his family to Fort Lauderdale, Fla., where he attended Piper High School and graduated with the Class of 2000. 
Bill moved to Libby in 2007 where he met and fell in love with Aimee Pape.  They were married on Oct.  4, 2008, and made their home together in Libby.  Together they had three beautiful children, whom he adored. 
Bill enjoyed fishing and spending time with his wife and children.  He loved the Lord with all his heart.  His grandmother Angelina Diaz Escudero preceded him in death.
Survivors include his wife, Aimee Escudero, of Libby; three  children William Edward Escudero Jr., Isabella Lynn Escudero and Angelina Diaz Escudero all of Libby; two brothers, Andres M. Escudero; Travis J. Escudero both of Post Falls, Idaho; parents Andy and Roxanna Escudero of Libby; father- and mother-in-law Corky and Misti Pape of Libby; and a grandmother Delores Journot of Libby;    
Services will be at 11 a.m. Friday,  Jan. 20, 2012,  at Wilkinson Hall, 101 Collins Ave. in Libby.
Memorials may be given to the Praise Chapel Benevolent account at the Lincoln County Credit Union. 
Local arrangements are by Schnackenberg & Nelson Funeral Home in Libby.
---