So far, mild winter is assisting Weed District's insect program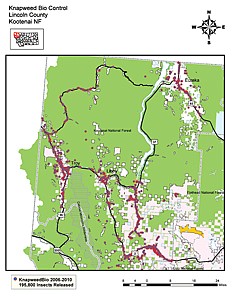 by
The Western News
|
January 19, 2012 12:50 PM
Lincoln County residents may think the mild winter thus far just means less snow-shoveling, but that's only one of the benefits, as the Lincoln County Weed District is silently applauding the warmer than normal climes for another reason.
This mild winter will help the insect friends the Weed District has placed as they are busy eating Spotted Knapweed seeds and roots.
These insects have been released by the Lincoln County Weed District and its partners durng the last 10 years in the county.
There had been some releases earlier than that but it was small amounts and scattered around, some of the insects survived and have increased, but it was slow.
In 2005 the Weed District came up with a new plan that hadn't been tried in the county before: Release lots of insects, close together and get the population up to the point that we can collect insects here in Lincoln County and move them out to the more remote areas of the county and not have to purchase insects at $1 an insect.
Dan Williams (Weed District) and Deena Shotzberger (USFS) got busy writing grants and contacting the partners (USFS, DNRC, MTFWP, MTDOT, Plum Creek Timber, Stimson Lumber, U.S. Army Corp, Mines Management Inc, Genesis Mining, and Lincoln County High School) and was able to order more than $36,000 of insects.
Since the Weed District had that much money it was  able to get a better price and paid 24 cents an insect and released many more.
In the years after, it has received more grants and have purchased more insects, and it now has places where the public can collect free insects and release on their property.
This doesn't mean the Weed District can stop treating its knapweed, whether its sprayed or pulled, it needs to keep up the fight.
"What it means is it will be getting easier, and one day residents will look around and say, 'WOW where did the knapweed go?'" Dan Williams, the Weed District Director, said.
"We will always have some knapweed, but with the insects working for us it will be an easier job to control and keep our property weed free," he said.
The next step is to start moving insects out to remote areas of the county.
The map shows where the County Weed District and Lincoln County High School in Eureka has released insects since 2006 but also the partners and lots of private landowners have also been releasing that is not on the map, Williams said.
---