Loggers drop pair at home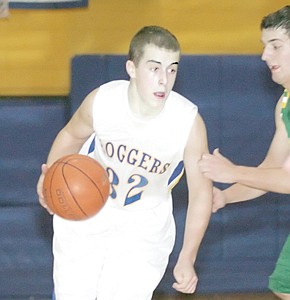 <p>Sophomore guard Jared Winslow drives past Whitefish's Christopher Forrest in the fourth quarter.</p>
by
Sandra Faye Douthit - Reporter
|
January 19, 2012 1:23 PM
The schedule was tough for the Libby Loggers boys basketball team last week, losing their last two games to the Bulldogs and the Broncs.
Loggers coach, Wally Winslow, had a clear understanding, before the game against the Whitefish Bulldogs on Jan. 6, of how their opponents would play in this game.
"We need to control the tempo," Winslow said.
"They (Bulldogs) play with a very good up-tempo. They really like to run the ball."
"We need to control the tempo and slow the run."
The Loggers had several ill players prior to the game. However, they were well enough by practice the day of the game. Sawyer Zimmerman injured his back recently, with three herniated discs he will not return this season.
The Bulldogs trumped the Loggers in this conference game, 60-30. The Loggers took their record of 0-6 and traveled to Frenchtown to challenge the Broncs on Saturday.
Winslow believes his team is improving. However, he stressed the importance of controlling the ball and stopping the turnovers.
The Loggers did improve their ability to control some of the tempo and the amount of turnovers — not enough to claim a victory in their second game of the week. The Loggers were defeated, 47-33.
---