Zimmerman is selected to play in All-Star game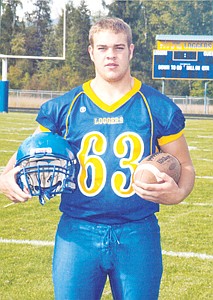 <p>Sawyer Zimmerman joins fellow-nominated players in the 66th Annual Montana East-West Shrine Game in Great Falls, July 21.</p>
by
Sandra Faye Douthit - Reporter
|
January 10, 2012 3:22 PM
Libby Logger football star, defensive lineman Sawyer Zimmerman, a senior at Libby High School, will be among the top players chosen for the 66th Annual Montana East-West Shrine Game.
Zimmerman was nominated by Libby High School for the Shrine Game.
Coaches throughout Montana vote for the players nominated — later selected as the best of the best.
The Shrine Game is the oldest high school all-star football game in the U.S.
The first Shrine Game played was in 1947.
The purpose of the game was to raise money for the Shriner's Hospital in Spokane, Wash.
The Montana game has become of the top Shrine Games in the U.S. for donations to the hospital.
This year the Montana East-West Shrine Game will be held in Great Falls, Mont. on July 21. 
For more information for the Shrine Game, persons may visit the Website at www.montanashrinegame.org.
---