Welch enters not-guilty plea
by
The Western News
|
January 10, 2012 11:26 AM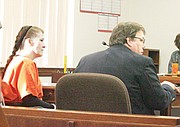 Prosecutor airs bond concerns
Kristina Lynn Welch, the 52-year-old woman charged with deliberate homicide in the Dec. 8 death of her husband, pleaded not guilty Monday in District Court in Libby.
Welch, whose long brown hair was in a French braid, appeared in Judge James B. Wheelis' courtroom in orange prisoner garb wearing orange Croc sandals.
When Welch's case was called by Wheelis, her court-appointed attorney Jennifer Streano, whose office is in Missoula, was not present. After about 90 minutes in which Wheelis handled other cases, John Putikka, the regional deputy public defender who oversees cases in this circuit, stood in for Streano.
"A letter was sent out to Streano's office on the (Jan.) 4th notifying (Streano) of this arraignment," Putikka said. "It's my guess, she did not receive this notice," said Putikka who also represented James L. Bonifas, 75, less than an hour later in the Lincoln County Annex.
Bonifas is accused of shooting his daughter, Suzanne Campbell, 41, on Friday at the rural Troy home he shared with his daughter.
Wheelis asked Welch whether she was willing to enter a plea in the case, and Putikka said he was willing to stand in for Streano.
At that point, Wheelis carefully instructed Welch through the process to make sure she understood the deliberate homicide charges against her, to which Welch indicated she does.
As Wheelis read the charges against her — two counts of deliberate homicide — Welch nodded, answering, "Yes." The two charges of deliberate homicide are nearly identical except the first charge alleges the crime was committed with the use of a weapon.
Conviction of deliberate homicide, a felony, is punishable by life in prison for a term not less than 10 years or a term not more than 100 years. For the charge of deliberate homicide with a weapon, the charges could add a minimum of two years or as much as 10 years, bringing the range for that conviction from 12 to 110 years.
Lincoln County Attorney Bernard Cassidy also requested that should Welch obtain her bond of $500,000 that she not be allowed to return to the home she shared with her deceased husband, Charles Bryan Welch.
Afterward, Cassidy said the home still is the site of an investigation.
"This investigation is ongoing," Cassidy said. "That includes anything and everything."
Currently, Welch still is incarcerated in Lincoln County Detention.
"We just ask that she not be allowed to return there," Cassidy asked of Wheelis.
Wheelis said the court would not rule on that now, but if Welch were to make bond, Cassidy's request then would be considered.
Afterward, Cassidy was asked about Welch's plea of not guilty, and as to what strategy might be employed, and he was tight-lipped.
"That's what we'll find out during the omnibus hearing on Feb. 6," Cassidy said. "I can't speak specifically to that."
Welch is accused of fatally shooting her husband, Bryan, at their home at 4410 Granite Lake Road on Dec. 8 in the early morning hours. Lincoln County dispatchers received a 911 call 8:45 a.m.
It is alleged Welch used a Smith & Wesson revolver to shoot her husband. The caliber of the handgun has not been disclosed.
---