11-year-old neighbor boy gets unique viewpoint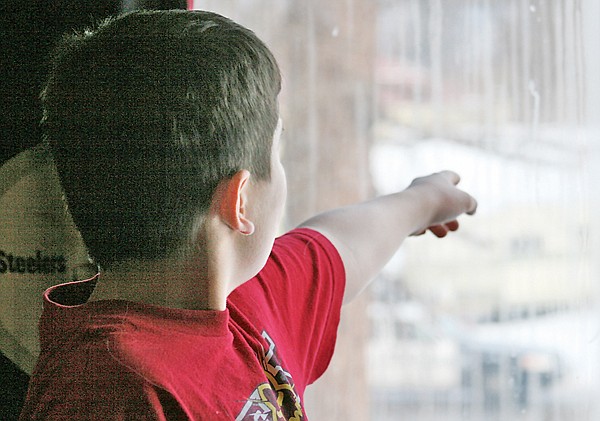 <p>Trevor Koch, 11, had a view of the Kinniburgh home from an upstairs attic window. He watched as the day's events unfolded.</p>
by
Sandra Faye Douthit - Reporter
|
January 5, 2012 1:59 PM
In the picture window of an attic bedroom, Trevor Koch, 11, recounts the story that unfolded before him during the eight-hour Kinniburgh standoff on Tuesday.
"The cops pulled their cars up by our house and parked them at an angle to block the street," Trevor said.
For personal reasons, Trevor was at home doing his schoolwork.
Trevor spent hours watching as the standoff continued throughout the day.
"I saw a guy in a uniform walking through the yard by our house," Trevor said. "He removed one of the boards from the fence to put his scope through and pointed it at Dale's (Kinniburgh) house."
Trevor was aware there was something unusual going on. Trevor and his grandmother, Mary, were told by officers to stay in their home.
Trevor's grandmother opened the window to ask the officer, removing the boards, what he was doing.
"The cop told us to stay away from the windows because they were sending the SWAT-team in," Trevor said.
Trevor said he watched as three Special-Response Team members pointed their weapons toward the Kinniburgh home.
"Three other guys in their uniforms pointed their guns toward our house," Trevor said. "They were protecting the guys going toward Dale's house."
"I saw them break the window," Trevor said. "I never heard a gun shot."
His grandmother said it has been hard for Trevor. The scene really became a reality for Koch when the coroner removed the bodies from the Kinniburgh residence.
"It just makes me sad when I saw them coming out," Trevor said. "Dale was always nice and never even raised his voice to his dog."
"I just can't believe he would do something like that."
---