Travis T. Westfall 43, of Libby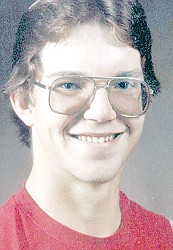 by
The Western News
|
January 3, 2012 11:01 AM
Travis Todd Westfall, 43, of Libby passed away Dec. 20, 2011. 
He was born April 19, 1968, in Butte, Mont., to Robert and Lana Fetters Westfall. 
He grew up and attended school in Libby graduating from Libby High School with the class of 1986. 
Travis went to work in Kalispell as a carpenter and became a master at his trade.  He was successful at whatever he did. 
Travis enjoyed fishing, camping and hunting. Travis never turned down a person who was asking for help.
Survivors include his parents Robert and Lana Westfall of Libby, Mont.; brothers Robby Westfall of Kalispell, Mont.; Jay Hardbridge of Phoenix, Ariz.; son Andrew Westfall of Kalispell, Mont.; grandmother Eleanor Fetters of Butte, Mont.; girlfriend Cindy Norheim of Troy, Mont.; and numerous extended family in Butte, Whitehall, Arizona and Nevada.
Services will be Friday Dec. 30, 2011, at 3 p.m. at the Libby Christian Church in Libby, Mont. 
Local arrangements are by Schnackenberg & Nelson Funeral Home in Libby.
---